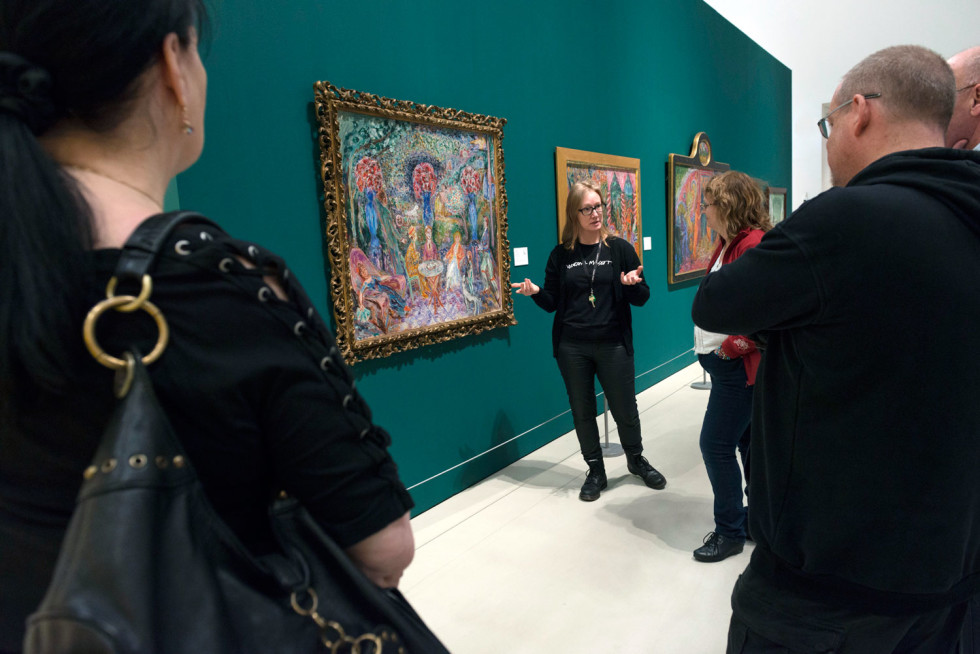 A guided tour is a perfect way to learn more about our exhibitions.
Guided tours
Walk through the galleries and experience our current exhibitions with our knowledgeable guides, Saturdays at 15. Each guided tour lasts approximately 45 minutes. Limited numbers of participants, no prior registration is required. Please note that the Saturday tours are held in Swedish. Welcome!
Guided tours in Arabic
Welcome to a guided tour of our current exhibitions! No advance booking is required. The tours are held the first Sunday of every month at 15.
Guided tours for families
We welcome all children to experience art together with adults. The tour is led by an art educator, and there is plenty of time for thoughts and questions. At 13 on the third Sunday of each month. For children from 4 and up. Limited number of participants, no advance booking required. Please note that the tour is held in Swedish.
Baby tours for adults with kids
Guided tours at a slow pace for adults with infants aged 0–15 months. The tours are limited to 9 adults and 9 children per session, and no more than 6 strollers. The tours starts at 11:15, 13:15 and 14:15 on each occasion. Tickets, free of charge, are available at the entrance desk from 11 the same day on a first come, first served basis. Please note that the tour is held in Swedish.
Published 26 November 2015 · Updated 9 February 2017