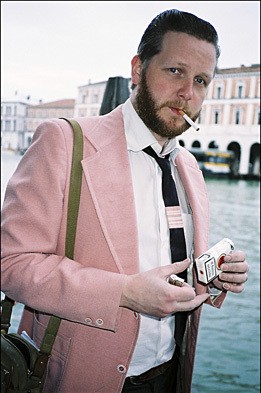 10.5 2010
Studion: The Night – Eroticism, Folköl and Melancholia
Ragnar Kjartansson has created a performance piece especially for the Studio at Moderna Museet: The Night – Eroticism, Folköl and Melancholia. The Night is a wake. A spring night filled with one single song.
The Night – Eroticism, Folköl and Melancholia
Performance with Ragnar Kjartansson
Wednesday May 19 at 8 pm–Thursday May 20 at 8 am
In the Studio, entry from seaside.
Admission free. Bar from 7.30 pm
In mountainous winter scenery, Ragnar Kjartansson sits with his guitar. He drinks Folköl and performs a Swedish song by CM Bellman called "Glimmering Nymph". His father always starts to cry when he plays or listens to that song because it is so erotic. The Night is a performance that is a simple ode to the sad, alcohol soaked eroticism of Stockholm.
Ragnar Kjartansson (born 1976 in Reykjavik) has a broad artistic repertoire. He works with video, painting and performance, and he is also a musician. He studied painting at Iceland's Art Academy during the years 1997-2001 and in 2000 he was enrolled at the Royal Art Institute in Stockholm. Ragnar Kjartansson is one of the most interesting young artists on the contemporary scene. He has already had a large number of international exhibitions, many of them solo-shows including the Venice Biennial (Iceland's pavilion), 2nd Triennale of Turin in 2008 and Manifesta 8, 2008, among others.
Endurance, melancholia and poetic sadness combined with a subtle sense of humour, are often found in Ragnar Kjartansson's performances. He throws himself precipitately between emotions of hopelessness, doom and joie de vivre, in a way that can perhaps only be fully understood by persons with a Nordic background. The romantic image of the artist, the boundless and searching/suffering idealist is present, is paired with a mockery of that very image. Kjartansson's performances often imply that the artist himself has to be put into a situation of endurance. Often he forces himself to do the same thing over and over again, for a very long duration of time. At the Venice Biennial he painted a new portrait with oil on canvas of his friend the artist Páll Haukur Björnsson every day. While painting he drank beer and smoked cigarettes, standing in the Icelandic pavilion every single day during the opening hours and for the whole biennale period, from June to November, 2009. The paintings and the beer bottles where left in the space, piling up as an ever growing stage design. Music like Mozart's Requiem and Wagner was constantly played in the space.
Folköl is a Swedish brand of light beer.
Published 10 May 2010 · Updated 1 October 2019