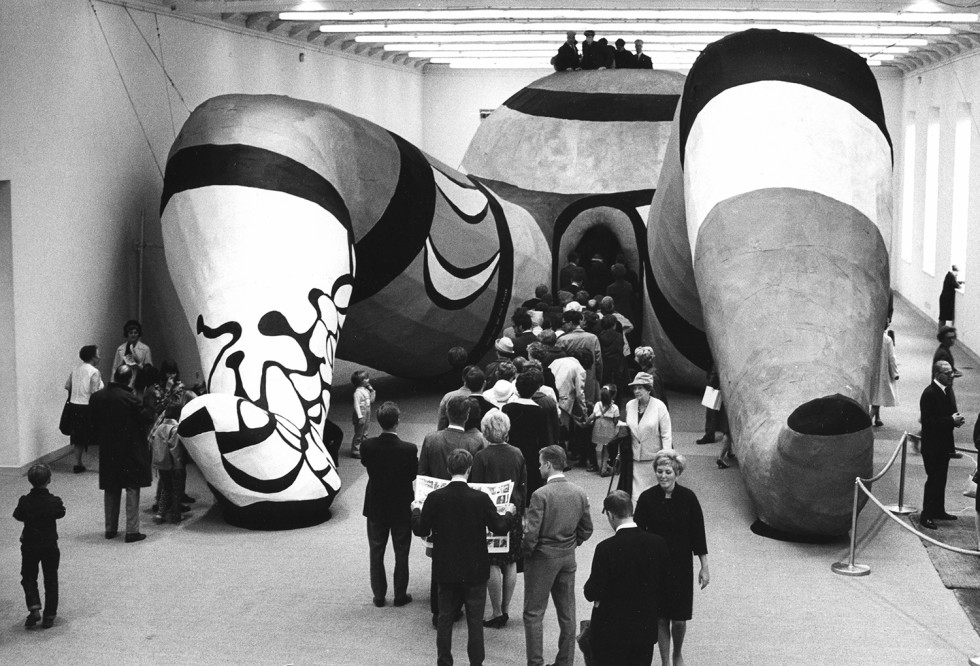 27.7 2010
Mini cinema – films from the collection
During the whole summer the Moderna Museet will show films from the museum's collection in a mini cinema. It's a film program, starting every hour, that begins with a half-hour contemporary film and video works from the collection. During the last half-hour we show Magnus Wibom's film about the construction of the monumental sculpture "Hon".
The mini cinema is located on level 2 in room 4.
David Claerbout
Le Moment, 2003
Claerbout often uses cinematic narrative techniques to deactivate our sense of time and identification. He suggests a story and dramaturgy but then leaves us out on a limb. In this short film, he borrows familiar devices from the horror movie genre, not least in the choice of David Lynch-inspired music. The viewer is given a lead part and is taken out into the unknown.
Rosemarie Trockel
Mr Sun, 1991
Since the 1980s, Trockel has used the kitchen range as a metaphor in her explorations of the artistic and social conditions for women. Ranges appear in her work as sculptures, and later as paintings of a kind, with playfully asymmetrical hobs hung straight on the wall. In this film, she lets the camera gently slide across the surfaces of a Heiliger (Holy) cooker, accompanied by the compelling and erotically charged voice of Brigitte Bardot.
Christine Ödlund
Atlantis, 2009
Ödlund's silent, ominous subaqueous world consists of billowing plant life and submerged architecture. A civilisation after the deluge, with only a few survivors incarcerated in laboratories and bunkers deep beneath the surface. We sense the aftermath of a disaster and are reminded of the current environmental threats. But our associations also wander in other directions – toward surrealism, mysticism or early science fiction, such as Juls Verne.
Isaac Julien
Encore, 2002
Julien is famous for his large scale video installations, in which he frequently returns to issues relating to living in exile and the need to put down roots in a new world. In Encore he works in a smaller format, but without compromising the cinematic qualities. To exquisite, double-exposed images from the Caribbean, Nobel Laureate Derek Walcott reads from his Omeros (1990), a text centering on themes of departure and double identities, also quoted in the libretto.
Jaki Irvine
Star, 1994
The fuzzy picture of a swaying crystal chandelier, accompanied by the suggestive music of Prokofiev and a woman's voice with an unidentifiable foreign accent: "This is a dry story with a lot of vodka". The atmosphere is redolent of postwar film noir. But Irvine's work mixes shoddy glamour with kitchen sink realism in a story about the odd couple who – almost – meet in a bar.
Klara Lidén
Paralyzed, 2003
Lidén's anarchical work often hits the viewer right in the solarplexus. In installations and films she challenges the boundaries of society's visible and hidden structures. In her performance of Paralyzed – for which the artist took dance lessons prior to filming – her fellow passengers are literally paralyzed by Lidén's furiously acrobatic and antierotic striptease.
Johanna Billing
You Don't Love Me Yet, 2003
This film is part of a touring art project in which Billing commissions several artists to perform the same 1980s hit. The many interpretations both enhance and trivialise the original version. This is a studio recording in a veritable We are the World spirit, with celebrities from the Stockholm music scene. The manically repeated chorus has no world-redeeming message, however, but a moving and pathetic plea for love.
Magnus Wibom
Filmen om HON, 1966
/The film about HON [SHE], 1966
This documentary from the creation of the now legendary exhibition HON – a Cathedral at Moderna Museet in 1966 is practically without dialogue, but nevertheless reveals the close cooperation between three artists. Niki de Saint Phalle, Jean Tinguely and P O Ultvedt set out to do something together, without any fixed plans. This leads to a crisis meeting in Ultvedt's home, and a concept that no visitor to the museum that summer would ever forget. HON was both a monumental sculpture and a small-format cultural centre. A female figure simmering with life – a cinema, exhibition space, aquarium and cafe. The artists Niki de Saint Phalle, Jean Tinguely and P O Ultvedt are intimately linked with Moderna Museet's early history. To this day, Paradise (1966), the sculpture group by Saint Phalle and Tinguely standing outside the museum is one of the most important and loved works in the collection.
Published 27 July 2010 · Updated 7 March 2016