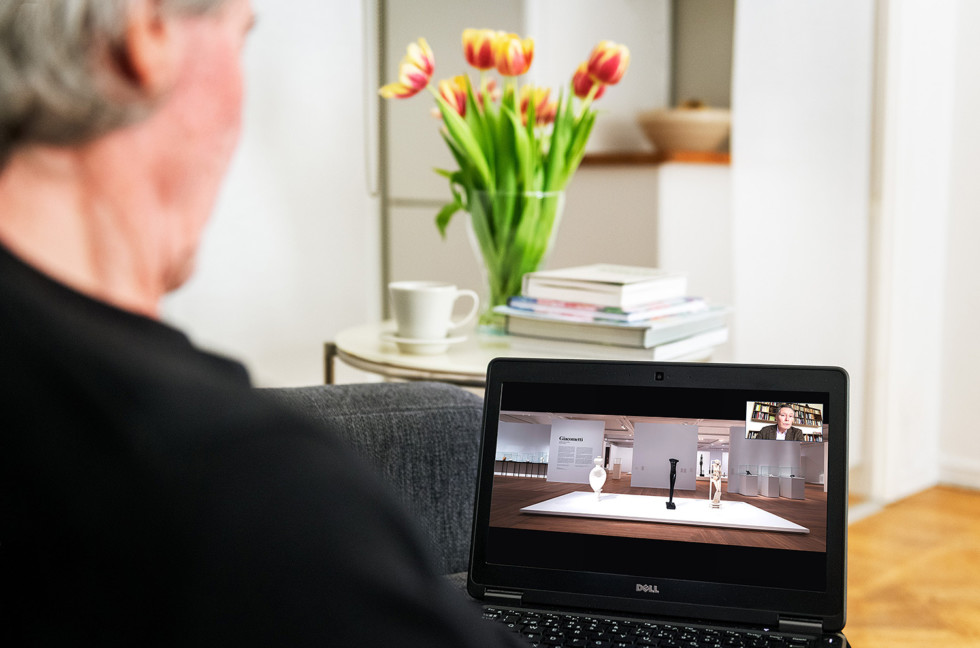 1.3 2021
Book an online lecture on Giacometti
Now you can book an online lecture on the popular and critically acclaimed exhibition "Giacometti – Face to Face" with one of our expert art educators! Learn more about Giacometti's fantastic oeuvre in a livestreamed presentation with pictures from our exhibition and his legendary studio in Paris. The lecture is followed by a Q&A session. Gather your friends online for some art studies!
What is an online lecture?
Due to the covid-19 pandemic, we are unable to offer guided tours of the exhibition. Instead, you can book a presentation in the form of an online lecture with one of our art educators who will talk about Giacometti and his art, with photos of his works in a Powerpoint presentation. After the lecture, there is time for questions and answers. The lecture is livestreamed exclusively for your group on Zoom.
When can I book?
Our online lectures are offered from 9 March 2021. Bookings can be made for weekdays, evenings and weekends, as for our normal guided tours.
How long are the lectures?
A lecture is around 50 minutes long, including the Q&A session and chat at the end.
How many can take part?
We recommend that groups are no larger than 30, so the art educator can answer all your questions after the lecture.
What does it cost?
You pay a fixed price for the group, regardless of how many you are.
Daytime Mon–Fri: SEK 1,750
Evenings and weekends: SEK 2,250
Can I choose any language?
Lectures are in Swedish. You can also book a lecture in English, for an additional fee of SEK 500.
Do I need any special equipment?
To livestream the lecture, you need a mobile phone or a computer with an internet connection.
How do I book?
E-mail or phone the booking office, stating the day and time you wish to book, along with your invoice address and contact details.
+46 (0)8 5202 3501 (Tuesday–Friday, 10.00–12 noon)
bokavisning@modernamuseet.se
About Alberto Giacometti
Alberto Giacometti (1901–1966) was a Swiss artist who lived and worked in Paris. Throughout his life, he explored how to portray people in the way he saw them. His fascination for life, death and sexuality was obvious even in his early surrealist works in the late 1920s and early 1930s. Giacometti is perhaps best known for his tall, thin, gaunt sculptures of human beings.
Read more about the exhibition here: Giacometti – Face to Face
Published 1 March 2021 · Updated 11 March 2021