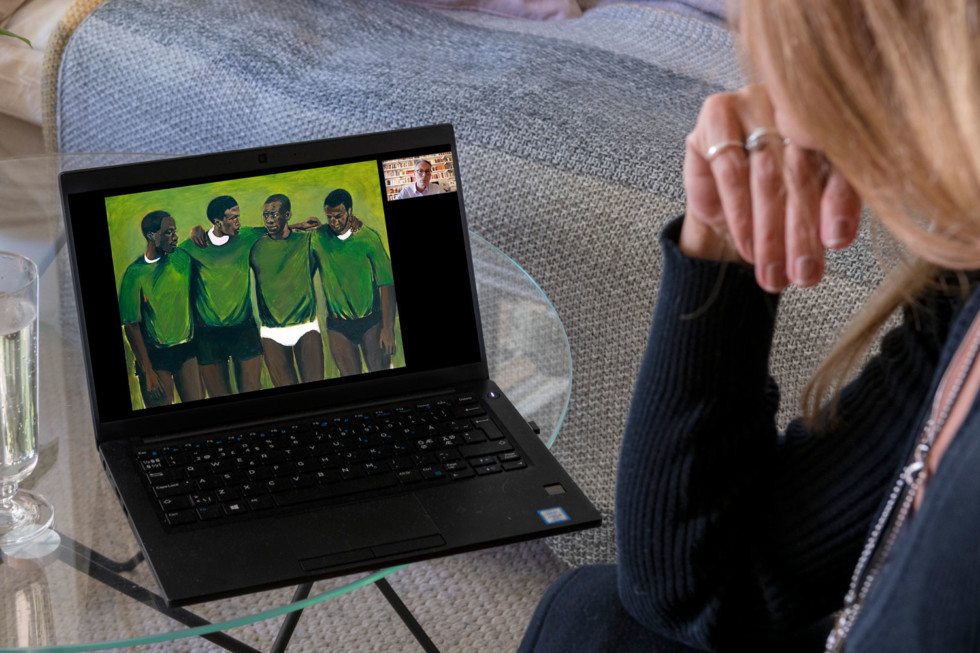 18.6 2021
Book an online lecture on Lynette Yiadom-Boakye
Now you can book an online lecture on the exhibition "Lynette Yiadom-Boakye: Fly In League With The Night" with one of our expert art educators! Learn more about Yiadom-Boakye's fantastic oeuvre in a livestreamed presentation with pictures from our exhibition. The lecture is followed by a Q&A session. Gather your friends online for some art studies!
What is an online lecture?
Due to the covid-19 pandemic, we are unable to offer guided tours of the exhibition. Instead, you can book a presentation in the form of an online lecture with one of our art educators who will talk about Lynette Yiadom-Boakye and her art, with photos of her works in a Powerpoint presentation. After the lecture, there is time for questions and answers. The lecture is livestreamed exclusively for your group on Zoom.
Our guide Staffan was an inspiring cicerone: calm, focused, with depth of knowledge and a twinkle in his eye, he described Giacometti's life and accomplishment in a captivating and interesting way. I was even touched by some sculptures – online in the two-dimensional world! " – Ann-Christin, previous participant in an online lecture
When can I book?
Our online lectures are offered during the period 10 August–19 September 2021. Bookings can be made for weekdays, evenings and weekends.
How long are the lectures?
A lecture is around 60 minutes long, including the Q&A session and chat at the end.
How many can take part?
We recommend that groups are no larger than 30, so the art educator can answer all your questions after the lecture.
What does it cost?
You pay a fixed price for the group, regardless of how many you are.
Daytime Mon–Fri: SEK 1,750
Evenings and weekends: SEK 2,250
Can I choose any language?
Lectures are in Swedish. You can also book a lecture in English, for an additional fee of SEK 500.
Do I need any special equipment?
To livestream the lecture, you need a mobile phone or a computer with an internet connection.
How do I book?
E-mail or phone the booking office, stating the day and time you wish to book, along with your invoice address and contact details. During July, the booking is sporadically staffed so it may take a while before you receive an answer.
+46 (0)8 5202 3501 (Tuesday–Friday, 10.00–12 noon)
bokavisning@modernamuseet.se
About Lynette Yiadom-Boakye
Lynette Yiadom-Boakye, born 1977, makes figurative paintings based on a variety of source material.  Working in oil on canvas or coarse linen, developing a language through mark-making, colour, scale, and composition has been central to the development of her practice. The characters she constructs are suggestions of people created of the artist's memories and imagination, and influenced by images, drawings, and photographs.
Read more about the exhibition here: Lynette Yiadom-Boakye: Fly In League With The Night
Published 18 June 2021 · Updated 22 June 2021