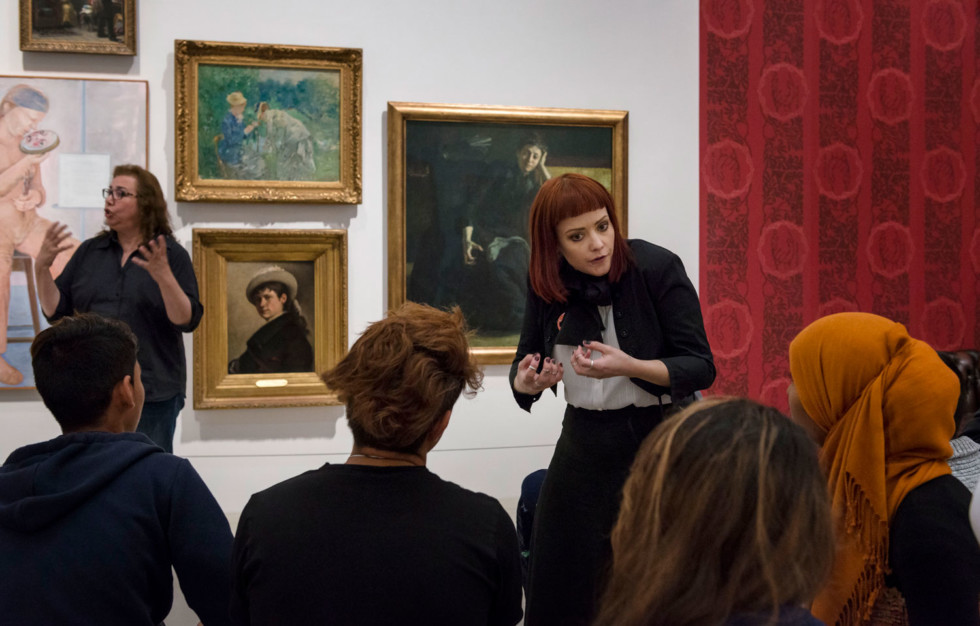 Guided art tours
Stockholm
Learn more about art! Join a tour as one of our dedicated guides talk about the art and the artists. Here you find information on all of our guided tours, from themed tours to tours for visually impaired. Welcome!
The museum is temporarily closed and all guided tours are cancelled
This is a precaution to prevent the risk of spreading corona virus.
A guided tour is about 30-45 minutes long and is held by a guide who leads the group through the exhibition and talks about the artists and the artworks. There are guided tours of the art in the museum everyday led by one of our knowledgeable guides. Tours are held in a variety of languages and most of them are free. You don't have to register in advance. You find dates, times, themes and languages in the calendar.
Welcome!
Tours of temporary exhibitions
The guided tours of the exhibitions in the museum are led by one of our knowledgeable guides. You need a ticket to our temporary exhibitions. All exhibitions dates, times, and languages can be found in the calendar.
Tours of the collection
Immerse yourself in our large, rich art collection based on different themes! Book a guided tour for your own group of students, friends, colleagues or club, when it suits you! Choose between different tours:
A collection of stories
We will view the museum's collection of art ranging from the beginning of the 18th century up until today. The collection is presented both chronologically and thematically. You can see Henri Matisse's Moroccan landscapes, Pablo Picasso's early Cubist works, Sigrid Hjerten's powerful paintings and Siri Derkert's drawings in concrete, as well as, other works of art. Encounter Hilma af Klint's abstract artworks from 1915 and contemporary art by artists such as Alex Israel and Cindy Sherman.
On Stage
Towards the end of the 1960s, many artists were working with themes such as consumerism critique, liberation, sexuality, and celebrity culture. We will take a look at artworks by Yayoi Kusama, Cindy Sherman, Samuel Fosso, Andy Warhol, and Thomas Baylre.
Layers of time
We will view artworks that touch on experiences of time, memory and materiality. Adrián Villar Rojas highlights decaying nature and muted artifacts on a bright white podium. Klara Lidén removes advertisement posters from all around the city, bundles them together and glues an empty white poster on top.
Travels in Time and Space
See Pascal Sébah's photographs of the pyramids, Henri Matisse's Moroccan landscapes, Ivan Aguéli's Egyptian paintings, and much more. Paris was not the only destination which artists and photographers travelled to  in the 20th century to get inspiration, meet colleagues and exchange ideas. They also travelled to cities like Algiers, Tangier, Cairo and Constantinople which motivated them to experiment with new shapes, colours and motifs.
Abstraction, Spirituality and Movement
In this guided tour you will encounter artists who in various locations and with disparate ideas developed abstract styles. Wassily Kandinsky, Alexandra Ekster, Kazimir Malevich are some of the artist who in various ways explored invisible realities. At the beginning of the last century there was great interest in the spiritual, not least with Hilma af Klint and the group The Five. This era also coincides with the development of modern physics, the discovery of the X-ray and new scientific theories.
A Room of One's Own
The Author Virginia Woolf's essay " A Room of One's Own" (1921) is written by a woman for women – male readers are forced to read through a woman's gaze. Reader's reactions to the essay are found in notes written in the library's copies of Woolf's book which the artist Kajsa Dahlberg has photocopied. Together with works by Tyra Lundgren, Siri Derkert, Charlotte Johannesson among others, this thematic tour highlights the work of women artists which largely have been rejected by the male dominated art world.
Photography and Art
Photography has not always been displayed side by side with paintings, sculptures and drawings. Come along on a thematic tour which focuses on how photography became art, from G Félix T Nadar's photographs of Paris from a hot air balloon in the 1880's to contemporary artists such as Emily Jacir, who uses photographs as an element in her artworks.
Collage and Assemblage
Collage was used by early Cubists, Dadaists and Surrealists who mixed various techniques and objects in their artworks. In assemblages they added found, three dimensional objects. On the tour we will see, among others, "African Stand" by David Hammons and works by Meret Oppenheim, Frida Orupabo and Öyvind Fahlström. We will also look more closely at Robert Rauschenberg's "Monogram" which consists of found objects, such as a goat with paint and a rubber tire, combined with traditional painting.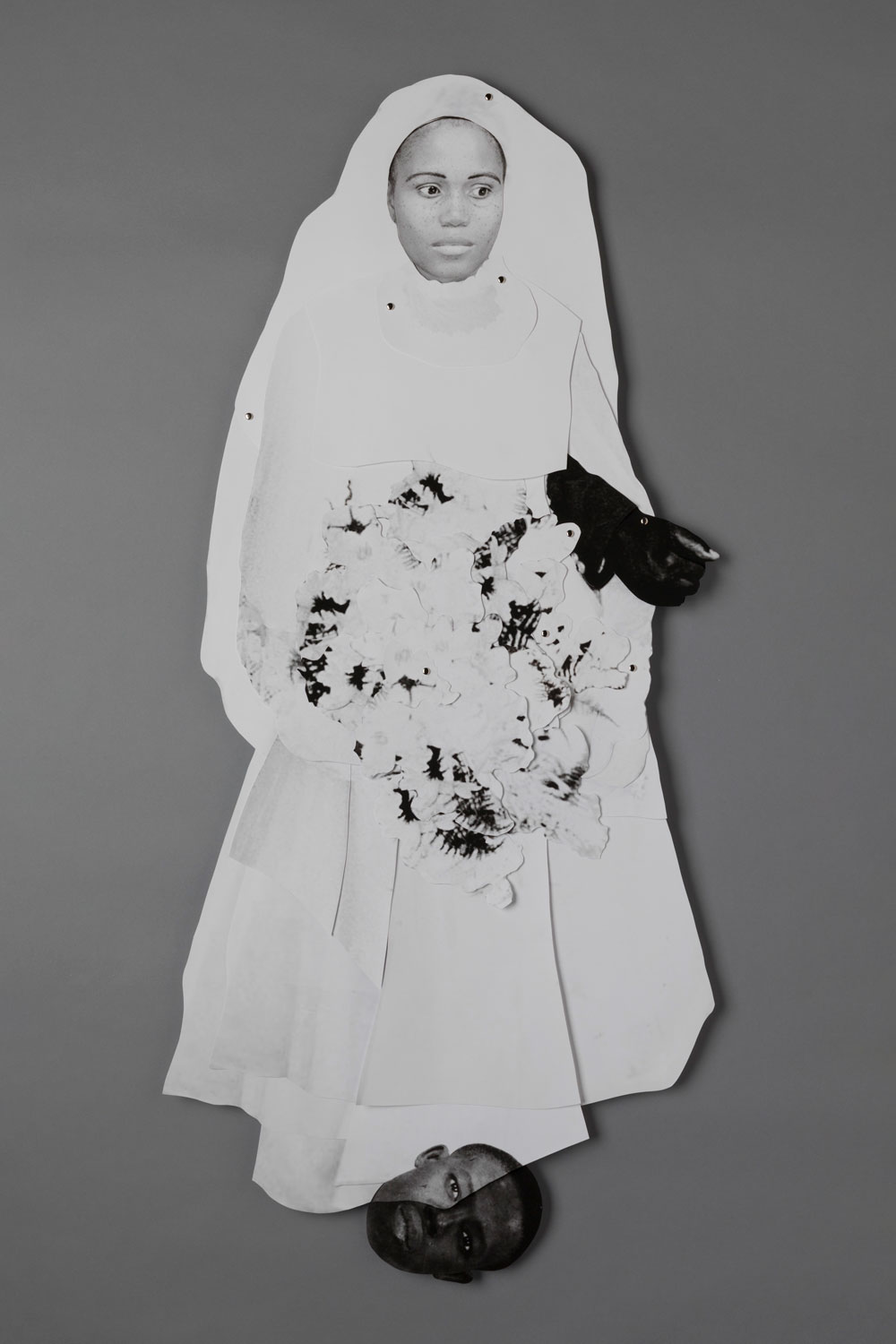 Frida Orupabo, Untitled, 2019 © Frida Orupabo. Photo: Prallan Allsten/Moderna Museet
Baby tours and workshop
Guided baby tours at a slow pace for adults with infants aged 0–15 months. Tour the galleries and paint with your baby in the Workshop.
Limited availability. Tickets for the baby tours are purchased via Tickster. The ticket applies to an adult with children in a stroller and gives admission to the exhibitions at the museum. No discount for members of the Friends of Moderna Museet or students.
In Swedish only.
Tour and workshop for children
On Sundays, children from 5 and upwards are welcome to join our special guided tours (in Swedish). The tour is followed by a session in the Workshop where we make things in different materials depending on the theme of the day. Tickets available at the information desk the same day. Limited availability, no pre-booking
Audio described tour
Welcome to Moderna Museet's audio described tours for the visually impaired! Our audio described tours are held by the Museum's art educators. Together, we experience art at really close range. A tour focuses on a particular exhibition, work or artist.
Tours autumn 2020
Art educator Ulrika Wedin will meet you at the information desk at entrance level before the tour. The tour is free but you need to pre-register with an email to: m.hillberg@modernamuseet.se.
Thursday 24 September: Textile stories – Britta Marakatt-Labba
Thursday 22 October: The Russian room – Natalja Gontjarova
Thursday 19 November: Travels in Time and Space – Ivan Aguéli and Christodoulos Panayiotou
Book an audio described tour
Please request an audio described tour in advance: send an e-mail to the booking. Free of charge. For 3–15 persons.
In Swedish only.
Tours for everyone in group living facilities and daycare centres
We study an artwork in the exhibition before moving on to the Workshop where we paint and sculpture. We will meet at the information desk on the 1st floor. Pre-booking not necessary. In Swedish only. You find dates, times and themes in the calendar.
Outdoor sculptures
A guide to Moderna Museet's outdoor sculptures – a real treasure map. Download the map. (pdf)
Book a guided tour
You can also book a guided tour for your students, friends, colleagues or club. Here you find the details on how to book: book a guided tour