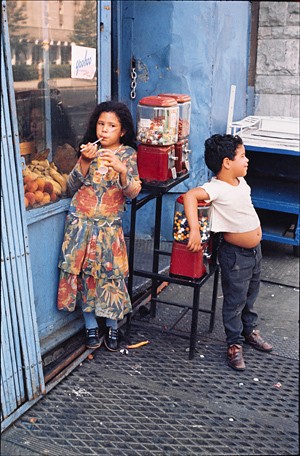 Helen Levitt began working in 1931 as an assistant to the portrait photographer Florian Mitchell in Bronx. She was deeply inspired by Walker Evans, Ben Shahn and Henri Cartier-Bresson, whom she met in New York in the mid 1930s. The writer and critic James Agee also had a strong influence on Levitt.
The magazine Fortune published her photographs for the first time in 1939, and four years later, the Museum of Modern Art featured Levitt's first solo exhibition. In 1991, the San Francisco Museum of Modern Art had a major retrospective dedicated to Levitt, which then toured the USA. Helen Levitt is best known for her portrayals of New York street life, which focus especially on the poorer areas of the city and the everyday lives and games of children.
Helen Levitt (1918-2009)
Since the late-1930s, the cult photographer Helen Levitt, is admired by visual artists, film-makers and musicians from all over the world. She made her European debut in 1985 at Moderna Museet in Stockholm, where her show made a huge impact, which was further enhanced by the screening of her classic film In the Street.
Helen Levitt had been keenly interested in the visual arts from her early teens and she was employed at 18 by a portrait photographer in Bronx. After studying photography she became a member of the Pictorial Photographers of America. At the association's gallery she encountered photographic art of a kind she had never seen before and was inspired to find her own personal style. She also came in touch with the Film and Photo League, an organisation whose socially critical stance suited her well.
After meeting Walker Evans and the French photographer Henri Cartier-Bresson in the late-1930s, her work underwent a fundamental change. She took to the streets of New York and inconspicuously portrayed life there. She carried her camera in a basket with a hole in the side for the camera lens. Meanwhile, she worked as a drawing teacher, which, in turn, made her interested in the games and activities of children. Graffiti on pavements and house walls also attracted her attention, and she travelled round the labyrinthine New York subway system, clandestinely photographing her fellow-passengers. She captured the faces of daydreamers and introverts, aggressive gestures, and expressions of sadness, passion and joy. She also inspired Walker Evans to take photos on the underground, leading to his famous book Many Are Called.
Helen Levitt was one of the first photographers whose pictures were labelled "street photography". Her work dives deep into New York street life, describing the living conditions of children and grown ups. She explores areas that had rarely been shown in photographs before, and visualises children's fantasies in which they assume other identities behind masks culled from the world of matinees and comics.
Text: Leif Wigh