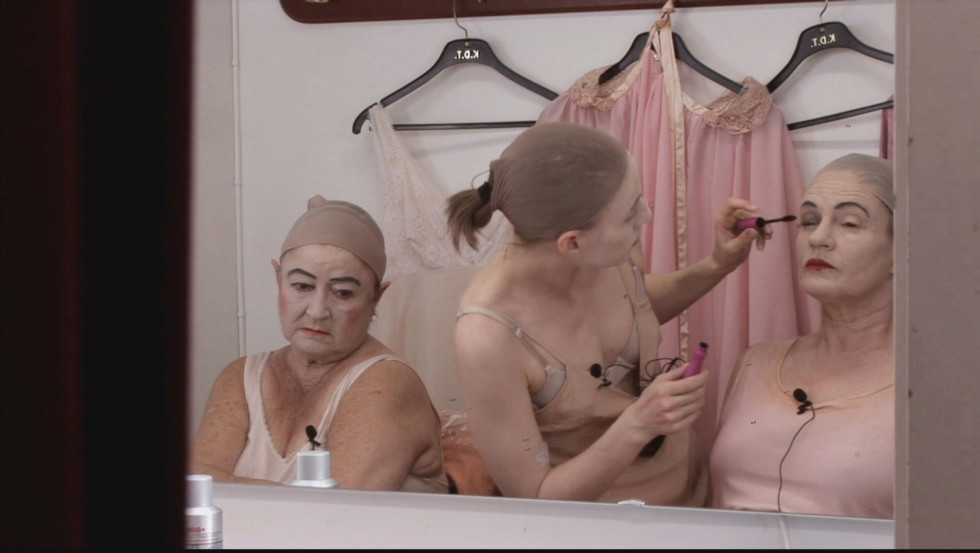 Stora Scenen/The Main Stage
Screening of Tova Mozard's video work
21.4 2017
Meet the artist, her mother, grandmother and a therapist, in the video work "Stora Scenen"(The Main Stage). In the limelight on the main stage of the Royal Dramatic Theatre in Stockholm, but to an empty auditorium, we witness a conversation about memories, dreams and loss. Entirely unscripted. Welcome to two screenings of Tova Mozard's "Stora Scenen"!
Screening of Tova Mozard's video work with introduction by the Artist
Date: Friday 21 April 2017
Time: At 18.30–19.30. Afterwards the Bar is open unton 23.00.
Place: The Cinema, floor 2
Price: Free Admission. No pre-booking. Limited availability.
Language: Swedish (English subtitles)
You can also see "Stora Scenen" on Friday, April 7, 2017, at 14.00 to 14.40, in the Cinema. Free admission.
An autobiographical and personal family drama
In Stora Scenen (2012) Tova Mozard places herself, her mother, her maternal grandmother and a therapist in the limelight on the main stage of the Royal Dramatic Theatre. We meet women from three generations, in makeup and costume. Without a script, in an empty, dark theatre, they share their conversation, which deals with memories, dreams and loss. Although the content is deeply personal, we still recognise with the intricate roles that exist in any family; how we support each other one minute, only to hurt each other the next.
Documentary meets enactment in Mozard's practice
Mozard's works are often autobiographically based and can be inscribed into a documentary tradition. Her photographs and films often feature authentic encounters between real people, against a confusing backdrop of fiction and enactments.
Part of our focus on photography
Tova Mozard is one of the featured artists in Golden Sunset, an exhibition of contemporary Swedish photography. Golden Sunset is part of the Before and Behind the Lens project.