Anders Sunna – Illegal Spirits of Sápmi
Malmö, 28.10 2023 – 14.1 2024
For the first time since its acclaimed premier showing at the 2022 Venice Biennale, "Illegal Spirits of Sápmi" will now be on view at Moderna Museet Malmö.
Anders Sunna – Illegal Spirits of Sápmi
28 October 2023 – 28 January 2024
Moderna Museet Malmö
Turbine Hall
Curator: Joa Ljungberg
PRESS VIEWING: Thursday, 26 October 2023, 10.00. More information below.
In this monumental work of art, Anders Sunna chronicles his family's half-century-long conflict with swedish authorities. The piece measures around 20 meters in length, and the narrative is told in five chapters from the 1970s until today, with one large painting per decade. The paintings are inserted into a wooden structure that also holds an archive of all the legal cases the family has been involved in. Visitors are welcome to browse through the many binders, which contain thousands of documents.
– "Illegal Spirits of Sápmi" depicts a Sámi family's fight for their right to practice reindeer husbandry, states exhibition curator Joa Ljungberg. It is a story of drawn-out conflicts with significant personal losses. Behind this family tragedy hides a larger story of oppression with colonial overtones. For Anders Sunna, art has offered an opportunity for redress and a way to voice his family's defense.
The disputes that have marked the lives of three generations of the Sunna family have their roots in the 1971 Reindeer Husbandry Act and how it came to be interpreted. The counterparty has primarily been Norrbotten County Administration, but in later years, also the Sámi Parliament. Anders Sunna describes how, as a consequence of the conflicts, the family's reindeer were forcibly relocated, a 30-km (about 18-mile) fence was constructed to prevent the reindeer from going to their natural grazing lands, Sámi villages were pitted against each other, and the family lost their right to engage in reindeer husbandry.
"I remember how worried my mother was when my dad and his brothers were out in the forest where the reindeer were. She paced around and grew increasingly anxious the longer it took…she wondered if they would come home at all or if they would be found shot. That's how bad it was at its worst" (from the artist's comments about the painting "Area Infected").
"Illegal Spirits of Sápmi" was first exhibited during the 2022 Venice Biennale. The Nordic Pavilion had been transformed into the Sámi Pavilion, with Pauliina Feodoroff, Máret Ánne Sara, and Anders Sunna as participating artists. The project, which was undertaken at the behest of the OCA–Office for Contemporary Art Norway– celebrated the indigenous Sámi culture and the land area of Sápmi, whose boundaries cross over Norway, Sweden, and Finland as well as part of Russia. In 2022, "Illegal Spirits of Sápmi" was acquired for Moderna Museet's permanent collection.
In connection with "Förbjuden kulturvecka" organized by City of Malmö and the exhibition at Moderna Museet Malmö, on 24 November, a half-day seminar with lectures and discussions will take place.
A joint viewing for the press will be held on 26 October at Malmö Konstmuseum and Moderna Museet Malmö.
On 26 October, Moderna Museet Malmö and Malmö Konstmuseum invite the press to a joint event. Malmö Konstmuseum is opening a group exhibition about the interplay between feelings and capital, and Moderna Museet Malmö presents a large-scale painting installation about a fight that spans a half-century and contains thousands of court documents.
The press meeting begins at Moderna Museet Malmö with a presentation of Anders Sunna's exhibition "Illegal Spirits of Sápmi" and continues at Malmö Konstmuseum with a presentation of the exhibition "Happily Ever After". Transportation between the institutions is provided for journalists who would like to attend both press viewings.
10.00 Press viewing at Moderna Museet Malmö of the exhibition "Anders Sunna – Illegal Spirits of Sápmi". Those present will include the artist, curator Joa Ljungberg, and museum director Elisabeth Millqvist. Coffee will be served.
11.15 Transportation to Malmö Konstmuseum
11.30 Press viewing at Malmö Konstmuseum of the exhibition "Happily Ever After". Present: curators Anna Johansson and Julia Björnberg, and museum director Kirse Junge-Stevnsborg.
Please register for the press viewing by 24 October by contacting Disa Torbjörnsdottir at disa.torbjornsdottir@malmo.se or Alexandra Giertz at a.giertz@modernamuseet.se. Please indicate whether you will participate in one or both press viewings as well as whether you would like transportation from Moderna Museet Malmö to Malmö Konstmuseum. The press viewing is for journalists and writers. Upon registration, please also indicate which newspaper or other medium you represent.
Press materials for "Happily Ever After":
https://www.mynewsdesk.com/se/malmo/pressreleases/happily-ever-after-oeppnar-paa-malmoe-konstmuseum-3277054.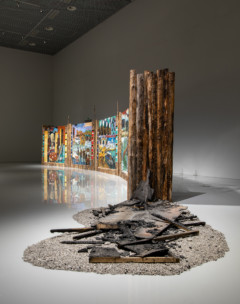 Anders Sunna, Installation view, Illegal Spirits of Sápmi, Chapter 6, 2023 Photo: HeleneToresdotter/Moderna Museet ©Anders Sunna Bildupphovsrätt 2023