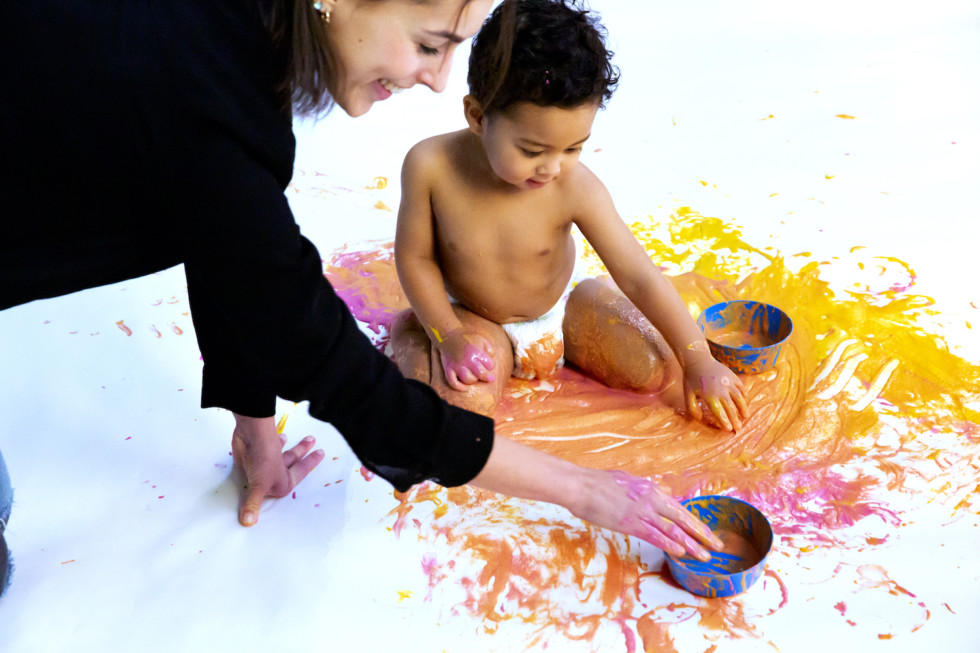 Baby Painting
Explore colours with the youngest ones
Malmö
Come and paint with your baby in our Workshop! We believe that even small babies should get a chance to get acquainted with artistic expressions and paint with the whole body. We can promise lots of laughter and mess!
Dates: 27 January, 3 March, 28 March (ADDITIONAL DATE), 21 April, 9 May (ADDITIONAL DATE), 26 May, 16 June, 27 June (ADDITIONAL DATE), 25 August, 8 September, 6 October, 20 October, 10 November, 24 November (PLEASE NOTE! Only 11.15 – 12.45), 1 December, 8 December
Time: 11.15–12.45 and 14–15.30 on each occasion
Age: For babies 0–15 months
Cost: 120 SEK per baby
Registration: Limited number of seats, 9 babies and 9 adults. Registration is required! Tickets will be released at 12.00 at the exact date one week prior to each occasion.
Register to the following email address: babymaleri.malmo@modernamuseet.se
Please enter the time that you want to register for.
Please note that registration is binding and personal. Be sure to unsubscribe if you are prevented.
This activity is aimed at the youngest ones and their adult companions. We create together and paint with organic edible colors made from buckwheat, turmeric, beetroot, wheatgrass and lingonberry. The babies can discover and explore the colors with both sight, touch, and taste.
Important information
• Bring a towel and a change of clothes, both for you and your baby. Stains of turmeric can be difficult to remove. There's running water in the Workshop.
• Baby painting requires full focus from you as an adult, as it can become slippery with a lot of colour. You have full responsibilty for your baby during the activity.
Interested in booking a private baby painting?
Baby painting is a popular activity that is rapidly fully booked. If you are a group and want to take part of the activity, you can book a private occasion.
Private Baby painting can be booked Tuesday – Friday during the opening hours, at 11.00 – 17.00 (Thursdays 11.00 – 19.00). Maximum 9 babies and 9 accompanying adults.
For booking and prices, please contact Curator of Learning Susanne Lindblad by mail.