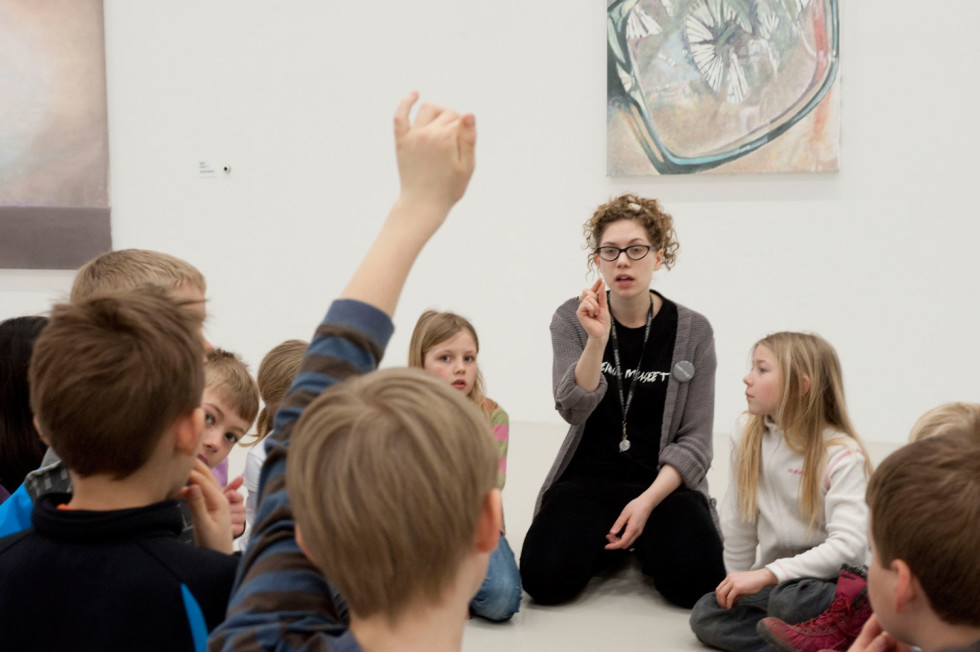 Learning is a key feature at Moderna Museet Malmö. A wide range of educational activities are offered, including workshops and guided tours for children of all ages, teacher evenings and customised programmes for all school levels. Planning of the learning activities is in progress and teachers will be invited to a presentation of the programme.
We adjust our activities to minimize the spreding of the Corona virus. You are still warmly welcome but until further notice all guided tours and events have been cancelled. More about our precautions.
School classes are welcome to visit Moderna Museet Malmö on their own, with a responsible teacher.
To avoid double- bookings with guided tours, please contact our Booking Office in good advance and notify us of the date of your visit.
Book a guided tour or workshop
Use art as a tool for learning together with your students. We offer school programs in relation to all of our major exhibitions. Here students of all ages can explore art and take part in creative workshops.
Educational resources
We offer free teachers' guides in Swedish for all of our exhibitions, and our current exhibitions and learning activities are presented once per exhibition at our popular teachers' get-together.
Planning your next visit:
Contact the booking office and tell us when you want to come, so there won't be too many guided tours at the same time. Use the booking form. A good time to visit on your own is in the afternoon, when the exhibitions are usually quiet. Pre-booked groups have priority to the exhibitions.
Always inform the staff at the entrance desk that you are visiting with a school class, even if you haven't booked a guided tour. Each class visiting Moderna Museet Malmö will be welcomed by one of our hosts, who will give a short introduction to the Museum and the ongoing exhibitions.
Prepare your visit. We provide teachers' guides for all of our temporary exhibitions. They can be downloaded here: Teachers' guides.
Select 4–6 works. Experience has shown that students usually get more out of a structured visit, where they have time to study a limited number of works (4–6) in peace, rather than trying to see everything.
Read our Museum rules.
Free admission to Moderna Museet Malmö!
What did you do?
Share your experiences of visiting Moderna Museet Malmö, and give your colleagues new ideas and inspiration! Tell us how you organised your own guided tours and the exercises you did with the kids at the Museum or in the classroom, or any other interesting information about your visit.
Send an e-mail to Susanne Lindblad, Curator Learning: s.lindblad@modernamuseet.se
Published 23 July 2015 · Updated 11 January 2022