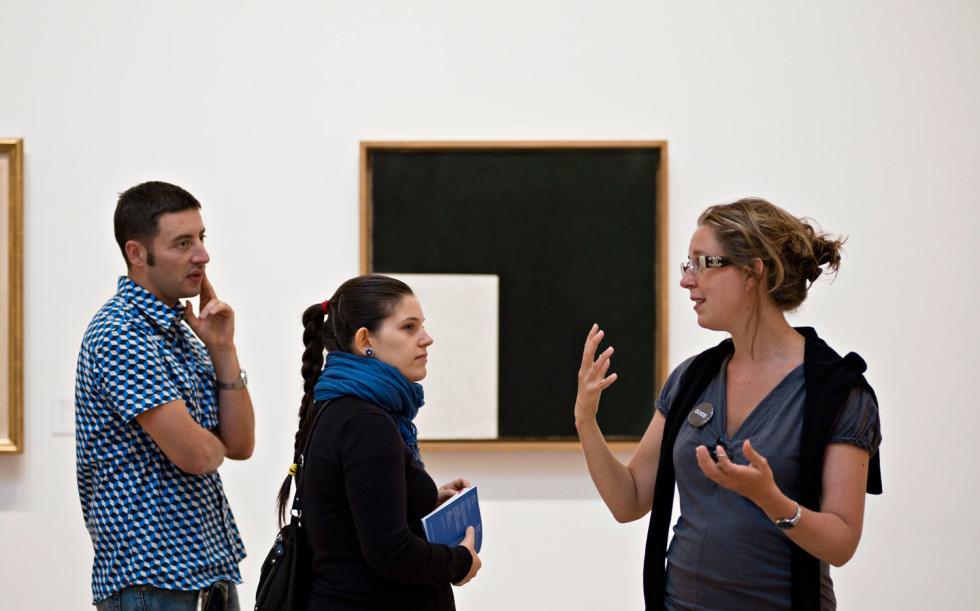 Book a guided tour for your students, friends, colleagues or club. Experience an inspiring and dynamic environment, discover new perspectives and new angles.
A guided tour is about an hour. Book at least 2 weeks prior. Guided tours of the collection are available in English, Danish, Spanish, German, Arabic, and Cantonese. Additional fee of 500 SEK for other languages than Swedish.
Welcome!
Processing of personal data
To make a booking request, you need to send us your personal data (including your name and e-mail address). We process your personal data in accordance with the General Data Protection Regulation (GDPR). Read more about how we process personal data here: Moderna Museet's privacy policy
Price guided tour
Max 30 people, 45 minutes
Price: 1 200 SEK, evenings 16.30–17 and weekends 1 500 SEK
School
Guided tour and workshop
4–6 years old 15 children/group
7 years and older 25 pupils/group
Weekdays: 900 SEK
Guided tour
30 pupils/group
Weekdays: 600 kr
Workshop
25 pupils/group
13 years and older
Weekdays: 900 kr
Contact booking
The booking is closed 29 June–23 July 2018.
bokning.malmo@modernamuseet.se
Phone: +46 8 5202 3501 (Tuesday–Friday at 10–12)
Published 27 November 2015 · Updated 2 July 2018