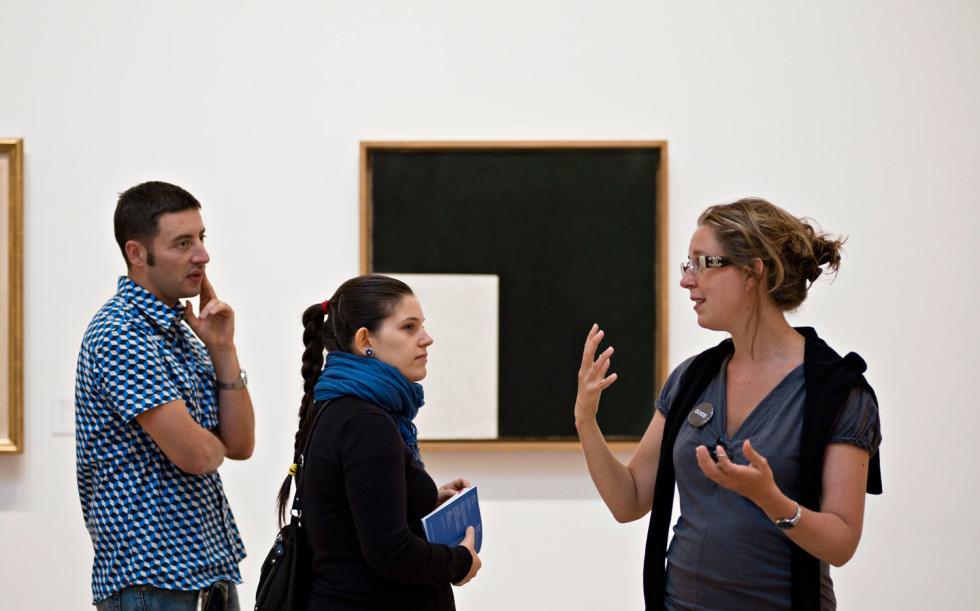 Book a guided tour for your students, friends, colleagues or club. Experience an inspiring and dynamic environment, discover new perspectives and new angles.
Guided tours are cancelled
At the moment it´ s not possible to book guided tours. This is due to the covid-19 situation, we are taking all possible measures to prevent the risk of contagion. 
Get a glimpse of the exhibition "Hilma af Klint – Artist, Researcher, Medium" through our filmed guided tours. Our art educators present selected works in the films. They are published here and at our YouTube channel.
Processing of personal data
To make a booking request, you need to send us your personal data (including your name and e-mail address). We process your personal data in accordance with the General Data Protection Regulation (GDPR). Read more about how we process personal data here: Moderna Museet's privacy policy
Prices
Guided tour
Maximum 30 people, 45 minutes
Price: 1 400 SEK, evenings 16.30–17 and weekends 1 700 SEK
School
Guided tour and workshop
4–6 years old, maximum 15 children/group
7 years and older, maximum 25 pupils/group
Weekdays: 1 100 SEK
Guided tour
Maximum 30 pupils/group
Weekdays: 800 kr
Guided tour and workshop
Maximum 25 pupils/group
13 years and older
Weekdays: 1 100 kr

Published 27 November 2015 · Updated 11 March 2021