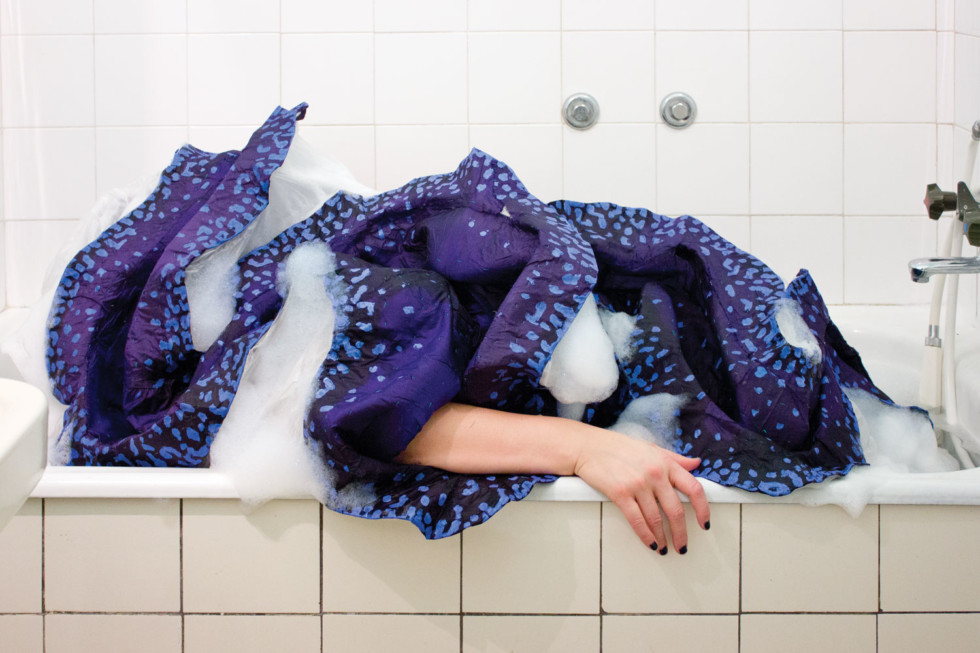 Sensing Nature from Within: The Giant Clam
Reading performance by and with the artist Ingela Ihrman
7.3 2020
Malmö
Sensing Nature from Within is part international art exhibition featuring 12 artists and artist groups, part extensive programme of lectures, talks, and performances.In this last performance in our programme, the audience is welcome to a reading performance at the Giant Clam's flat in the Seved neighbourhood in Malmö.
The artist Ingela Ihrman will dress in her Giant Clam mantle of blue silk, acrylic paint and various kinds of plastic, step down into the foamy suds of the alcove bathtub in the partly tiled bathroom – the home's inner ocean – and read texts on the origin of life from the self-published local newspaper Seaweedsbladet #1. Meanwhile, in the bedroom, The Flower Coral and the Anus Anemone will be on display. The video takes place on the bottom of the ocean where Ingela Ihrman encounters various marine creatures. The clips were recorded while on a field working trip on the Andaman Islands off the coast of India, in February 2016.
Curator: Joa Ljungberg
The Giant Clam
Date: March 7th 2020
Time: 3pm (in Swedish), 4pm (in English)
Place: Seved, Malmö. The address will be noticed in your booking confirmation.
Cost: Free admission.
General information: Children are welcome in the company of an adult. Please note that pre-booking is required for everyone. The accessibility is limited as the apartment is half a stair up without a lift.
Tickets: Limited number of seats, pre-booking is required. FULLY BOOKED! Register for the waiting list here (for the performance in Swedish) and here (for the performance in English).