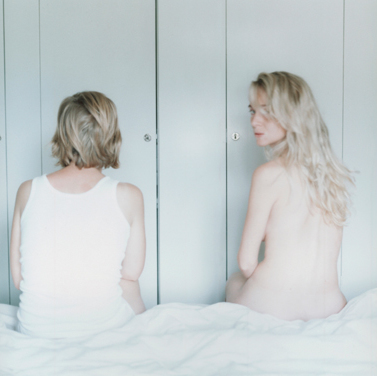 Yngve Baum
Born 1945, Sweden
Yngve Baum is a photographer with a strong social commitment, who portrays cultural change and revealed social injustices. Baum has devoted himself to humanistic documentary photography as well as to personal portrayals, for instance, in his series Om Mamma [About mother] from 2005. Baum's social reportagesare featured in his photo books Människor vid hav – Lofoten [People by the Sea – Lofoten] (1966) and Ujamaa – Människori Tanzania [Ujamaa – People in Tanzania] (1970). The series Varvsarbetare [Shipyard workers] portrays workers at Eriksberg shipyard in Gothenburg and was first shown at Fotografiska Museet/Moderna Museet in 1974.
Martin Bogren
Born 1967, Sweden
Martin Bogren began photographing in the early 1990s and published his first book, The Cardigans: Been it in 1996, after years of touring with the Swedish band. Bogren's work became widely known with his book Ocean (2008), which captures the surprise and playfulness when a group of men from Rajasthan in India bathe in the ocean for the first time. In 2011, Bogren published the book Lowlands, for which he received the Coup de Cour at the Recontres d'Arles Festival in France. His most recent project is the series Tractor Boys (2013), which portrays a group of teenagers who spend their spare time racing EPA tractors, converted Volvo vehicles, on the outskirts of a small town in Southern Sweden. Bogren received the Scanpix Photography Award in Sweden in 2011.
In the series Lowlands, Bogren revisits his childhood home of Skurup in Skåne in an attempt to understand the village he longed to flee from as a child. For four years, Bogren visited Skurup to portray the inhabitants, environments and atmosphere of the village. In documenting life in Skurup, Bogren relived his own childhood and created a portrait of his past.
Stina Brockman
Born 1951, Sweden
Stina Brockman gained prominence in the late 1970s for her intimate and psychological portrait studies. Brockman uses large-format cameras and older photographic techniques, playing with focus and ambiguity inspired by photographers from the early days of the medium. Brockman's series Interiörer [Interiors] from 1978 portrays the homes of elderly people living on Södermalm in Stockholm, that they have created piece by piece over the years. The series Sexy Eyes, which displays human bodies in sharp and unfocused compositions, was first displayed at Moderna Museet in 2001.
Anna Clarén
Born 1972, Sweden
Anna Clarén studied at Nordens Fotoskola at Biskops-Arnö and has worked as a photographer since 1997. She has been a press photographer for Aftonbladet and Icakuriren and made photographs for magazines and books. She is one of the head teachers at Nordens Fotoskola since 2006 and has also taught at the photography department at Gamleby Folkhögskola and Mid Sweden University in Sundsvall. Clarén's breakthrough came with the series and photo book Holding in 2006, which was chosen as the Best Photography Book of the Year by Svenska Fotografernas Förbund [The Association of Swedish Professional Photographers]. Holding was followed by Puppy Love (2009) and her most recent series, Close to Home (2013).
The series Holding gets its title from a term in psychotherapy which refers to children's need for a responsive and nurturing environment. The series is a visual diary created during a four-month period in Clarén's life coloured by feelings of confusion, loneliness and nostalgia yet excitement and hope for the future. Holding portrays the people and places in Clarén's immediate surroundings in pale, colour images that gradually darken as the sequence progresses.
Dawid
Born 1949, Sweden
Dawid is well-known for his experiments in the photographic medium aimed at erasing the boundary between photography and painting. Dawid studied at Fotoskolan between 1969 and 1970, ending his studies in a search for alternative ways to use the photographic medium. The creative process is vital to his images and his artistic work, where found motifs become descriptions of known and unknown things. In the series Rost [Rust] (1984), exhibited at Fotografiska Museet/Moderna Museet, metal piecesresemble objects, expressions and human forms, but their titles consist only ofa date and negative number. Dawid is also a successful fashion and commercial photographer.
Ann Christine Eek
Born 1948, Sweden
Ann Christine Eek studied under Christer Strömholm at Fotoskolan in Stockholm 1968 to 1971 and later taught there. She was a member of the group Saftra from 1969 until 1979 and was a co-founder of Fotograficentrum in the middle of the 1970s. Together with the Norwegian anthropologist Berit Backer (1947–1993) Eek travelled in 1976 to the village Isniq in the former Yugoslavia and documented the isolated life of the rural areas in both Yogoslavia and Albania from 1975 until 2009. In the 1980s Eek begun to photograph in the countryside of Dalarna and express herself with poetic landscape photography. Eek has been as a freelance photographer and photo journalist since 1971, and has also been employed as a photographer at the Museum of Cultural History, University of Oslo.
Agneta Ekman
Born 1942, Sweden
Agneta Ekman was in the first class of Christer Strömholm's Fotoskola in 1962 and later taught photography at the school. Ekman published the photography book Tall-Maja in 1967, which was to be her best-known project. This series of early staged photography draws inspiration from folk stories about forest sirens in Värmland in Sweden. The images are created with double exposure and superimposed frames that create a mystical and eerie atmosphere. Apart from photography, Ekman has worked with documentary filmmaking and teaching.
JH Engström
Born 1969
JH Engström grew up in Värmland in Sweden but spent large parts of his childhood and adolescence in Paris and France. He was an assistant to photographer Mario Testino in Paris in 1991 and to photographer Anders Petersen in Stockholm in 1993. Engström graduated from the School for Photography and Film at Gothenburg University in 1997 and finished his studies in Documentary Filmmaking at Dramatiska institutet in Stockholm in 2006. Engström published his first book, Härbärge [Shelter], in 1997, a three-year project of photographing his encounters with the women living at the Klaragården shelter for the homeless in Stockholm. Engström has published numerous photo books, including Trying to Dance (2004), Haunts (2006), and From Back Home (2009), a collaborative project with Anders Petersen on the Värmland province in Sweden.
The series Tout va bien is a work in progress that will be published as a monograph in spring 2015. Tout va bien is a photographic diary composed of portraits of Engström's friends and family, self-portraits and still-lifes of his surroundings. The series, which has no chronological order or geographical limitations, forms an autobiography and self-portrait through images of the photographer's social and physical environs. Engström presents his images in sequences and grids, where a combination of snapshots and planned photographs in different formats, techniques and colour schemes set the rhythm of the photographic story told.
Nan Goldin
Born 1953, USA
Nan Goldin was born in Washington DC and studied at the Museum of Fine Arts in Boston. She currently lives and works in New York, Paris and Berlin. Goldin developed an interest in urban subcultures early in her career, and this led to her international breakthrough in the 1980s, with the work The Ballad of Sexual Dependency (1979–86). Many of Goldin's photographs areauto-biographical, and portray love, drug abuse, sex and violent relationships.
Neil Goldstein
1939–2001, USA
Neil Goldstein grew up in New York but moved to Sweden via Denmark in the late 1960s. Goldstein was a member of Bildbyrån Saftra and one of the driving forces behind Fotograficentrum. He initiated the outdoor exhibition platform Planket together with Irene Berggren, Lars Hall, Bror Karlsson, Gunnar Smoliansky and RebeckaTarschys in 1982. Planket was a yearly photographical exhibition in the park Vitabergsparken in Stockholm for 12 years. Goldstein lived in Naisheden in Northern Sweden in 1975−78 and documented the lives of "kronotorpare", crofters and cultivators of land owned by the royal crown. Goldstein published his photographs in the book Slutdikat. Kronotorpareibyn Naisheden, Norrbotten in 1978, with texts by Carl Eichwurzel and Mona Larsson.
Catharina Gotby
Born 1955, Sweden
Catharina Gotby has roots in documentary photography but has, in recent years, created works revolving around social situations and psychoanalysis. Gotby published her first book Evigt brinnande tid [Eternally Burning Time] in 1992, documenting the lives of people in mental institutions in Sweden and Nicaragua. The series was created in 1985−89 and is accompanied by texts about the individuals portrayed. Gotby published the photo book Med kroppen som slagfält [Your Body a Battleground] in 2004, where images of places, people and landscapes are paired with interviews about anger and destructiveness. Five years later, she published Sång [Song], a series of self-portraits paired with landscapes. Catharina Gotby has worked as a writer and filmmaker as well as a photographer.
Denise Grünstein
Born 1950, Finland
Denise Grünstein rose to fame in the late 1970s after studying photography in the USA and working with fashion and commercial photography. Grünstein's oeuvre is characterised by images of nature and people, exploring issues of sexuality, gender and identity. In the series Figur i landskap [Figure in landscape] (2001), large scale photographs depict natural settings with human figures trying to hide. In the photographs, the romantic ideal of nature is curtailed by a sense of looming yet invisible threat. Figur i landskap was displayed at Moderna Museet in 2001.
Kenneth Gustavsson
1946−2009, Sweden
Kenneth Gustavsson studied at Fotoskolan in Stockholm in 1964 to 1967 and co-founded the Saftra photo agency with Anders Petersen after graduation. Gustavsson and Petersen created well-received reportages during the late 1960s, including a series taken in run-down neighbourhoods of Stockholm that was displayed in the exhibition Staden i retur [City in Return] at the Stockholm City Museum in 1969. After a break from photography during the 1970s, Gustavsson reappeared in 1983 with a spread in ETC magazine and an exhibition at Galleri Gauss in Stockholm. Throughout the 1980s he captured city life on his travels to Belfast, Chicago and New York and other cities. In 1984, Kenneth Gustavssson was awarded the prestigious Stora Fotografipriset, founded by the Swedish magazine Foto.
Walter Hirsch
1935−2012, Russia
Walter Hirsch was born in St Petersburg and moved to Sweden at an early age. He began his career in film but went on to work as a freelance photographer in Stockholm in 1965. His breakthrough came with the series Midsommar [Midsummer] published in 1967, a personal documentation of midsummer celebrations. The following year, his series London 13 April, 9 am – 11 pm was displayed at Moderna Museet, a collection of nearly 700 photographs, all taken in one and the same day in the city. The series Bilder dagbok [Images diary] is a visual documentation of his life from March 18, 1981 to March 18, 1982.
Gerry Johansson
Born 1945, Sweden
Gerry Johansson began to take an interest in photography in his teens, and started documenting urban environments during a sojourn in New York in the early 1960s. He studied graphic design at Konstindustriskolan in Gothenburg between 1965 and 1969, after which he worked for fifteen years as a graphic designer. Since the mid-1980s, Johansson has been working as an independent photographer. He published some twenty books, among them Amerika [America] (1998), Sverige [Sweden] (2005) and Deutschland [Germany] (2012). His photographs depict places, landscapes and cities in finely-tuned, detailed images. Johansson works in a documentary tradition and is an exponent of classical black-and-white photography.
Rune Jonsson
1932–2010, Sweden
Rune Jonsson started working as a photographer in the 1950s and began his research on British photography in the 1970s, with an emphasis on the works of Bill Brandt and other 1930s-1950s photographers. He published a large number of books on photographic techniques, theory and photographers and was editor of Fotografisk Årsbok in 1967−70. Jonsson taught photography at Christer Strömholm's Fotoskola, Teckningslärarinstitutet and Konstfack – University College of Arts, Crafts and Design. The photographs presented here are from the series Fotografier från England och Wales [Photographs from England and Wales] from the early 1970s, taken on one of Jonsson's numerous trips to the United Kingdom to photograph natural and cultural landscapes.
Eva Klasson
Born 1947, Sweden
Eva Klasson became internationally acknowledged in Paris in the mid-1970s on the strength of a series of intimate close-ups of her own body, which she compiled and published in an artist's book in 1976. Its title, Le troisième angle [The Third Angle] alludes to the three levels of conditions she sought to express in her images. The first was the physical condition, the second the mental/psychological and the third angle was that of the camera lens. In her projects, she is both behind and in front of the camera. Klasson studied for Christer Strömholm and moved to Paris in 1969 to work as a freelance photographer for architectural firms, advertising companies and various magazines. She created a further two series that explore various emotional states. Over a few years, she had numerous exhibitions in Paris, Rome, Geneva and Stockholm, before giving up photography and moving to the USA.
Nina Korhonen
Born 1961, Finland
Nina Korhonen was born in Tampere in Finland and has lived and worked in Stockholm since 1981. Korhonen studied photography at Nordens Fotoskola in 1987−90 and was a member of Mira Bildarkiv, founded in 1979. The series Minne, Muisto, Memory (1997) revisits Korhonen's childhood in Finland, drawing on identity, relations and closeness to nature. Korhonen's celebrated series Anna Amerikan mummu (2004) portrays her grandmother who made her childhood dream come true at 40 years old and immigrated to the United States. Anna's husband visited her in New York each winter and would photograph her extensively during their time together there, a portrayal Korhonen carried on in 1993−99.
Tuija Lindström
Born 1950, Finland
Tuija Lindström began working with photography after her move from Finland to Stockholm in the 1970s. She studied photography at Konstfack in Stockholm in the 1990s, where she started working with large-format cameras and advanced darkroom techniques. In her conceptual series Kvinnorna vid Tjursjön [The Girls at Bull's Pond] (1991), portraits of women floating in dark water are juxtaposed with monumental images of domestic irons, creating a tension between the soft bodies and the angular contours of the iron. Lindström was a professor at the School of Photography and Film at Göteborg University in 1992−2002, during which time the curriculum was reoriented towards a more theoretical and artistic direction.
Anders Petersen
Born 1944, Sweden
Anders Petersen became interested in photography after seeing an image of the Montmartre graveyard by Christer Strömholm, who was to be his mentor and friend for 40 years. Petersen studied photography under Strömholm in 1966−68 and began his three year project of photographing the late-night regulars of the bar Café Lehmitz in Hamburg the year he graduated. Through his photographs, Petersen documents life beyond the margins of society. Petersen sees his work as a diary where he strives to capture the social encounters between people. The series City Diary shows Petersen's photographic engagement with urban subcultures in cities such as Stockholm, St Petersburg and Tokyo.
Håkan Pieniowski
Born 1948, Sweden
Håkan Pieniowski studied at Christer Strömholm's Fotoskola in 1971−74 and worked as a photographer at Stockholms Stadsmuseum for five years after graduation. In 1983, Pieniowki published the series Rzeszów: Bland polska bönder [Rzeszów: Among Polish Farmers], a documentation of peasant life in rural Poland. In 1985, Pieniowski began his career as a documentary filmmaker and made the award-winning documentary trilogy about the lives of the Russian Anufrinka family Jag älskar dig Natascha! [I love you, Natascha!] (1999), Jag älskar dig mitt barn [I love you my child] (2001), and Vi som älskade [Once There was Love] (2012), with filmmaker Kåge Jonsson.
Marco Plüss
Born 1934, Switzerland
Marco Plüss studied at Christer Strömholm's Fotoskola and has produced numerous photography books, including Rekonstruktion [Reconstruction] (1989), Huset [The House] (1997), and Hasankeyf: en fästning i Mesopotamien [Hasankeyf – a fortress in Mesopotamia] (2001). The series Poltava med Guds hjälp [Poltava with the Help of God] (1992) is a photographic narrative of the Battle of Poltava in central Ukraine, where Swedish forces were defeated by the Russian Army in 1709. The series illustrates extracts from diaries and letters written by those who fought in the Swedish Army, telling of hunger, sickness, destruction and attacks. The still-life and landscape images are created with superimposed frames, to capture the tension and despair in the letters.
Inta Ruka
Born 1958, Latvia
Inta Ruka began her photographic career in the late-1970s and started working on her portrait series My Country People in 1983. The series documents the vanishing peasant culture in Ruka's native region Balvi in Latvia and set the tone for her documentation of life in post-Soviet Latvia. Ruka displayed the series, representing Latvia at the 48th Venice Biennale in 1999. The series Amalias Street 5a, begun in 2004, documents the residents of an apartment building on the outskirts of old Riga. The images describe the transformation of Latvian culture in the new millennium, through the lives and aspirations of the people living in the building. Ruka has a long-standing relationship with Sweden, she has worked as a cleaner at the Swedish Embassy in Riga for many years and the Swedish filmmaker Maud Nycander portrayed Ruka in the documentary film The Photographer from Riga: Inta Ruka from 1999.
Ulf Simonsson
Born 1944, Sweden
Ulf Simonsson studied at Christer Strömholm's Fotoskola during the mid-1970s and worked as a freelance photographer in Paris in 1967–68. Simonsson was a press photographer for Swedish daily Aftonbladet in 1969−71 and a film photographer at TV2 in Stockholm in the 1970s. In 1983−84, he worked alongside Lars Tunbjörk, Rolf Adlercreutz and Lars Allard for the newspaper Stockholms-Tidningen. The child portraits presented here were created in Stockholm in the 1960s and on reportage trips to Dublin and Jordan in the 1980s.
Gunnar Smoliansky
Born 1933, Sweden
Gunnar Smoliansky  worked as an industrial photographer and photo journalist before going freelance in the mid-1960s. The Moderna Museet collection has some 90 photographs by Smoliansky, including his portraits of the Swedish jazz elite, his so-called Promenade Pictures – close-ups of nature – and poetic images of his home on Värmdö. He studied under Christer Strömholm in the mid-1950s, and later became one of the photographers in Strömholm's circle. He belongs to the generation of photographers who developed Swedish documentary photography in the 1970s and 1980s in a more personal and aesthetic direction. The City of Stockholm awarded Gunnar Smoliansky the Lennart af Petersens Prize in 2005.
Christer Strömholm
1918−2002, Sweden
Christer Strömholm has had a seminal influence on Swedish photography. He came to photography in the late 1940s via graphic art. During his extended visits to Paris in the 1950s and 60s he moved towards street photography, producing his famous portraits of transsexuals at Place Blanche. During the first half of the 1960s, he travelled extensively, mainly to Spain, Japan, India and the USA. Early in his career, he began organising his own photography course at Kursverksamheten in Stockholm, an activity that eventually developed into the well-known Fotoskolan, with some 1,200 students between 1962 and 1974. Christer Strömholm's images and methods have inspired many generations of Swedish photographers, but the general public did not discover him until 1986, with the exhibition Nine seconds of My Life at Moderna Museet.
Lars Tunbjörk
Born 1956, Sweden
Lars Tunbjörk began his career as a press photographer at Borås Tidning in the early 1970s before moving on to Stockholms-Tidningen in 1981−84. Tunbjörk has published several monographs, among them Landet utom sig: Bilder från Sverige [Country Beside Itself: Pictures from Sweden] (1993), Dom alla [All Those] (2003), I Love Borås! (2006) and Vinter [Winter] (2007). Tunbjörk's artistic breakthrough came with his series Landet utom sig, photographs of public places he visited to document Swedes on holiday. For the series Vinter, Tunbjörk travelled around Sweden to capture the mental state we enter during the dark winter months.
Odd Uhrbom
Born 1941, Sweden
Odd Uhrbom studied at Christer Strömholm's Fotoskolan in Stockholm. Uhrbom made his breakthrough with the book Gruva [Mine] in 1968, which he published together with the author Sara Lidman. The book portrays the conditions for miners at the LKAB mines in Kiruna and Malmberget in northern Sweden. The project had a great impact and is considered to be a triggering factor behind the miners' strike in Sweden in 1969 that resulted in higher wages and better working conditions for the miners. Uhrbom is known for his empathetic photo journalism from war-ridden areas, showing the plight of the civilian population in Afghanistan and Jordan and other regions.
John S. Webb
Born 1950, United Kingdom
John S. Webb began his career in his native London, where he photographed urban landscapes. In the late-1970s, he moved to Sweden, where he has worked as a freelance photographer, journalist and teacher of photography at the School for Photography and Film at Göteborg University and Malmö University. Webb has captured the cultural and natural landscapes of Sweden, particularly the Skåne coastline. He has published a large number of photo books, including Still Movements (1977), Bilder från västra Skåne (1986), Woodland (1993) and Gröna platser, fotografier 1991−1996 [Green Places, Photographs 1991-1996] (2000).