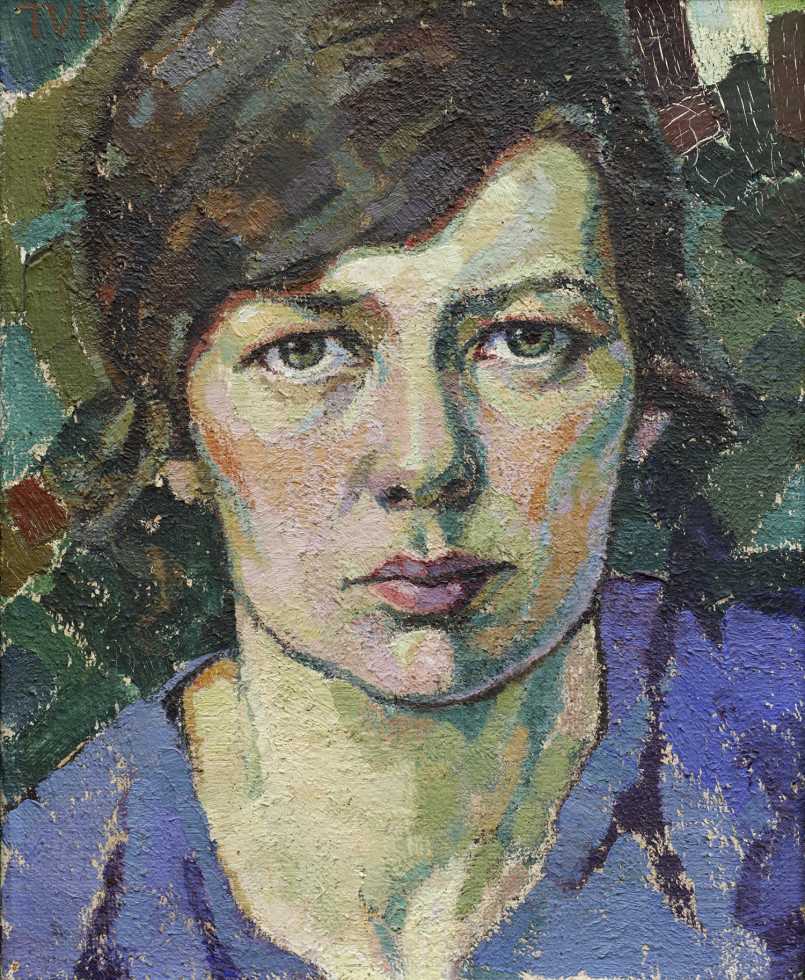 Tora Vega Holmström
I long for everywhere in the world
6.6 2014 – 31.8 2014
Malmö
One hundred years ago, the Baltic Exhibition took place in Malmö. 850,000 people visited the exhibition area, which included a magnificent section for contemporary art. It featured nearly 3,500 works by artists active in Russia, Germany, Denmark, Finland and Sweden. One of the artists was Tora Vega Holmström, born in Skåne, Sweden, who had studied in Copenhagen, at the Valand Academy in Gothenburg and in Germany.
Tora Vega Holmström belonged to the modern faction of the exhibition, figureheaded by Isaac Grünewald and Sigrid Hjertén, along with German and Russian expressionists, such as Alexej von Jawlensky and Wassily Kandinsky. Many of them were criticised by the press for their modern style and radical treatment of colour, not least Tora Vega Holmström, who showed her painting "Strangers". Tora Vega Holmström's international network was to reach far beyond the usual highroads of Nordic art, and covers an intriguing field of mainly women modernists.
"College is like a whirlwind – everything gets caught up in the commotion"
Tora Vega Holmström (1880-1967) grew up with five siblings at the Hvilan community college school in Åkarp. The school was run by her parents. It was the first community college in Sweden, and an intellectually dynamic environment where the major current issues were discussed. In the 1870s, Hvilan had introduced classes for women, which was unusual at the time.
Her sister had contacted the famous Swedish artist Carl Larsson, asking for advice about the young Tora Vega's development. Larsson replied that the young artist from Åkarp had one big disadvantage, namely her gender: she was a woman! Regardless of this, Tora Vega Holmström studied at the Valand Academy in Gothenburg in 1900–1902, where she became friends with Hanna Borrie and Adelheid von Schmiterlöw and others.
The female networks came to play an important part in Tora Vega Holmström's life. A little later, she and her friends – the three musketeers – went to Dachau near Munich to study under the artist Adolf Hölzel. Her encounter with Hölzel's colour theory was fundamental to how she developed her painting in the years to come.
Another important person in Tora Vega Holmström's circle was Hanna Larsdotter, who was one of the first women agricultural students to graduate from Hvilan. When she took over Borgeby Castle, she began inviting artists and writers to the fascinating environment by the Lödde river. One of them was the Austrian poet Rainer Maria Rilke, who exchanged letters with Tora Vega Holmström for many years.
"A hole of your own to be in is essential to life for people like us"
Tora Vega Holmström realised at an early stage that a future as a family girl or a housewife would be hard to combine with the artist's profession, so she decided to go her own way. Her first extended trip abroad was to Paris in 1907, together with her female friends. They studied Matisse's private collection and met Rilke, who was employed as Auguste Rodin's secretary at the time.
In 1914, Tora Vega Holmström was invited to show some ten works at the Baltic Exhibition in Malmö. But her lively style and daring colours evoked strong reactions and were considered brutal and "insufficiently feminine".  This kind of criticism would follow her through a large part of her life.
The painting "Strangers" includes a number of traits that came to characterise Tora Vega Holmström's oeuvre. The topic of strangers is present, as is the mother and child, a theme she revisited in a long series of paintings later in life. You can also sense her endless interest in people and the great social and political contemporary issues.
In addition, during the 1910s, Tora Vega Holmström discovered a motif that was to fascinate her for many years – the peasant woman from Skåne. The original model was her brother's mother-in-law, Cilia, a woman of few words. With a proud attitude and ineffable mien, she became the protagonist in a number of paintings from memory that could be described as tributes to "all the women who blossom in secret".
"I long for everywhere in the world…"
Tora Vega Holmström was good at languages and would build a far more widespread international network than was customary for Swedish artists at the time. Over the years, artists like Ester Almqvist, Ellen Trotzig and Agda Holst would be added to her network of women friends, which also included international colleagues like María Gutiérrez Blanchard. She was to remain close to her colleagues throughout life, but resolutely maintained that she wanted to be judged as an artist, and not as a woman artist.
Early on, she developed an appetite for travelling and spent extended periods in France and Germany, with shorter visits to Italy and North Africa. The rough seaport of Marseille, plagued with unemployment and social problems, became a second home to her. Here, she found faces full of character and new motifs that she would elaborate on for many years. One day, she saw a woman with a child on her arm, and she knew that she had to paint her. The woman's name was Cathérine. She turned out to be an illiterate mother of seven from Algeria. She became one of Tora Vega Holmström's favourite models.
Tora Vega Holmström visited Österlen in south-eastern Skåne for the first time as early as 1908, and was struck by the beautiful, yet dramatic landscape. Years later, she rented a simple hut that was erected in Kåseberga by the sea. The confluence of hills, sea and sky gives monumental proportions to her still-life with fruits, sea shells and jetsam seemingly motion across the surface of the earth, on its way to a hazy horizon.
In her often colourful landscapes, the nuances and atmosphere from the Algerian desert appear to fuse with the image of the sea banks at Österlen. "The lemon yellow rapeseed beckoned from the meadows, all was beautiful," the artist wrote in her diary.
"All of Europe is blacked out"
Tora Vega Holmström's contacts in Munich informed her at an early stage of the camps that were being built for political dissidents, Jews and Roma in Germany, including in Dachau where she had studied in her youth.  In a letter, she describes Germany as "hell on earth". Shortly before the outbreak of war, she was in Marseille. Her journey through Europe was arduous.
During the Second World War, Tora Vega Holmström was active in a number of aid projects for refugees and took a break from painting, with the exception of the portraits of Jewish refugees that she felt compelled to do. She was especially outraged by the children who were left adrift due to the war and genocides, and the torture that was committed "in the name of science".
Tora Vega Holmström led an itinerant life under very sparse circumstances throughout her adulthood. Lacking resources, she often borrowed lodgings and studio space from friends and family. In a letter, she writes that her most frequent dream is that she is "looking for lodgings". She did not have a permanent address of her own until she was in her 60s. The last years of her life Tora Vega Holmström lived in Lund.
The exhibition is divided into themes describing different facets of Tora Vega Holmström's oeuvre and her fascinating network of artist colleagues, intellectuals and writers in Sweden and abroad.
All quotes from letters and diaries are from Birgit Rausing's book, "Tora Vega Holmström", 1981.
Curators: Cecilia Widenheim (Director, Malmö Konstmuseum) in association with Birgit Rausing (art historian and writer) and Greta Burman (Curator, Learning, Moderna Museet Malmö).
Exhibition architect: Henrik Widenheim
The exhibition is a unique collaboration between Malmö Konstmuseum and Moderna Museet Malmö.
With support from: