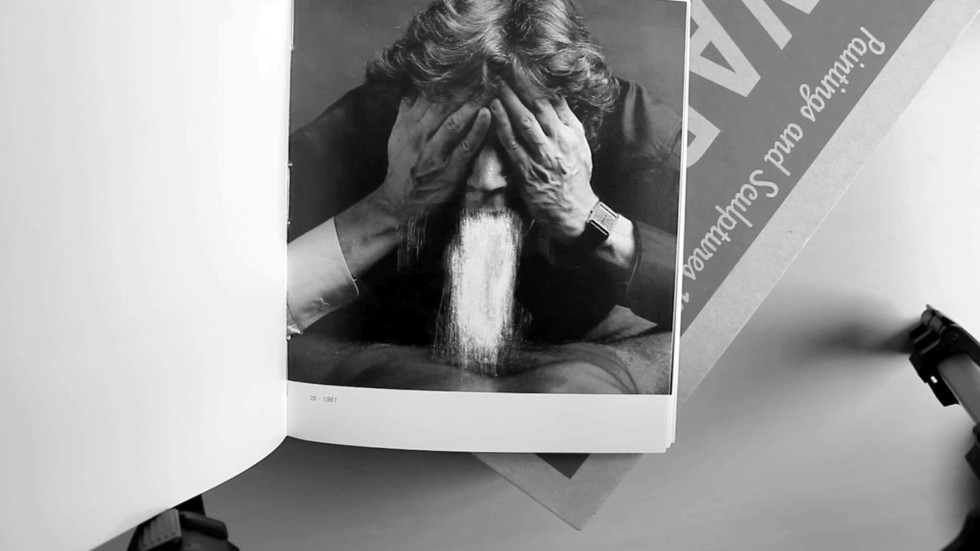 Artist talks KHM x MMM
20.9 2018 – 7.5 2020
Malmö
KHM x MMM is a series of lectures and artist talks created in collaboration between Malmö Art Academy and Moderna Museet Malmö.
KHM x MMM presents a broad programme of internationally active artists, theorists, writers and curators connected to current themes and exhibitions. The programme and the invited speakers are presented continuously.
Free admission!
Upcoming artist talks:
6 February: James Richards
James Richards (b.1983, Cardiff, UK) is an artist whose video, sound and curatorial projects examine themes of obsession, desire and technology through the use of archival research, found footage and extensive collaboration.
Rooted in the methodology of montage his work hosts and repurposes visual and sonic material in abstract, sensual and at times violent ways. His compositions are presented in minimalist spacious installations that invites the viewer to engage physically and emotionally with the sensuality of experience.
James Richards lives and works in Berlin and London. Recent solo shows include Speed II (with Leslie Thornton) at Malmö Konsthall, 2019 Kunstlerhaus Stuttgart (With Leslie Thornton) (2018) Kestner Gesellschaft, Hannover (2017), ICA, London (2016), Bergen Kunsthall (2016), Kunstverein München (2015), CCA, Kitakyushu (2012), Chisenhale Gallery, London (2011) and Tate Britain, London (2010). In 2017 Richards represented Wales at the 57th Venice Biennale with his exhibition 'Music for the Gift'.
9 April: Kirsten Astrup & Maria Bordorff
7 May: Lea Porsager
The lecture series KHM x MMM was initiated in January, 2015. The programme is planned in collaboration between the lecture committee of Malmö Art Academy and Moderna Museet Malmö. All lectures are open to the public and the language, unless otherwise stated, is English. Programme coordinator, Moderna Museet Malmö: Andreas Nilsson.
Past events
5 December 2019: Post Brothers. In collaboration with Iaspis, the Swedish Arts Grants Committee's International Programme for Visual and Applied Artists.
7 November 2019: Janice Kerbel
17 October 2019: Rachel Reupke
16 April 2019: Sonya Blesofsky "Monuments to Impermanence". In collaboration with Iaspis, the Swedish Arts Grants Committee's International Programme for Visual and Applied Artists.
4 April 2019: Lars Bang Larsen in conversation with Primer
14 March 2019: Kirsty Bell: "How to read a city: A prelude" (at Inter Arts Center)
12 December 2018: Lili Reynaud-Dewar
15 November 2018: Marianna Simnett
26 October 2018: Kira Nova. "Tips on Sexual Slapstick"
20 September 2018: They Are Here. In collaboration with Iaspis, the Swedish Arts Grants Committee's International Programme for Visual and Applied Artists.
17 April 2018: Jonathan Allen
5 April 2018: Laure Prouvost
27 March 2018: Tori Wrånes. In collaboration with Iaspis, the Swedish Arts Grants Committee's International Programme for Visual and Applied Artists.
14 March 2018: Sara Jordenö and Conny Karlsson Lundgren
8 December 2017: Sabeth Buchmann
24 March 2017: Robel Temesgen
16 May 2017: Alba Colomo and Runo Lagomarsino
3 March 2017: Sophie Jung
2 February 2017: Pablo Larios
8 December 2016: Ann Iren Buan
27 October 2016: Fikret Atay
21 October 2016: David Horvitz
21 April 2016: Assemble (at Inkonst)
15 April 2016: Auto Italia
31 March 2016: Ayesha Sultana, Iaspis grant holder
17 March 2016: Gonçalo Sena
4 March 2016: Marit Paasche (at Malmö Art Academy)
19 January 2016: Lina Selander
3 December 2015: Simon Starling
27 November 2015: Thomas Henriksson (at Malmö Art Academy)
20 November 2015: David Kasprzak (Malmö Art Academy in collaboration with Iaspis)
26 May 2015: Mark von Schlegell (Malmö City Library)
21 April 2015: Musa Pariadisiaca
4 March 2015: Sonja Nilsson (at Malmö Art Academy)
27 February 2015: Mimi Cabell (at Malmö Art Academy)
13 January 2015: Tris Vonna-Michell
Calendar events

KHM x MMM: James Richards
In English