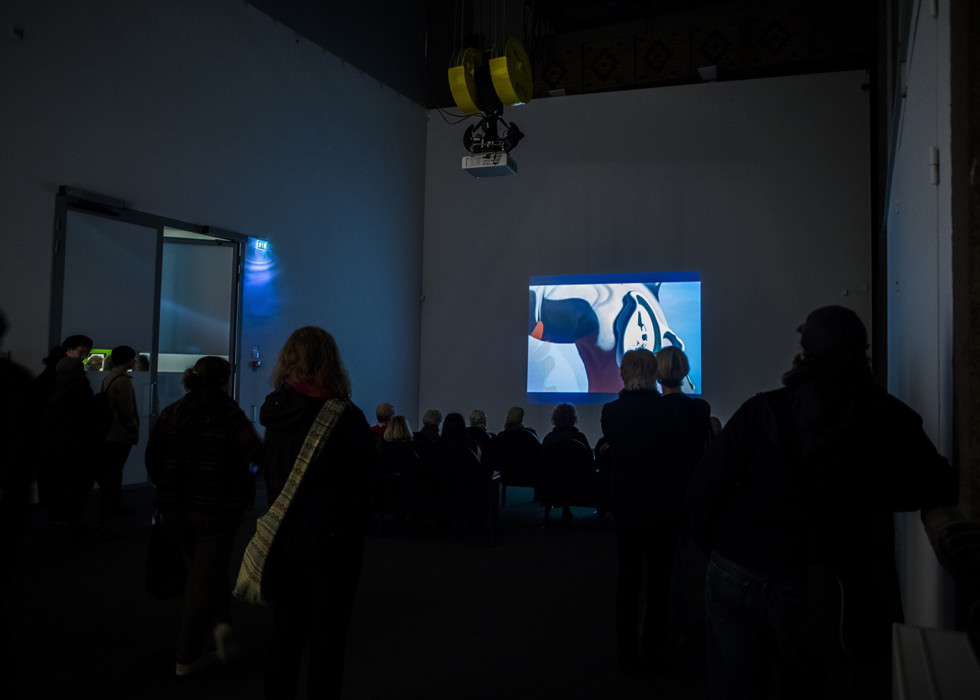 Artist talks KHM x MMM
20.9 – 12.12 2018
Malmö
The lecture comittee of Malmö Art Academy and Moderna Museet Malmö invite you to a series of lectures and artist talks created in collaboration. We will present a broad programme of internationally based artists in a seletion based on our shared interests and separate points of departure.
We hope to contribute to the art-scene in Öresund with new perspectives as well as the possibility of a deepened understanding. This collaboration enables an expansion of our programme, together we are greater than the sum of our parts.
Initiated in January 2015, the project aims to arrange lectures at a steady interval throughout the year. The programme will be developed continuously and the invited speakers will be introduced subsequently.
Welcome!
Upcoming artist talks autumn 2018
20 September 16.30: They Are Here
4 October 16.30: Ieva Misevičiūtė
15 November 16.30: Marianna Simnett
12 December 16.30: Lili Reynaud Dewar
More information coming soon.
Admission is free, all lectures are open to the public and the language unless otherwise stated is English. The 2017 programme is supported by the Swedish Arts Grants Committe iaspis. Coordinator: Andreas Nilsson.
Past events
17 April 2018, Moderna Museet Malmö: Jonathan Allen
5 April 2018, Moderna Museet Malmö: Laure Prouvost
27 March 2018, Moderna Museet Malmö: Tori Wrånes. In collaboration with Iaspis, the Swedish Arts Grants Committee's International Programme for Visual and Applied Artists.
14 March 2018, Moderna Museet Malmö: Sara Jordenö and Conny Karlsson Lundgren
8 December 2017, Moderna Museet Malmö: Sabeth Buchmann
24 March 2017, Moderna Museet Malmö: Robel Temesgen
16 May 2017, Moderna Museet Malmö: Alba Colomo and Runo Lagomarsino
3 March 2017, Moderna Museet Malmö: Sophie Jung
2 February 2017, Moderna Museet Malmö: Pablo Larios
8 December 2016, Moderna Museet Malmö: Ann Iren Buan
27 October 2016, Moderna Museet Malmö: Fikret Atay
21 October 2016, Moderna Museet Malmö: David Horvitz
21 April 2016, Inkonst, Bergsgatan 29, Malmö: Assemble
15 April 2016, Moderna Museet Malmö: Auto Italia
31 March 2016, Moderna Museet Malmö: Ayesha Sultana, Iaspis grant holder
17 March 2016, Moderna Museet Malmö: Gonçalo Sena
4 March 2016, Konsthögskolan i Malmö: Marit Paasche
19 January 2016, Moderna Museet Malmö: Lina Selander
3 December 2015, Moderna Museet Malmö: Simon Starling
27 November 2015, Konsthögskolan i Malmö: Thomas Henriksson
20 November 2015, Konsthögskolan i Malmö in collaboration with Iaspis: David Kasprzak
26 May 2015, Malmö City Library: Mark von Schlegell
21 April 2015, Moderna Museet Malmö: Musa Pariadisiaca
4 March 2015, Malmö Art Academy: Sonja Nilsson
27 February 2015, Malmö Art Academy: Mimi Cabell
13 January 2015, Moderna Museet Malmö: Tris Vonna-Michell
Calendar events

KHMxMMM: They Are Here
In English

KHMxMMM: Ieva Misevičiūtė
In English

KHMxMMM: Marianna Simnett
In English

KHMxMMM: Lili Reynaud Dewar
In English