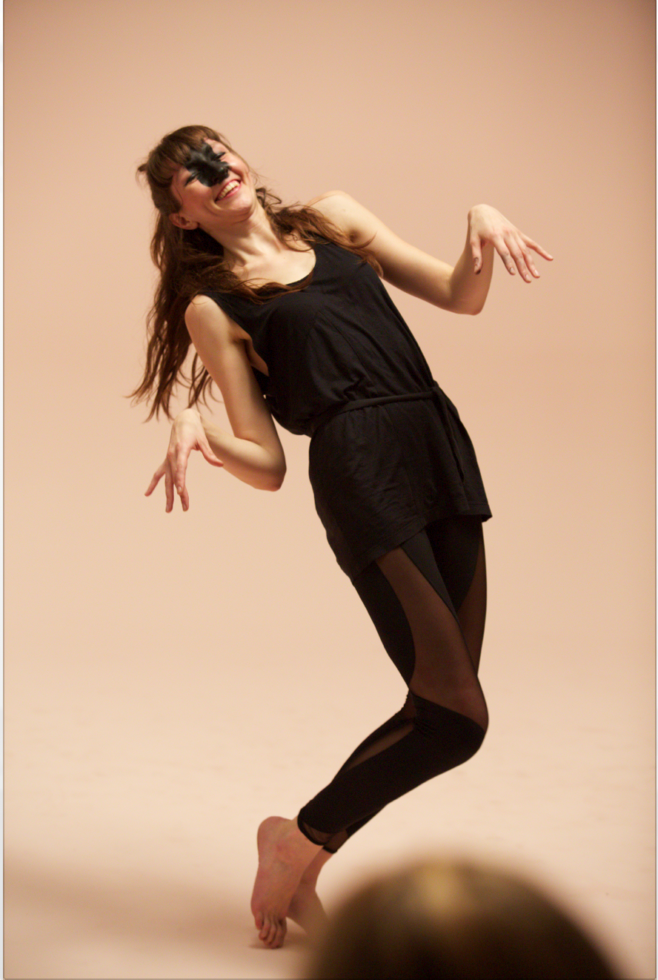 Artist talks KHM x MMM
20.9 – 12.12 2018
Malmö
KHM x MMM is a series of lectures and artist talks created in collaboration between Malmö Art Academy and Moderna Museet Malmö.
KHM x MMM presents a broad programme of internationally active artists, theorists, writers and curators connected to current themes and exhibitions. The programme and the invited speakers is presented continuously.
Free admission!
Artist talks autumn 2018
26 October 16.30: Kira Nova. "Tips on Sexual Slapstick"

Kira Nova's artistic practice combines visual arts, physical theatre, dance, stand-up, Butoh, perverted academic language and sculptural work. She worked as a clown in the circus throughout her youth.
Nova has written about her practice: "I want to achieve tens of thousands of things, ask one million different questions and point to a confusing number of directions, accumulate and use endless influences, follow the path of many great artists. Because still it will never be enough — as we can only try to be as radical as reality is. The only thing that is left to do is to act insane."
Nova is based in New York, and holds a research MA in Cultural Analysis and MA in Political Studies from the University of Amsterdam. She has presented her work in Centre Georges Pompidou in Paris; Sculpture Center, Swiss Institute (as part of Performa 09) and MoMa PS1 in New York; dOCUMENTA (13) in Kassel (with Michael Portnoy); Hauser& Wirth in Zurich; Time-Based Art Festival in Portland; de Appel art center in Amsterdam; Cabaret Voltaire in London; Playground Festival at STUK in Leuven, Belgium; Beursschouwburg theater in Brussels; Western Front in Vancouver; Swiss Sculpture Exhibition in Biel-Bienne in Switzerland; and Contemporary Art Centre (CAC) in Vilnius, among other venues.
Nova (birth name Ieva Misevičiūtė) co-curated Mindaugas Triennial – the 11th Baltic Triennial of International Art (2012) at CAC, Vilnius and curated a night of performances Alligators! at de Appel art center, Amsterdam. She was recently a speaker at the Sommerakademie im Zentrum Paul Klee and is a visiting lecturer at Malmö Art Academy in Sweden.
15 November 16.30: Marianna Simnett
Marianna Simnett (b. 1986) lives and works in London. Solo exhibitions and commissions include the forthcoming Museum für Modern Kunst, Frankfurt (2018) and E-Werk, Freiburg, Germany (2019), as well as New Museum, New York (2018); Art on the Underground, London (2017); Seventeen Gallery, New York and London (2016); Serpentine Pavilion, London (2015); and Comar, Isle of Mull, Scotland (2015). Her work is also included in recent and forthcoming group exhibitions and screenings, among them the Athens Biennial (2018); Walker Art Center, Minneapolis (2018); Sadie Coles, London (2018); the touring exhibition "Transitional States," Lincoln, UK, London, Barcelona, and Bologna (2018); Bergen Kunsthall, Bergen, Norway (2017); FACT and Bluecoat, Liverpool (2016); and Chronus Art Center, Shanghai (2015). Simnett is a winner of the Jerwood/FVU Award (2014), the Adrian Carruthers Studio Award (2013), and the William Coldstream Memorial Prize (2013). She was shortlisted for the Jarman Award and a Paul Hamlyn Foundation Award in 2017.
12 December 16.30: Lili Reynaud-Dewar
Lili Reynaud-Dewar dances, writes, talks, teaches, makes movies, video installations, furniture, sculptures, feminist magazines, performances, alone or with her friends, students, family. In 2009 she co-founded, with Dorothée Dupuis and Valérie Chartrain, the art and entertainment feminist publication Petunia. She has been a professor at Haute École d'Art et de Design in Geneva since 2010.
She is part of the group Wages For Wages Against, a campaign launched by Ramaya Tegegne, that promotes fees for artists as well as a less discriminating art world. Reynaud-Dewar lives and works in Grenoble, where she has initiated the project Maladie d'Amour in her studio in 2015. Maladie d'Amour is a social and emotional experiment that brings a small group of young people around one-night long exhibitions featuring Lili Reynaud-Dewar's artist friends from Paris, Geneva, Vienna and elsewhere.
The lecture series KHM x MMM was initiated in January, 2015. The programme is planned in collaboration between the lecture committee of Malmö Art Academy and Moderna Museet Malmö. All lectures are open to the public and the language, unless otherwise stated, is English. Programme coordinator, Moderna Museet Malmö: Andreas Nilsson.
Past events
20 September 2018: They Are Here. In collaboration with Iaspis, the Swedish Arts Grants Committee's International Programme for Visual and Applied Artists.
17 April 2018: Jonathan Allen
5 April 2018: Laure Prouvost
27 March 2018: Tori Wrånes. In collaboration with Iaspis, the Swedish Arts Grants Committee's International Programme for Visual and Applied Artists.
14 March 2018: Sara Jordenö and Conny Karlsson Lundgren
8 December 2017: Sabeth Buchmann
24 March 2017: Robel Temesgen
16 May 2017: Alba Colomo and Runo Lagomarsino
3 March 2017: Sophie Jung
2 February 2017: Pablo Larios
8 December 2016: Ann Iren Buan
27 October 2016: Fikret Atay
21 October 2016: David Horvitz
21 April 2016: Assemble (at Inkonst)
15 April 2016: Auto Italia
31 March 2016: Ayesha Sultana, Iaspis grant holder
17 March 2016: Gonçalo Sena
4 March 2016: Marit Paasche (at Malmö Art Academy)
19 January 2016: Lina Selander
3 December 2015: Simon Starling
27 November 2015: Thomas Henriksson (at Malmö Art Academy)
20 November 2015: David Kasprzak (Malmö Art Academy in collaboration with Iaspis)
26 May 2015: Mark von Schlegell (Malmö City Library)
21 April 2015: Musa Pariadisiaca
4 March 2015: Sonja Nilsson (at Malmö Art Academy)
27 February 2015: Mimi Cabell (at Malmö Art Academy)
13 January 2015: Tris Vonna-Michell
Calendar events

KHMxMMM: Marianna Simnett
In English

KHMxMMM: Lili Reynaud-Dewar
In English