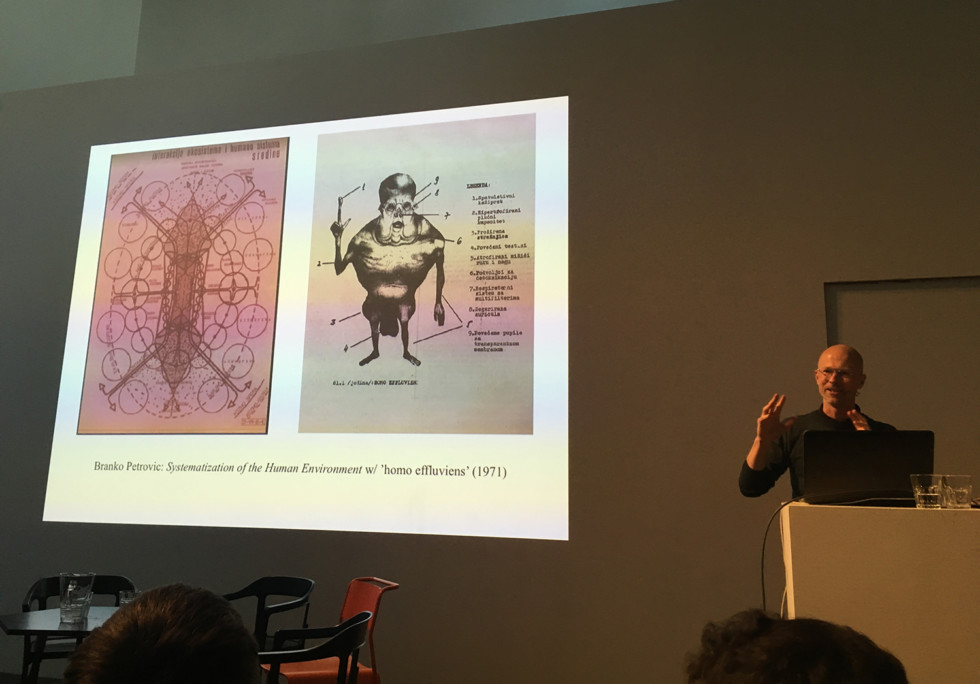 Artist talks KHM x MMM
20.9 2018 – 7.11 2019
Malmö
KHM x MMM is a series of lectures and artist talks created in collaboration between Malmö Art Academy and Moderna Museet Malmö.
KHM x MMM presents a broad programme of internationally active artists, theorists, writers and curators connected to current themes and exhibitions. The programme and the invited speakers is presented continuously.
Free admission!
Artist talks
17 October at 16: Rachel Reupke
Rachel Reupke's video works reveal a long-running fascination with the aesthetic and political stakes of minor affects – with frustration, annoyance and paralysis. Agency and acquiescence are central motifs in a series of anti-narratives, in which the subject struggles to assert their will within an everyday situation. From the formal expression of a grievance in Letter of Complaint to the experience of dating in Wine & Spirits, or the complexities of a domestic flat share in 10 Seconds of Greater, the scenarios appear familiar, drawing on universally readable image types such as stock photography and advertising, to construct a basic model with which to speculate on a variety of outcomes.
Reupke studied Fine Art at Nottingham Trent University in England. Recent solo exhibitions include Kennington Shaft, TG, Nottingham (2019), Lean in, Künstlerhaus Stuttgart, Letter of Complaint, Cubitt Gallery, London and Tyneside Cinema, Newcastle (all 2015) and Wine & Spirits, Cell Project Space, London (2014). Recent group exhibitions include Distress over Parliament, Flat Time House hosted by lítost, Friend of a Friend, Prague; Faux Amis, Simon Lee Gallery, London; Art Post-Internet, Ullens Center for Contemporary Art, Beijing and screenings at Museum of Modern Art, Vienna; Wattis Institute, San Francisco; Tate Britain, London; and the Museum of Modern Art, Warsaw.
7 November at 16: Janice Kerbel
More information soon.
The lecture series KHM x MMM was initiated in January, 2015. The programme is planned in collaboration between the lecture committee of Malmö Art Academy and Moderna Museet Malmö. All lectures are open to the public and the language, unless otherwise stated, is English. Programme coordinator, Moderna Museet Malmö: Andreas Nilsson.
Past events
16 April 16.30: Sonya Blesofsky "Monuments to Impermanence". In collaboration with Iaspis, the Swedish Arts Grants Committee's International Programme for Visual and Applied Artists.
4 April 2019: Lars Bang Larsen in conversation with Primer
14 March 2019: Kirsty Bell: "How to read a city: A prelude" (at Inter Arts Center)
12 December 2018: Lili Reynaud-Dewar
15 November 2018: Marianna Simnett
26 October 2018: Kira Nova. "Tips on Sexual Slapstick"
20 September 2018: They Are Here. In collaboration with Iaspis, the Swedish Arts Grants Committee's International Programme for Visual and Applied Artists.
17 April 2018: Jonathan Allen
5 April 2018: Laure Prouvost
27 March 2018: Tori Wrånes. In collaboration with Iaspis, the Swedish Arts Grants Committee's International Programme for Visual and Applied Artists.
14 March 2018: Sara Jordenö and Conny Karlsson Lundgren
8 December 2017: Sabeth Buchmann
24 March 2017: Robel Temesgen
16 May 2017: Alba Colomo and Runo Lagomarsino
3 March 2017: Sophie Jung
2 February 2017: Pablo Larios
8 December 2016: Ann Iren Buan
27 October 2016: Fikret Atay
21 October 2016: David Horvitz
21 April 2016: Assemble (at Inkonst)
15 April 2016: Auto Italia
31 March 2016: Ayesha Sultana, Iaspis grant holder
17 March 2016: Gonçalo Sena
4 March 2016: Marit Paasche (at Malmö Art Academy)
19 January 2016: Lina Selander
3 December 2015: Simon Starling
27 November 2015: Thomas Henriksson (at Malmö Art Academy)
20 November 2015: David Kasprzak (Malmö Art Academy in collaboration with Iaspis)
26 May 2015: Mark von Schlegell (Malmö City Library)
21 April 2015: Musa Pariadisiaca
4 March 2015: Sonja Nilsson (at Malmö Art Academy)
27 February 2015: Mimi Cabell (at Malmö Art Academy)
13 January 2015: Tris Vonna-Michell