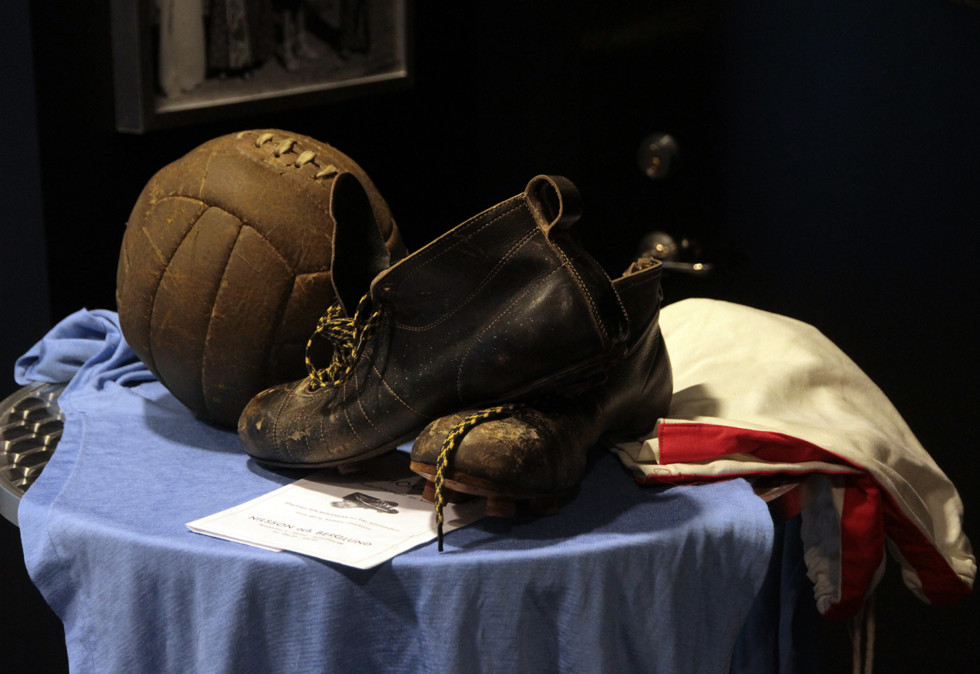 Football is more than just football
30.9 2016 – 16.10 2016
Malmö
Malmö Fotbollförening's (MFF) engagement in social issues goes back a long way. Eric Persson, the club's legendary former director, helped Jewish refuges get to Malmö from occupied Copenhagen during the Second World War. MFF is still committed to improving the lives of children and young people and takes a stand against racism. Their motto is: "Football is more than just football." We are now showing an exhibition about MFF's history from 1910 to the present day.
It was a long shot that found the net when Moderna Museet Malmö reached out to Malmö FF several years ago to establish an exchange of experiences between our art educators and their youth leaders. The club has been exceptionally successful at both meeting and engaging children and young people from diverse social classes and cultures. What can we at the museum learn from them?
The club's youth leaders noted the importance of basing their work on a clearly established foundation of values. When we began to explore one another's values we discovered a number of similarities: MFF is more than just football, and Moderna Museet Malmö is more than just art.
In connection with their youth tour "Give Racism a Red Card" in 2012, the club's teams made some pictures of their own on the theme, and the museum helped them present those pictures at football stadiums in connection with the tour, and then again at the museum in Malmö for a week-long show.
A mutual interest in continued collaboration began to develop. Malmö FF has a long tradition of engagement in social issues. However, less commonly known is that the club's former director Eric Persson helped Jewish refuges get to Malmö from occupied Copenhagen during the Second World War, and was decorated for it by the King of Denmark after the war.
That commitment lives on today. The club sponsors a department called "MFF in Society" that runs schools and advocates for an egalitarian and open society. I am reminded of my conversations with the legendary football player Nils Liedholm. In 1999 I organized an exhibition in Venice, and asked Liedholm to open the show for us. At the last minute he was unable to participate, but not before he had time to recount how when he joined AC Milan as a professional in the 1950s he had to learn a whole series of things outside of football. They wanted to turn him into a "civilized citizen" of Italian society! That led eventually to Liedholm starting his own winery and building a respectable collection of fine art.
At Moderna Museet Malmö we are showing glimpses from the football club's long history. It is surprising to see the high artistic quality of their trophies and awards, and how artists have celebrated the club through a series of paintings. The club's commitment to fighting racism has been particularly important in the city of Malmö. The motto for their social engagement is "Football is more than just football." And I maintain that art is more than just art. It's something we can all learn from—whether it horrifies or charms us, art touches us in a way that extends beyond the walls of the museum.
John Peter Nilsson
2 October at 15
15 October at 16
Guided tours of the exhibition with Malmö Fotbollförening's (MFF) profile Staffan Tapper. Please note that the tour is held in Swedish. Limited numbers. Pre-booking is required. Send an email to assistent.malmo@modernamuseet.se