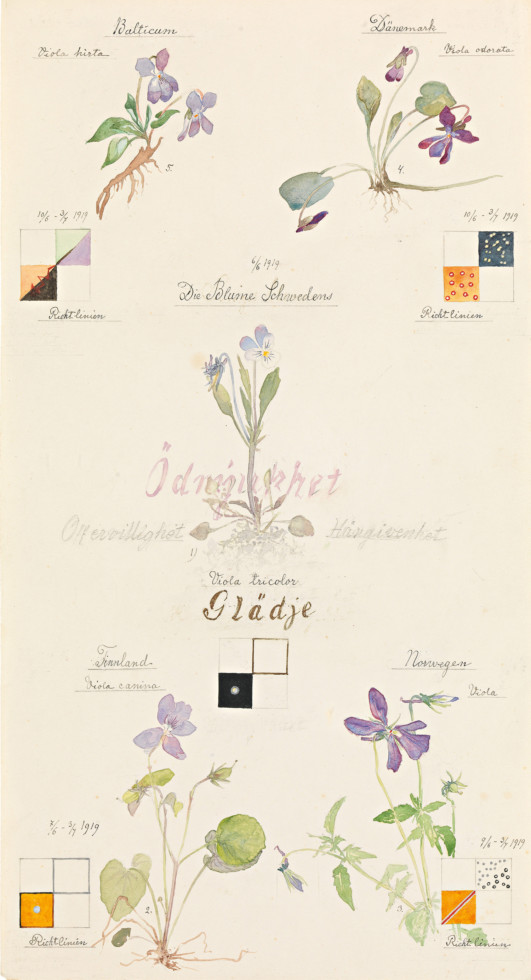 Paint with flowers and let the colours flow!
Summer workshop in the courtyard of Moderna Museet
25.6 – 28.6 2020
Malmö
For four days this summer our Workshop is moving outdoors! We fill our yard with flowers and plants that we will paint and paint with. With watercolor we paint how the plants look and feel. Together we create a large joint outdoor painting with real flowers and plants. We study, touch, feel and paint!
The artist Hilma af Klint was very interested in nature. In her paintings we often find motifs and symbols that we all recognize from nature – such as flowers and leaves. During the Summer Workshop we pick out the flowers from Hilma's paintings and look at them in reality. What do they really look like? And how do they feel? Beautiful? Nice? Or a little scary?
Welcome!
Due to the situation with the corona virus, we are taking measures to prevent the risk of contagion. This means, among other things, that our family activities move outdoors this summer. The summer workshop will be carried out so that we can regulate the number of participants, for your safety. We also introduce mandatory pre-registration and limit the number of participants.
Date: June 25–28
Time:
Shift 1: 11.15–12.15
Shift 2: 12.45–13.45
Shift 3: 13.45–14.45
Place: The courtyard of Moderna Museet Malmö
Age: From 4 years and up. Maximum one adult/child. Maximum 10 adults and 10 children/shift.
Tickets:  Please note that pre-registration is required to: assistent.malmo@modernamuseet.se. Write "Summer workshop" in the subject line and write date and time that you wish to attend. The registration is personal and binding. Children only in company of adult. Free entrance!
In case of rain/bad weather, the activity is cancelled.