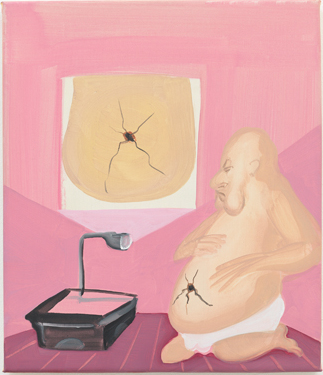 Tala Madani
Rip Image
16.2 2013 – 14.4 2013
Malmö
Tala Madani works with painting and animation, and the exhibition at Moderna Museet Malmö is her largest museum exhibition to date. A wide selection of paintings, works on paper and several animations will be presented in the Turbine Hall.
In her oeuvre Tala Madani (born 1981) addresses political subjects, including power structures, masculinity and group dynamics. The contrast between humour and seriousness, play and harsh reality is ever-present in Madani's artistic rendering of veritably ritualistic, often absurd situations that oscillate between the figurative and the abstract. Madani's small paintings invite the viewer to attend situations in which the power structures and masculine roles are inverted. The men interact in ways that move us from laughter to reflection. Complex structures and emotional layers are added to each other until the given outcomes are annulled. Tala Madani's larger paintings often portray large groups of people, abstract gatherings where the individual is partly obliterated.
Tala Madani was born in Iran. At the age of 14, she moved with her family to the USA, where she grew up. She has an MFA in painting from Yale University School of Art in New Haven, USA, from 2006. Today, Madani lives and works in Los Angeles, USA.
Tala Madani's previous exhibitions include the renowned group exhibitions "Speech Matters" (2011) in the Danish Pavilion at the Venice Biennale; "Greater New York" (2010) at P.S. 1 MoMA, New York; and "The Generational: Younger than Jesus" (2009) at the New Museum in New York. In 2011, she had a solo exhibition at Stedelijk Museum Bureau in Amsterdam.
The exhibition is presented in The Turbine Hall.
After Moderna Museet Malmö, the exhibition will tour to Moderna Museet in Stockholm, 25 May – 27 October, 2013.
Curators: Joa Ljungberg and Andreas Nilsson