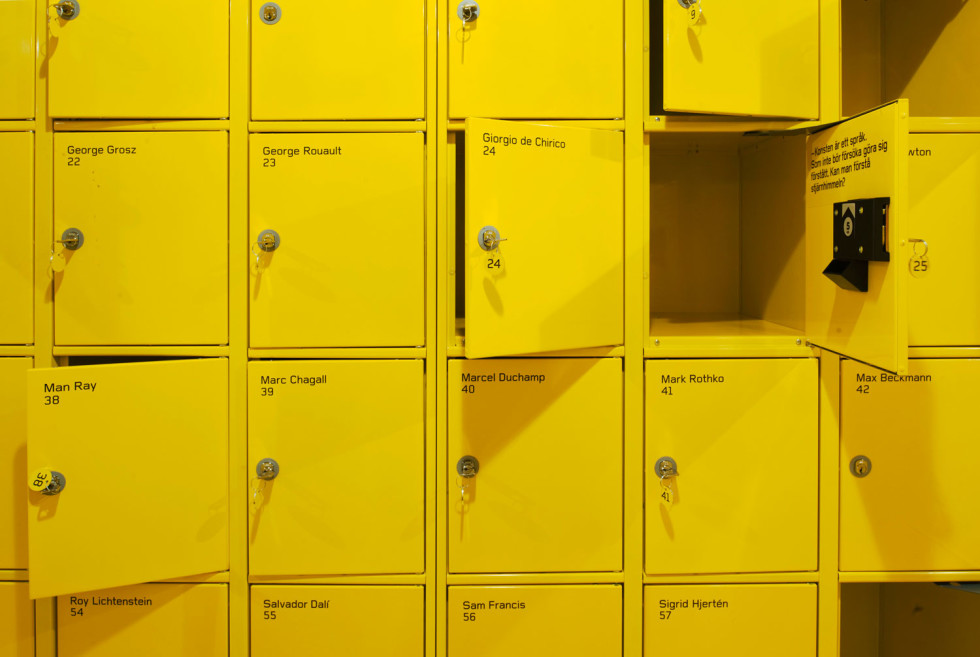 Overview of the museum's resources for physical access. Welcome to Moderna Museet Malmö!
Before your visit
Parking
There are plenty of parking garages close to Moderna Museet Malmö. The nearest ones are Caroligaraget (Kattsundsgatan 4), P-hus Von Cronow (Djäknegatan 19), Citygaraget (Djäknegatan 29), Hansagaraget (Malmborgsgatan 6), P-hus Petri (Mäster Nilsgatan 24) och P-huset Anna (Kaptensgatan 4).
Bags, storage facilities, closet
It is permitted to bring smaller bags (max 42x30x10 cm) into the exhibition halls. Larger bags and umbrellas must be locked in our lockers. Smaller backpacks must be carried in the hand or on the front. Umbrellas must not be brought into the exhibition halls. There are coin-free lockers for your belongings (maximum size: 24 x 67cm). Larger objects cannot be accommodated and therefore should not be brought to the museum.
Accessible Toilets
Available on the ground floor in the yellow area on the map below. Here is also a baby changing room.
Wheelchairs
Wheelchairs available on request. No thresholds within the museum building.
Lift/Elevator
The elevator provide access to all levels.
Hearing loops
The reception is fitted with hearing loops.
Museum hosts
Our museum hosts are happy to help you out and answer all your questions. Contact any of them if you have any questions about any artwork, our exhibitions, programs, would like to tell us tips or leave your comments about the museum.
Below a map of the museums public spaces:
Published 23 July 2015 · Updated 23 June 2020