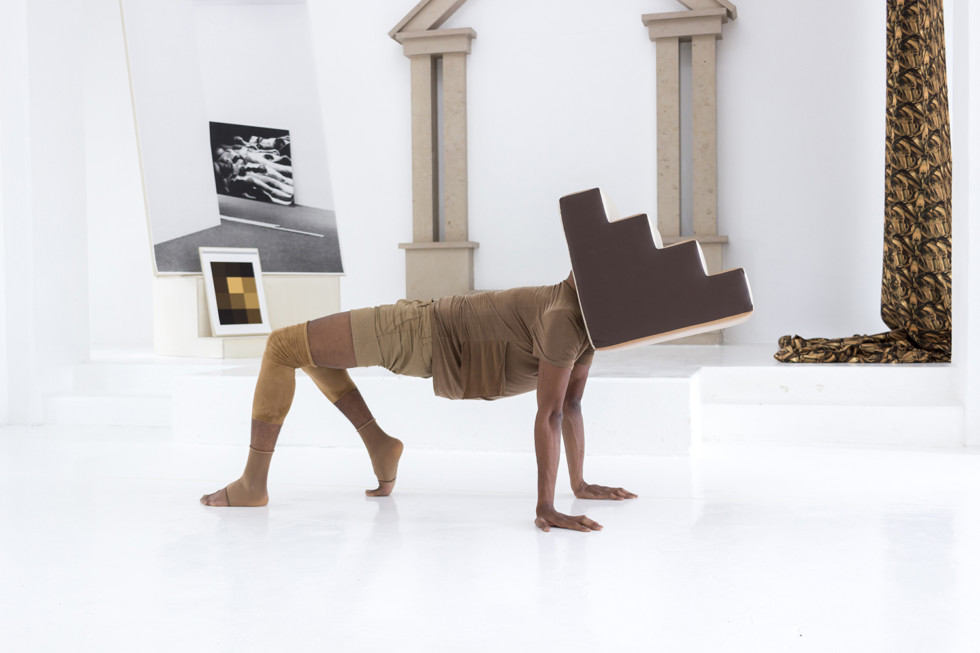 Jimmy Robert – Descendances du nu
Performance
31.3 – 27.8 2023
Malmö
The performance is part of the installation "Descendances du nu" (2016), the central work of Jimmy Roberts' exhibition. The installation can be seen as a deconstruction of Marcel Duchamp's (1887 – 1968) painting "Nu descendent un escalier" (1911 – 1912) and includes, in addition to performance, objects, photography, sound and text. The work's physical components create the scenography for the performance.
PERFORMANCE ON THE FOLLOWING DATES AND TIMES:
31 March at 18.00 – 18.15 (in connection to the opening)
*1 April at 15.00 – 15.15
2 April at 15.00 – 15.15
2 June at 17.00 – 17.15
*3 June at 15.00 – 15.15
*26 August at 15.00 – 15.15
27 August at 15.00 – 15.15
Location: Floor 2, New Gallery
Tickets: The performance is included in the admission fee. Free admission for everyone up to 19 years.
Dancer: Corrado Di Lorenzo
*These dates we will also show a performance linked to the exhibition "Adèle Essle Zeiss – Statolit":
1 April at 12.00–15.00  (intermission 13.00–14.00)
3 June at 12.00–15.00  (intermission 13.00–14.00)
26 August at 12.00–15.00  (intermission 13.00–14.00)
In his art, Jimmy Robert raises questions of representation, gender, and identity—often with a starting point in an artistic or museum context. With subtle humor, melancholy, and queerness, he takes on these complex subjects through a fragmented and flexible idiom. The works, in which even the body can become a conceptual tool, are allowed to function both as independent entities and as components of a larger historical network. In spite of the body's constant presence, the direct gaze is often avoided—possibly as a gesture of preserved control.
Curator: Andreas Nilsson
About Jimmy Robert
Jimmy Robert was born in 1975 in Guadeloupe. Currently he lives in Berlin, where he is also a professor of sculpture and performance at the Universität der Künste. Robert has had recent solo exhibitions at institutions such as Staatliche Kunsthalle Baden-Baden (2022), Museion in Bolzano (2021), and Nottingham Contemporary (2020). He has presented large-scale performances at the KW Institute for Contemporary Art in Berlin (2019), Performa 17 in New York (2017), and the Centre d'Art Contemporain in the Synagogue de Delme, France (2016).