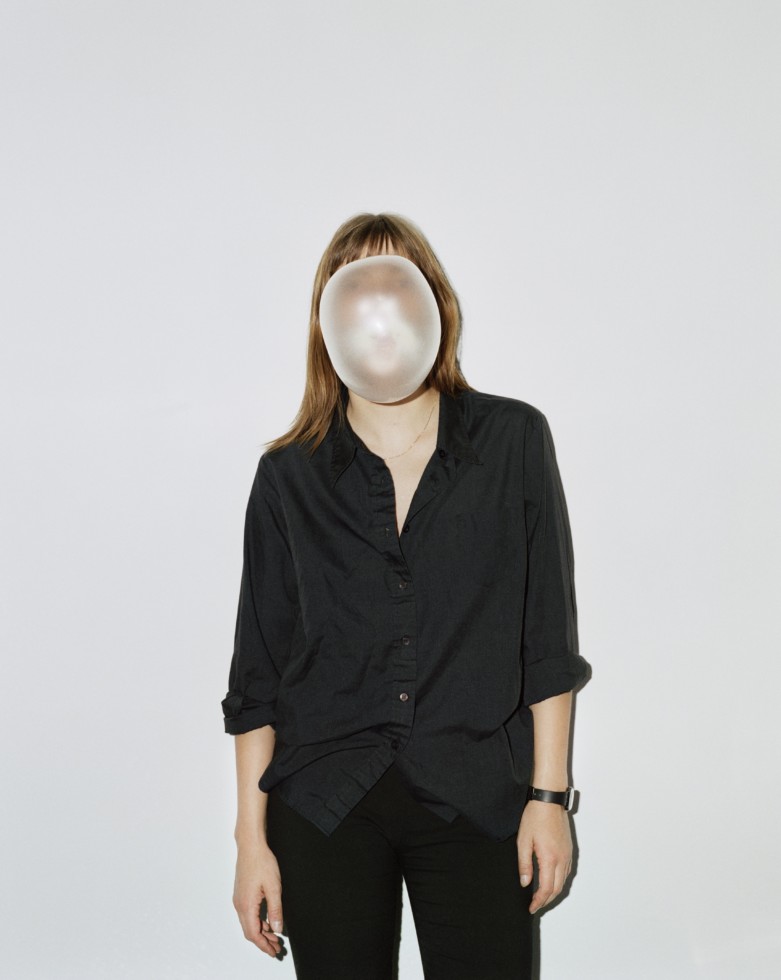 An email conversation between artist and curator
Gravity and black humour
Annika Elisabeth von Hausswolff belongs to a generation that redefined not just the art of photography but also the visual arts in general during her breakthrough years in the mid-1990s. What follows is an exchange of emails between von Hausswolff and exhibition curator Anna Tellgren during the spring of 2021.
From: Anna Tellgren
Sent: January 25, 2021, at 9:46 AM
To: Annika von Hausswolff
Subject: Conversation about your exhibition
Dear Annika,
Hope you're doing well.
We've been asked by the editor of Bulletinen to do something for their next issue.
Why not a conversation by email?
My initial question is about when you got the invitation from the museum to collaborate with us.
Do you remember what your first thought was?
And now when we are starting to finish up the selection of works for the exhibition, which includes pieces from your entire career.
Is there anything that has surprised you?
All the best,
Anna
From: Annika von Hausswolff
Sent: Sunday, February 7, 2021, at 4:13 PM
To: Anna Tellgren
Subject: Re: Conversation about your exhibition
Dear Anna,
It's hard to say what my first thought was, other than that it was an honor to be asked. I remember being particularly happy about the offer to allow me to choose art from the collections. I love other people's pictures. I'm an art fan by nature, if I may say so.
You wonder if there's something that surprised me in my work with the exhibition. One thing would be that I don't see my pictures as dated—at all, actually. Of course there are motifs I wish I had expressed better or in a different way, but the works don't feel like they're stuck in a particular decade or a particular style. That surprises me a bit, and it makes me pretty satisfied.
Sent from my room
From: Anna Tellgren
Sent: February 15, 2021, at 7:39 AM
To: Annika von Hausswolff
Subject: Re: Conversation about your exhibition
Dear Annika,
So interesting that you don't perceive your works as having aged or become dated. I agree and I'm kind of wondering why that is. Often photographic images are powerfully connected with their time because of clothing, hairstyles, objects, and environments we can recognize. What I'm thinking is that your works are more about special situations, phenomena, and feelings. You have somehow been able to neutralize your staged photographs and objects in your studio and take away the time-specific. Feel free to expand on this if I'm on the right track.
Maybe we should also comment on the fact that your exhibition has now been postponed again due to the Coronavirus pandemic. I reached out to you a while ago and let you know that the museum had to make more changes to the program. The museum has been closed since early November. The exhibition was supposed to be on during the summer of 2020, but was postponed until the spring of 2021, and now until the fall of 2021, followed by a show at Moderna Museet Malmö in the spring of 2022.
We've all been impacted by the prevailing situation in one way or another. Cultural life has been struck hard. You have been fantastic, and accepted these changes with a calm pragmatism. How are you feeling about all of this now, Annika?
All the best,
Anna
From: Annika von Hausswolff
Sent: March 17, 2021, at 9:44 AM
To: Anna Tellgren
Subject: Re: Conversation about your exhibition
It's interesting that you describe me as neutralizing my pictures, and that makes me think of a conversation I had with Maria Lind several decades ago, when I tried to describe how I build up my staged scenes by eliminating a bunch of extraneous details. The way Maria described it was that I was trying to avoid being anecdotal. I have often striven to depict almost generic environments or objects or even figures with the intention of creating a kind of universality. When I write that, it sounds really boring, but maybe that's what makes the pictures more timeless rather than tied to a specific era.
When it comes to the pandemic situation and my exhibition, which is now scheduled to open a year and a half later than originally planned, I can say that I'm grateful it hasn't been canceled! Of course it has been tough mentally to deal with all this uncertainty, but you and I have maintained a constructive dialogue the whole time. What I've been bad at, on the other hand, is making the most of all the time that was freed up by the pandemic restrictions—I haven't really been successful in dealing with the lack of friction that normal life usually provides in things like going to exhibitions, concerts, and soccer games. As though the aforementioned uncertainty, the "not knowing," has blocked both my initiative and my desire.
Sent from my room
From: Anna Tellgren
Sent: March 26, 2021, at 10:40 AM
To: Annika von Hausswolff
Subject: Re: Conversation about your exhibition
Hello Annika!
The uncertainty and the risks when it comes to the pandemic have been hard, and you describe it very well when you say you've struggled with "the lack of friction" that life normally offers. This last phase of bringing your exhibition to fruition was the longest I've ever seen in my years at the museum, so that's been a new and transformative experience…
That you strive for universality in your work—that we're all supposed to recognize ourselves in them in some way, or maybe not recognize ourselves actually—is clearly a characteristic feature of your staged photographs. At the same time, I'd like to note that you are also very faithful to the aesthetic you worked with in the beginning, to your method and your ideas. I mean you can immediately see that it's a piece by Annika Elisabeth von Hausswolff. I don't know if you agree with that, or if you can see it yourself from the outside, as it were.
Maria wrote about you early on, and she has an interesting essay about your art in the now hard to find catalog for the Nordic pavilion in Venice in 1999. Let's go back to Venice. It was your international breakthrough, as it often is for an artist. How do you feel about that exhibition and that experience today? About having been part of that?
And you have changed your name, by the way, or rather added to it the middle name of Elisabeth. Please tell us why.
Talk more later!
Best, Anna
From: Annika von Hausswolff
Sent: March 31, 2021, at 10:48 AM
To: Anna Tellgren
Subject: Re: Conversation about your exhibition
Hello Anna 🙂
The Venice Biennial … That was a long time ago now. I remember when I got the phone call with the invitation to represent Sweden in the Nordic pavilion. My first impulse was to decline—I was paralyzed with fear at the idea of being part of something so huge and prestigious. But after breathing deeply for a while and talking it over with Marina, my gallerist, I accepted. The whole process leading up to the opening of the biennial was terrific fun. John Peter, who was the curator, Eija-Liisa Ahtila, Knut Åsdam, and I had various planning meetings, both in New York and in Venice.
It was during one of these visits to the Nordic pavilion that I discovered traces of paint and glitter on the walls and floor. It turned out that the Finnish artist Marianna Uutinen's paintings, which had been shown the last time around, had been affected by the extreme humidity in Venice, and they had started to melt and drip down onto the floor. That's when I realized I had to produce my photographs without any kind of porous material at all to prevent the same thing happening to me.
I didn't really notice that it was an international breakthrough for me, to be honest with you. Even before Venice, I had already had plenty of exhibitions in various places in the Western world, mostly the United States. But I do remember that I was asked a number of questions about what it felt like to show my work at the Venice Biennial when I was still so young. I believe that those who were asking thought it would be like a nail in the coffin for me, that I would lose my motivation. But I did not.
You and others have asked me why I chose to bring out my middle name, Elisabeth, and the answer is simple: my mother, who is the only older relative I have left in life, is named Elisabeth, and so were a remarkable number of other women in my family tree. It's a simple but symbolic way for me to reconnect my relationship to the past.
Sent from my room
From: Anna Tellgren
Sent: April 8, 2021, at 4:42 PM
To: Annika von Hausswolff
Subject: Re: Conversation about your exhibition
Hello again Annika!
So nice to hear your thoughts about Venice and the collaboration with John Peter and the other artists. We can also mention that in your selection of works from the collection for your exhibition, you chose a number of video pieces, especially from the 1990s, and these include works by Eija-Liisa Ahtila and Knut Åsdam.
In the spring issue No. 2 2020 of Bulletinen, the member's magazine, you created the piece Untitled (2020), a pictorial greeting to Moderna Museet's many supporters in the form of a digital collage. This piece is also going to be produced as an edition of MMV (The Friends of Moderna Museet). Can you say a little bit about the thinking behind the work and how you developed it?
I see it as one of your darker works in terms of content, but I see a little hope in it too thanks to the smiling child in the composition. Your own childhood, being a child, the child's vulnerable situation, is a presence in many of your works. Is it a theme you've chosen consciously, or has it just been something that came to you?
My best,
Anna
From: Annika von Hausswolff
Sent: May 25, 2021, at 10:43 AM
To: Anna Tellgren
Subject: Re: Conversation about your exhibition
Hey there, I'm finally getting around to sending an answer to your question from April 8…
Often when I get a commission to do something like the greeting to the friends, the idea for how I should solve the "problem" strikes me like a bolt of lighting to the head, and that's how it was in this case. We were in the midst of the pandemic, my exhibition at MM had been postponed, and all around the world people were dying from an unknown virus. The different parts of the picture—the airplane, the skull, and the child—are quantities that I've worked with before in my career, and here they came together all of them in the same room.
It was a little funny that you perceived the picture as dark. Personally I think it's kind of fun both in the composition, the colors, and the content—but of course I understand what you mean. I get a lot out of black humor, and it was also a big part of my childhood. The child's perspective through the eyes of the adult artist is always an inspiration, through my own childhood but also on a theoretical level. Working with art is to a great extent the same as playing, but with completely different consequences.
Sent from my room
From: Anna Tellgren
Sent: June 11, 2021, at 2:55 PM
To: Annika von Hausswolff
Subject: Re: Conversation about your exhibition
Dear Annika,
Your black humor is one of your strengths, I would say.
I think we need to bring our email conversation to a close here, Annika.
Thanks for your insightful answers.
I'm looking forward to getting started with installing your work and to finally being able to welcome our audience to your exhibition, which opens on October 23!
All the best,
Anna