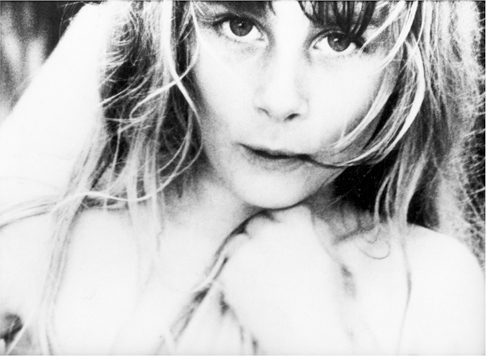 Gunvor Nelson
18.8 2010 – 19.9 2010
Malmö
Film screening with Gunvor Nelson: during one month the films Schmeerguntz (1966), My Name is Oona (1969) and Take Off (1972) will be screened in the new gallery. The films are an extension of the collection presentation Spectacular Times: The 60s – the Moderna Museet Collection.
Gunvor Nelson is a pioneer of experimental film. In the mid-1960s, she was already using film as an artistic medium, capturing everyday images and sounds with her camera, and combining them in a way that reformulated reality and dreams to suddenly reveal the commonplace from new perspectives. Her films can be compared to meticulously composed visual melodies that we can see over and over again and always discover something new.
Gunvor Nelson's career began in the 1960s in the dynamic San Francisco Bay Area. Her debut film, Schmeerguntz, was created together with Dorothy Wiley in 1966. The film, whose title is a Germanised version of the Swedish word for sandwich, 'smörgås', humorously reveals the contrast between the feminine ideals conveyed in the media and the crass real life of most women. Today, both Schmeerguntz and her film Take Off from 1972 are classics in feminist experimental film.
In 1970, Gunvor Nelson held a professorship at the San Francisco Art Institute, where her unique filmic style came to influence many young film-makers. In the early 1990s, after more than 30 years in the USA, she returned to Sweden. She settled in Kristinehamn, where she currently lives and works. Today, video is her artistic medium.
Gunvor Nelson is one of the few Swedish artists who have been honored with a retrospective at MOMA in New York (2006), and her films have previously been presented in a solo exhibition at Moderna Museet in Stockholm (2007).
The films
Schmeerguntz (Nelson and Wiley) 1966, 16 mm, 15 min
In Gunvor Nelson's first film, the artists launch a frontal attack on the prevailing feminine ideals, the idealisation of motherhood, and the idea of the home as a female sphere. No one had previously challenged the American female role in this way, and the film was widely recognised.
My Name is Oona 1969, 16 mm, 10 min
My Name is Oona is one of the first films that Gunvor Nelson produced by herself. It is a poetic portrait of Nelson's young daughter, Oona. The girl regards us quizzically, playing, riding a horse, in a cape like a fairytale princess. In the soundtrack, inspired by the composer Steve Reich, a child's voice repeatedly says, "My name is Oona."
Take Off 1972, 16 mm, 10 min
Take Off shows a glamorously dressed middle-aged stripper, who provokingly stares at the spectator as she removes her garments one at a time. This sharp parody of the female role model, and the sexualisation of women's bodies, was Gunvor Nelson's most popular film since Schmeerguntz.
The opening night 18 Augusti 7-9 pm
Opening night for our presentation of three of Gunvor Nelson films from
the Moderna Museet collection. John Sundholm, lecturer in film studies at Karlstad University and engaged in postgraduate studies in liberal arts at the Finnish Academy of Fine Arts in Helsinki, talks about her oeuvre, and Gunvor Nelson will be present in person. In Swedish.