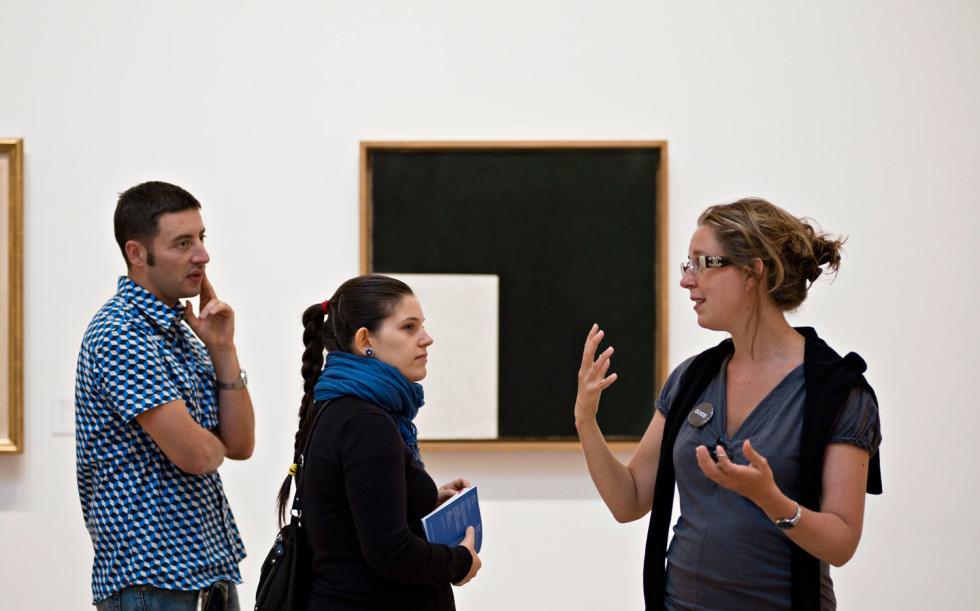 Book a guided tour for your students, friends, colleagues or club.
The museum is temporarily closed and all guided tours are cancelled
Preliminarily, the museum will remain closed through 17 November. All events at the museum are cancelled. This is a precaution to prevent the risk of spreading corona virus. Get a glimpse of the exhibition "Hilma af Klint – Artist, Researcher, Medium" through our filmed guided tours. Our art educators present selected works in the films. They are published here and at our YouTube channel.
Guided tours for groups
Due to the new covid-19 situation, we are taking measures to prevent the risk of contagion. Therefore we currently don't offer our regular guided tours on Saturdays. Instead all guided tours must be pre-booked.
At the moment it's possible to book guided tours on Wednesdays at 17.15 and Friday at 10.15. No tours can be held during the museum's opening hours. For schools it's possible to book guided tours and workshops on Tuesdays and Thursdays before 11.00.
If you have any questions about bookings and tours don't hesitate to contact the booking: bokning.malmo@modernamuseet.se.
A guided tour is about an hour. Book at least 2 weeks prior. Guided tours of the collection are available in many different languages. Additional fee of 500 SEK for other languages than Swedish.
Welcome!
Processing of personal data
To make a booking request, you need to send us your personal data (including your name and e-mail address). We process your personal data in accordance with the General Data Protection Regulation (GDPR). Read more about how we process personal data here: Moderna Museet's privacy policy
Price
Guided tours
Max 30 people, 45 minutes
Price: 1 400 SEK, evenings 16.30–17 and weekends 1 700 SEK
Guided tours for members of Friends of Moderna Museet
Price: 1 000 SEK
Guided tour and workshop
Price: 1 500 SEK, evenings 16.30 and weekends 2 000 SEK
Baby painting
Price: 120 SEK for one baby and one adult
School
Guided tour and workshop
4–6 years old: maximum 15 children/group
7 years and older: maximum 25 pupils/group
Weekdays: 1 100 SEK
Guided tour
Maximum 30 pupils/group
Weekdays: 800 kr
Workshop
Maximum 25 pupils/group
13 years and older
Weekdays: 900 kr
Contact booking
+46 8 5202 3501 (Tue–Fri 10–12)
Please contact the booking via e-mail:
bokning.malmo@modernamuseet.se