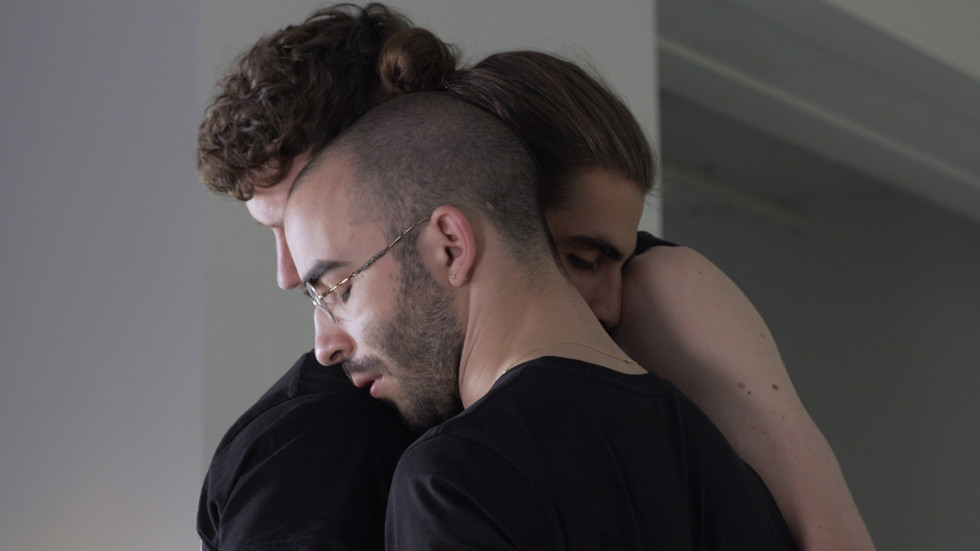 Halil Altındere
(Turkey , 1971)
In the artist Halil Altındere's video Homeland, freedom of movement is a matter of life and death. In one sequence a group of people can be seen forcing their way through a fence and performing acrobatic arts to get past a border crossing bristling with land mines. Altındere's work has the format of a music video and is the result of a collaboration between himself and the Syrian rapper and activist Abu Hajar. It is closely linked to the wave of pro-democratic uprisings that erupted across Middle East in the wake of the Arab Spring, and the violent responses by various regimes that forced millions of civilians to flee their countries. With a mixture of documentary and staged material, humor and gravity, the video follows migrants on their dangerous journeys to neighboring countries and to Europe. Abu Hajar, himself a Syrian refugee now living in Berlin, guides us through the work with his lyrics.
Altındere is a leading figure of Turkish contemporary art since the 1990s. He refuses to see the problems of his country as exclusively local and scrutinizes numerous topics, such as urban transformation and gender relations, in collaborative works with different people, from street vendors, to hip-hop artists and ballerinas.
Balthazar Berling
(France, 1985)
In his work as an artist, Balthazar Berling explores and analyzes the roles that societies assign to male and female bodies, as well as the gendered expressions associated with them. Of his video Spine, Berling has written, "In this work I examine the lower portion of my own back—a kind of exercise in self-observation. The process emerged from the question 'what can I do with my body that is, de facto, that of a man?'" To be able to free ourselves from socially constructed gender roles in order to more freely shape our own identities, Berling believes that it is necessary to start with one's own body. From there we can move on, with small steps, to the surrounding world, in order to understand and influence it.
Eglė Budvytytė
(Lithuania, 1981)
Eglė Budvytytė has long been interested in the body's relationship to public space. In her performance piece Choreography for the Running Male, we get to follow nine cismen as they run slowly throughout the city. They are all strongly built, all wearing the same outfits reminiscent of boys' school uniforms, and together they resemble a hybrid between an army platoon and a fraternity. As they run, they perform a series of choreographed movements and gestures that convey feelings such as sorrow, shame, and vulnerability, but that are also paired with military precision and control. Budvytytė's performance exposes ingrained patterns in the public realm to which many of us have become accustomed. And at the same time it examines ideas about how notions of masculinity and femininity are linked to the physical body, demonstrating how social constructions and collective gestures become political.
Freestyle Phanatix
Freestyle Phanatix is a Scandinavian breakdancing company that tours the world over with shows, dance battles, and workshops under the motto "Peace, Unity, Love & Having Fun." As a group they work actively and daily with issues of integration, and their work is permeated with a spirit of openness and acceptance toward diverse backgrounds. Freestyle Phanatix say that their "shows and workshops make possible a natural and relaxed environment in which to talk about these extremely urgent and sometimes difficult issues." Throughout the entire PUBLIC MOVEMENT exhibition period, Freestyle Phanatix's artists will offer open workshops in various styles of street dancing for museum visitors.
Khamlane Halsackda
(Laos, 1975)
Khamlane Halsackda is a dancer and choreographer who explores issues of identity and integration. The piece An Experiment in Learning Swedish, which he will perform during the opening night of the exhibition, is a meeting between Halsackda and the museum's visitors. Halsackda, who is not a native Swedish speaker, will ask the audience to teach him Swedish words. However, instead of listening and repeating, Halsackda will try to deconstruct the meaning of the words into rhythms and thereafter perform an interpretation of them through physical movements. This process could be described as learning through physical resonance—an alternative to the usual techniques involved in language acquisition.
Another performance piece, Ursäkta oss, which is produced by and performed at Dansstationen, will be shown on November 7 and 8, 2017. The point of departure here is an SFI class, the official Swedish language lessons for immigrants.
In connection with the performance, Moderna Museet Malmö will host a panel discussion on November 8 at 2 pm in which Halsackda and Chris Schenlaer will discuss movement, migration, and the process behind Ursäkta oss.
Maria Hassabi
(Cyprus, 1973)
Maria Hassabi and her dancers often move so slowly that they seem to have come to a standstill. The bodies are present as such, and at the same time the seated and reclining poses lend the scene a sculptural form and feeling that is multiplied through the bodies of the dancers. What is physically challenging for the dancers becomes a visual challenge for the viewer: as viewers we are forced to sharpen our senses and attend to the details of the movements, and to the way time seems to be stretching out. The tempo of the dancers also provides an opportunity for viewers to register their surroundings.
STAGING – undressed is a choreographed performance for the public space that focuses on the tension between dancer and observer, between the performers and the work of art. In Hassabi's work the static and the fluid seem to blend together into something that is simultaneously both there and not there.
Oliver Herring
(Germany, 1964)
Howard Street: Airborne was shot on the streets of North Kensington, an underserved and troubled neighborhood in Philadelphia, USA. Shortly before it was made, the artist was asked by a couple of young colleagues, who had recently moved their studios to this area, if he could help build some bridges between their community of artists and the local inhabitants.
The video documents how the two artists initiate a kind of choreography in the streets of the neighborhood, and encourage locals to join in. The action soon develops into an improvised common exercise in which the joint physical movement through public space is what matters—almost nothing is said. The participants in the action later asked the artist to follow up with a similar project, which led to the film Waterloo Street.
Sara Jordenö
(Sweden, 1974)
In the documentary film KIKI, we get to follow a group of racialized LGBTQ youths in New York City, who gather regularly to practice voguing. Voguing is a highly stylized, modern house dance that evolved out of the Harlem ballroom scene of the 1960s, where racialized gay, trans, and gender non-conforming people arranged their own ballrooms and beauty pageants, outside of an excluding white society. Voguing later gained mainstream exposure in the 1990s through Madonna's video "Vogue". The moves and the term are based on the poses of models in fashion magazines like Vogue.
The new generation of LGBTQ youth has taken inspiration from Harlem's ballrooms and their unique dancing styles to form an artistic activist subculture known as the Kiki Scene. In Sara Jordenö's film KIKI we get to meet seven of its members: Twiggy Pucci Garçon, the founder of Haus of Pucci, as well as Chi Chi, Gia, Chris, Divo, Symba, and Zariya. Their preparations and spectacular performances at events known as Kiki balls are bursting with creativity and energy. At the same they create a framework for other stories about ostracism, homelessness, and the struggle for political and social agency.
Lina Lapelytė
(Lithuania, 1984)
Lina Lapelytė is a performance-based artist and musician. Her work reflects a strong interest in gender stereotypes and the ways in which popular culture influences the shaping of our identities.
Candy Shop is a series of works comprising different media and several parts, The Song, The Chamber Music Piece, The Dance Class, The Audition, and The Opera culminating in The Circus. For The Candy Shop: The Circus, and The Opera, Lapelytė has slowed down the pace of rap songs and reworked their lyrics into lullabies and collective chanting, aiming to highlight their embedded power to define beauty and perpetuate gender roles. Following the same method, Candy Shop: The Dance Class is based on the dance moves of hip hop, again paced down. With the various movements performed in slow motion, Lapelytė has created a choreography that will be rehearsed and presented in a workshop during PUBLIC MOVEMENT.
Lapelytė is also featured with the work Yes. Really!, a sound installation that invites the visitor to enjoy an attempt at a catchy pop tune within the context of an art exhibition. The tune mimics the beat of pop songs, but reuses their lyrics to form a new narrative.
Klara Lidén
(Sweden, 1979)
In her video Paralyzed, Klara Lidén explores the boundaries between the private and the public by going wild in a subway car in central Stockholm. She transforms herself from being a self-controlled passenger and enters a seemingly improvised dance that includes climbing up on the luggage rack, stretching out on the floor, and swinging around the car's metal poles. In the background we hear the song Paralyzed by The Legendary Stardust Cowboy.
Lidén is an architect-educated artist who in her work often returns to the city and its inhabitants. In Paralyzed she challenges both the environment's expectations on her behavior and her own inhibitions. Meanwhile, the work also raises questions about what really constitutes good art, dance, and music. Who really qualifies as a dancer? Who is accepted as an artist? Through her wild movements, Lidén wants to highlight how social norms have a paralyzing effect on both people and societies.
Conny Karlsson Lundgren
(Sweden, 1974)
Between 1971 and 1972, a radical group called Bøsseaktivisterna (The Gay Activists) performed a series of six dance actions as a protest against a discriminating formulation in Danish law. The law had been written in 1683 and practically banned same-sex couples from dancing together in public space.
Based on archival material and interviews, Conny Karlsson Lundgren has created the work (Dissident) Dance Actions, in which feelings and movements—physical as well as political—are expressed through choreography. The work includes one of the few remaining video documentations, in which members of the Bøsseaktivisterna describe the intentions behind their actions, as well as a newly produced film made in collaboration with the choreographer Dinis Machado, in which movements found in the archival material are reconstructed in six scenes.
While highlighting a creative initiative in the struggle for liberation and human rights, (Dissident) Dance Actions also sheds light on interesting dilemmas in recreating an historical event. How much lives on in our memory, and how much is just speculative personal reinterpretation?
Rashaad Newsome
(USA, 1979)
The Ballroom community or Ball culture is a LGBTQ subculture born in Harlem during the 1960s. It emerged as a reworking of beauty standards that were predominantly white and exclusively directed to the upper classes in the legendary fashion magazine Vogue. The dancing style known as "voguing" is thus a product of exclusion, and is about transforming beauty in order to own it. To vogue is to make a place for oneself in a segregating society by celebrating marginalized beauties. The artist Rashaad Newsome invited vogue dancers to his studio to perform different voguing styles for the camera. The footage was then edited into a new choreography that the dancers were then invited to perform again.
There are three different types of voguing: Old Way, New Way, and Vogue Fem. Old Way uses shapes and poses, whereas New Way uses more flexibility, joint locks, and gymnastics. Voguing is mainly a tool for storytelling—each movement tells a story. Untitled (New Way) and Untitled (Old Way) do not, however, allow us to enter into the stories being told in the choreographies, nor do we hear the music to which the performers dance. Nevertheless, the setting of the performance invites the viewer in to an intimate encounter.
Adam Pendleton
(USA, 1984)
Adam Pendleton's work takes inspiration from Dadaism and experimental literature, among other things, but also makes reference to African-American political and cultural movements from the 1960s to the present. In his oft-cited Black Dada manifesto, Pendleton describes his concept of "Black Dada" as "a way to talk about the future while talking about the past." Black in this case is equal parts color, concept, identity, and political movement.
Just Back from Los Angeles: A Portrait of Yvonne Rainer is a documented meeting between Pendleton and the choreographer and dancer Yvonne Rainer. After some informal chatting, Pendleton asks Rainer to recite a text that he has composed from, among other things, writings by and about Rainer, as well as quotations from Malcolm X, the American anti-war poet Ron Silliman, and Professor Keeanga-Yamahtta Taylor, the author of From #BlackLivesMatter to Black Liberation. The film concludes with Rainer's well-known 1966 dance piece Trio A, which Pendleton has chosen to overlay with the gospel song "I Am Saved" by the Silver Harps.
Emily Roysdon
(USA, 1976)
The Stockholm plaza Sergels Torg provides the scene for Emily Roysdon's video installation Sense and Sense. The artist is fascinated by the ambiguity of the place—it was built in part as a stage for political demonstrations and protests, and yet the entire plaza can be surveyed and monitored from above. Roysdon's video adopts this viewpoint, and as we look down we see the performance artist MPA moving against the background of the plaza's famous pattern. Lying on the ground, she imitates an everyday walking gesture, moving slowly across the plaza. The projection on the left is zoomed in tight and cropped closely, placing MPA in an anonymous context. The one on the right, however, shows a larger view of the plaza, and we see people all around reacting to (or ignoring) MPA's movements. The plaza often stands as a symbol of the public realm, an explicitly social arena. But rather than viewing public space as a place for consensus building, a "social movement" appears here in a more abstract way, and in dialog with the aesthetics of the place.
Cengiz Tekin
(Turkey, 1977)
The Diyarbakır-based artist Cengiz Tekin has titled his new work Low Pressure. In meteorological terms, a "low-pressure area" is a region where the atmospheric pressure is lower than that of the surrounding environment, with winds blowing in a vortex towards its center. Low Pressure was filmed at an abandoned construction site where a mesh of steel wires, protruding through a block of concrete, has formed a hostile and cage-like structure. Inside it, a group of men perform an endless and seemingly senseless walk without ever getting out of their confinement. Their movements are accompanied by the sound of a pounding beat. Diyarbakır is a town in southeastern Turkey. It has been a conflict zone for more than two years, and its citizens continue to live in a perpetual state of martial law. Many lives have been lost and everyday life has been transformed into an unending, violent, and dangerous wait.