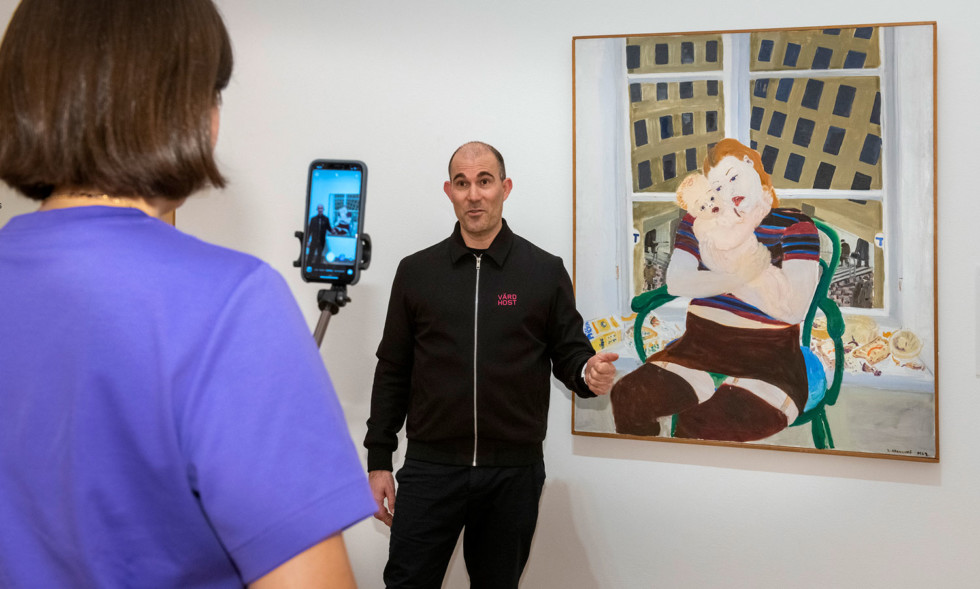 Sofa tours
Live-streamed guided tours
Stockholm
Join us for a guided tour in the comfort of your own sofa! Moderna Museet is closed and all events are cancelled but the art remains. Find a comfortable place to sit and join us, and get answers to your questions about art when our staff and guides show some of our works. Sofa tours take place daily and will be live-streamed at 12 noon on the Moderna Museet Facebook page.
How do I watch the live streams?
You can access our live-streamed sofa tours on Moderna Museet's Facebook page. All you need is a Facebook account. You can also ask the guide questions during the live stream in the comments field.
Watch the Facebook livestream via the Facebook app or on your computer at www.facebook.com/modernamuseet.
Go to Moderna Museet's Facebook page. The live sofa tour will be posted there.
If there is no live sofa tour it's because it hasn't started yet.
After the live stream is over, you can access the sofa tour as a video under "Videos".
Did you miss a tour?
Or do you want to see them again? Check out previous sofa tours, that have been live-streamed on Facebook. If you have trouble watching the recordings, we recommend to try another browser, such as Chrome or Firefox.
About Part 1 by Beth Laurin and Monument to the Last Cigarette by Erik Dietman
26 May 2020. With Helena Åberg, curator. in Swedish.
About The Paradise by Niki de Saint Phalle and Jean Tinguely
19 May 2020. With Nina Blom Bussoli, art educator. In Swedish.
About Pavilion Sculpture II by Dan Graham
12 May 2020. With Gitte Ørskou, museum director. In Swedish.
About The Four Elements by Alexander Calder
5 May 2020. With Pernilla Stalfelt, art educator. In Swedish.
Calendar events

Live-streamed sofa tour: Luncheon on the Grass by Pablo Picasso
In Swedish

Live-streamed sofa tour: the Collection
In Swedish