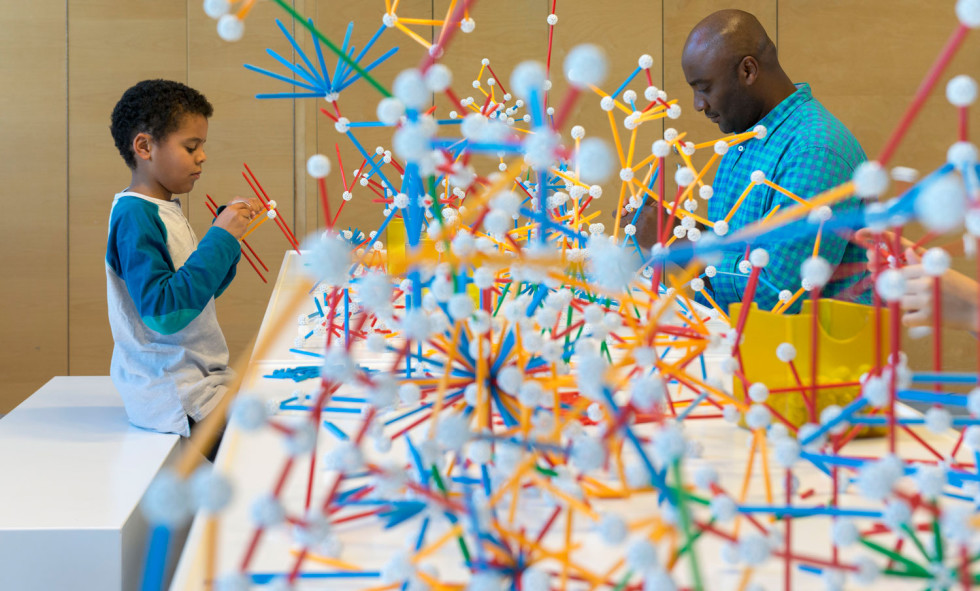 Explore art with the kids
Let the artists at Moderna Museet inspire you! We have art that is exciting for the whole family. If you can't come to Skeppsholmen, check out these ideas from the world of art that you can enjoy from home. Welcome!
Be creative at home with Alberto Giacometti
Do-it-yourself videos
Let's look at photographs of the artist Alberto Giacometti's works and be creative at home. Look, feel, redesign and try again. Find a way where your hands and eyes can explore and create something together. We experiment with materials such as pens, clay, instant coffee and so on.
Online Workshop
Interactive live-stream
Together with the art educator Rebecka Stone, we create like the artists in the Moderna Museet collection. We take a closer look at a few of the Museum's most popular works, and we try different painting techniques or make our own sculptures. During these creative workshops, live-streamed straight from Moderna Museet, you can chat to Rebecka and everyone who is watching.
Create like an artist
Film and inspiration
In the series "Create like an artist" you will receive tips on how you can create your own artworks at home inspired by artists in Moderna Museet's collection. We will create artworks from things we might already have at home. There is no right or wrong, ugly or beautiful when you are creating. But there is one rule – there are no rules.
Family activities at Moderna Museet
Tour and workshop for children
On Sundays, children and upwards are welcome to join our special guided tours (in Swedish). The tour is followed by a session in the Workshop where we make things in different materials depending on the theme of the day.
Entrance ticket to some of our temporary, exhibitions is required for those over 18 years. You find family Sunday dates, times and themes in the calendar.
Dates and times: Tour and workshop
Drop-in workshop: paint & draw
Sometimes we have a drop-in wokshop where you can paint and draw. You can drop in without going on the guided tour, and we use simpler techniques and materials, such as paint and crayons. There are no themes – it's an open painting and drawing workshop. No ticket. Free of charge and suitable for all ages.
Dates and times: Drop-in workshop
Baby tour and workshop
Guided baby tours at a slow pace for adults with infants aged 3–12 months. Tour the galleries and paint with your baby in the Workshop.
Limited availability.The ticket applies to an adult with children in a stroller and gives admission to the exhibitions at the museum. No discount for members of the Friends of Moderna Museet or students. In Swedish.
Dates and times: Baby tours
Holiday events
Children and upwards are welcome to the Workshop for activities during school holiday periods. We always start with a tour of the art in the Museum (in Swedish), followed by a Workshop session based on the current theme. Welcome!
One adult/family. Limited availability. Entrance ticket to some of our temporary, exhibitions is required for those over 18 years.
Dates and times Holiday event
Exploration in our exhibitions
Family tours for kids and adults are available for most of our major temporary exhibitions. These often include a puzzle of some sort, with fun tasks to solve along the way. Ask at the information desk on floor 4, and get ready for an exciting art adventure!
Visitor information for families
Push chair parking, kiddie carriers and baby changing facilities are available and the Restaurant have food for all ages.
Please do not touch the works in the Museum, as they are sensitive. Please hold children by the hand when you visit the exhibitions.
Published 19 October 2015 · Updated 29 September 2021