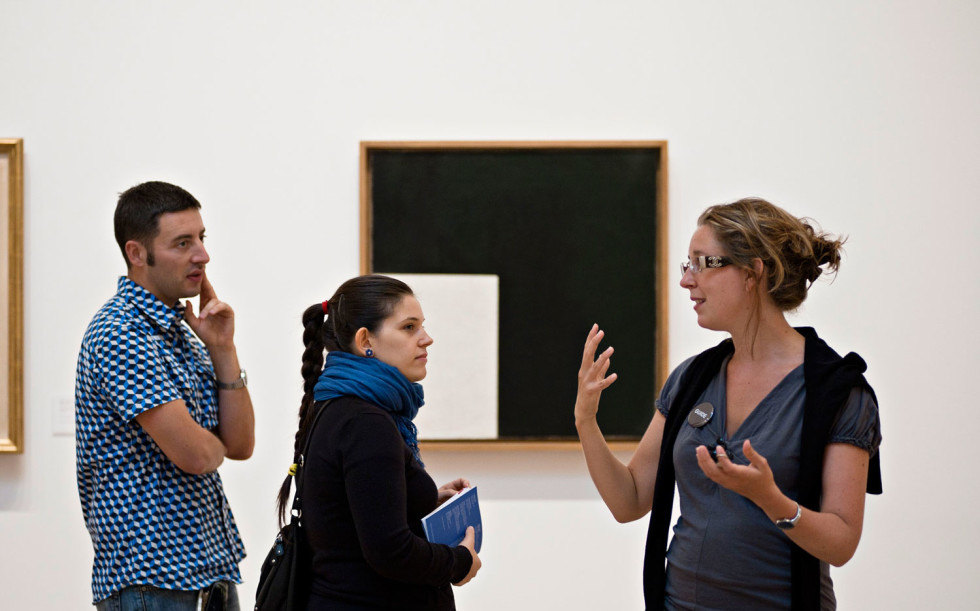 Do you have a company, school class, association, parent group or a group of friends who are interested in art? Book a guided tour with an inspiring and knowledgeable art educator who will tell you about the artists and exhibitions. We also offer bookable digital lectures.
Book a guided tour
We offer booked group tours in the exhibitions and in the Moderna Museet's collection.
Some exhibitions can also be booked as a digital presentation for groups.
A tour lasts about an hour.
Please book no later than 1 week before the desired date.
You can book a guided tour of the collection and exhibitions in several different languages.
It is also possible to book visually interpreted guided tours, tours for people in group housing/daily activities as well as tours in sign language, guided tours for babies and for school classes.
The price of the guided tour depends on what you want to see, time of day and which language you choose.
Prices
Guided tours adults
In Swedish
Weekdays at 10–16.30: 1 750 SEK
Evenings/weekends after 16.30: 2 250 SEK
Admission to our exhibitions will be added.
Additional fee of 500 SEK for guided tour in English, Spanish, French or Finnish.
Maximum of 30 people.
Baby tour
Weekdays at 10.00–16.30
Baby tour (1 hour): 1 250 SEK
Baby tour with workshop (2 hours): 2 500 SEK
Evenings/weekends after 16.30–18.30
Baby tour with workshop (2 hours): 2 890 SEK
Up to 10 adults and 10 babies/group.
Price guided tours schools
Guided tour & workshop
Weekdays at 9–11, 10–12, 13–15: 1 750 SEK
Preschool: maximum 15 children/group
School year 1-9 and high school: maximum 25 children/group
2 hours
Evenings/weekends after 16.30–18.30: 2 075 SEK
Preschool: maximum 15 children/group
School year 1-9 and high school: maximum 25 children/group
2 hours
Guided tour, all ages
Weekdays at 10.00–16.30: 1 000 SEK
Evenings/weekends after 16.30–18.30: 1 875 SEK
30 children/group
1 hour
Contact booking
+46 8 5202 3501 (Tue–Fri 10–12)
Please contact the booking via e-mail:
bokavisning@modernamuseet.se
Processing of personal data
In order to receive our e-mails, we need to store your personal data (such as your name and e-mail address). We process your personal data in accordance with the General Data Protection Regulation (GDPR). Read more about how we process personal data here: Moderna Museet's integrity policy
Published 27 November 2015 · Updated 19 September 2023