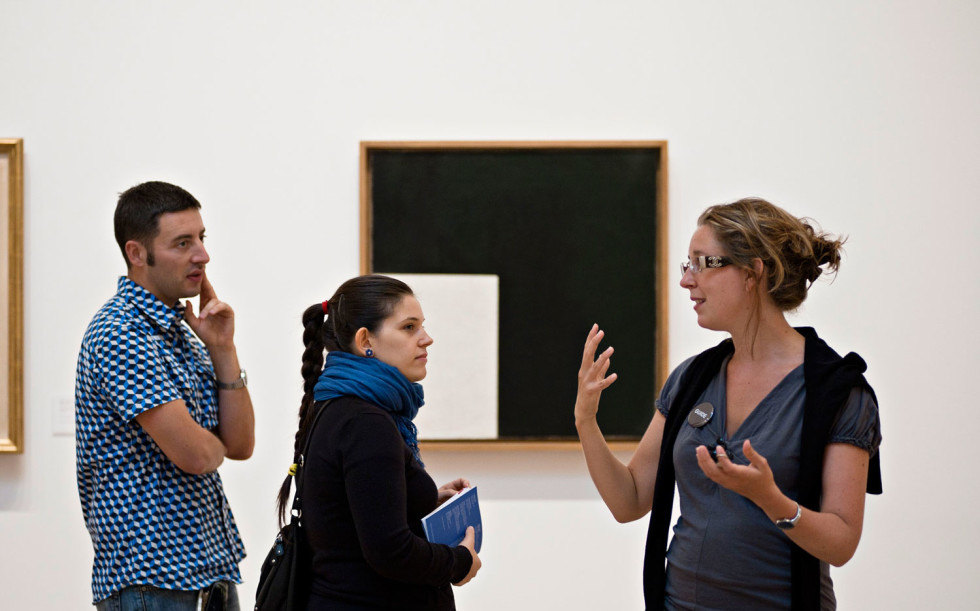 Book a guided tour for your students, friends, colleagues or club. Experience an inspiring and dynamic environment, discover new perspectives and new angles. .
A guided tour is about an hour. Book at least 1 weeks prior. You can book a guided tour of the collection, temporary exhibitions, The Pontus Hultén Study Gallery and Einar Hylander´s Apartment in Swedish and in English. Guided tours of the collection are also available in Spanish, French, Persian, German and Finnish. Additional fee of 500 SEK for other languages than Swedish.
Guided tours can be booked for the visually impaired, for groups with special needs, or with signing. We also offer baby tours and guided tours for school classes.
Welcome!
Processing of personal data
In order to receive our e-mails, we need to store your personal data (such as your name and e-mail address). We process your personal data in accordance with the General Data Protection Regulation (GDPR). Read more about how we process personal data here: Moderna Museet's integrity policy
Price guided tours adults
Weekdays (at 10–16.30)
1–30 people: 1750 SEK
Evenings/weekends (at 16.30–18.30)
1–30 people: 2250 SEK
+ admission to exhibitions with admission fee.
Einar Hylander's apartment
Up to 10 people/group
Weekdays: 1 950 SEK
Evenings/weekends: 2 050 SEK
Price guided tours schools
Guided tour & workshop
4–6 years old 15 children/group
7 years and older 25 pupils/group
Weekdays: 1 550 SEK (2 hours)
Guided tour
30 pupils/group
Weekdays: 925 SEK (1 hour)
Workshop
25 pupils/group
13 years and older
Weekdays: 1 550 SEK (2.5 hours)
Contact booking
The booking is closed 29 June–23 July 2018.
bokavisning@modernamuseet.se
Phone: +46 8 5202 3501 (Tuesday–Friday at 10–12)
Published 27 November 2015 · Updated 27 June 2018