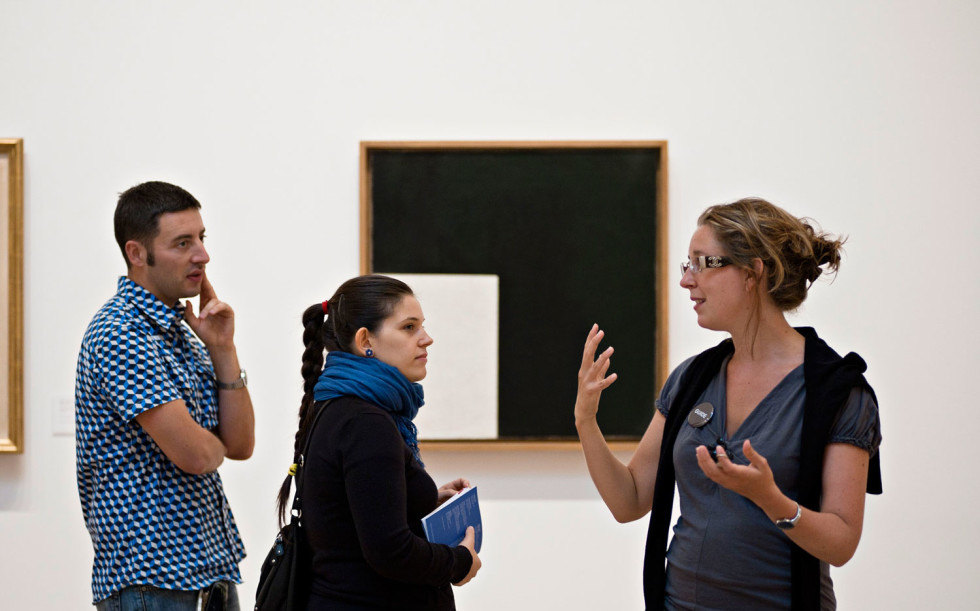 Do you have a company, school class, association, parent group or a group of friends who are interested in art? Book a guided tour with an inspiring and knowledgeable guide who will tell you about the artists and exhibitions.
Guided tours Giacometti – Face to Face
Guided school tours of "Giacometti – Face to Face" can only be booked Tuesday to Friday between 9and 11 o'clock. Adult groups can only book Wednesdays and Thursday from 18 to 20 o'clock.
We do not accept groups who want to view the exhibition on their own.
Processing of personal data
In order to receive our e-mails, we need to store your personal data (such as your name and e-mail address). We process your personal data in accordance with the General Data Protection Regulation (GDPR). Read more about how we process personal data here: Moderna Museet's integrity policy
Price guided tours adults
Weekdays (at 10–16.30)
1–15 people: 1750 SEK
Evenings/weekends (at 16.30–18.30)
1–15 people: 2250 SEK
+ admission to exhibitions with admission fee.
Price guided tours schools
Guided tour & workshop
4–6 years old: Maximum number of students is 30. The group will be divided into two in order to maintain proper social distancing.
7 years and older: Maximum number of students is 30. The group will be divided into two in order to maintain proper social distancing.
Weekdays: 1 550 SEK (2 hours)
Guided tour
Maximum number of students is 30. The group will be divided into two in order to maintain proper social distancing.
Weekdays: 925 SEK (1 hour)
Workshop
Maximum number of students is 30. The group will be divided into two in order to maintain proper social distancing.
13 years and older
Weekdays: 1 550 SEK (2.5 hours)
Contact booking
+46 8 5202 3501 (Tue–Fri 10–12)
Please contact the booking via e-mail:
bokavisning@modernamuseet.se
Published 27 November 2015 · Updated 29 September 2020