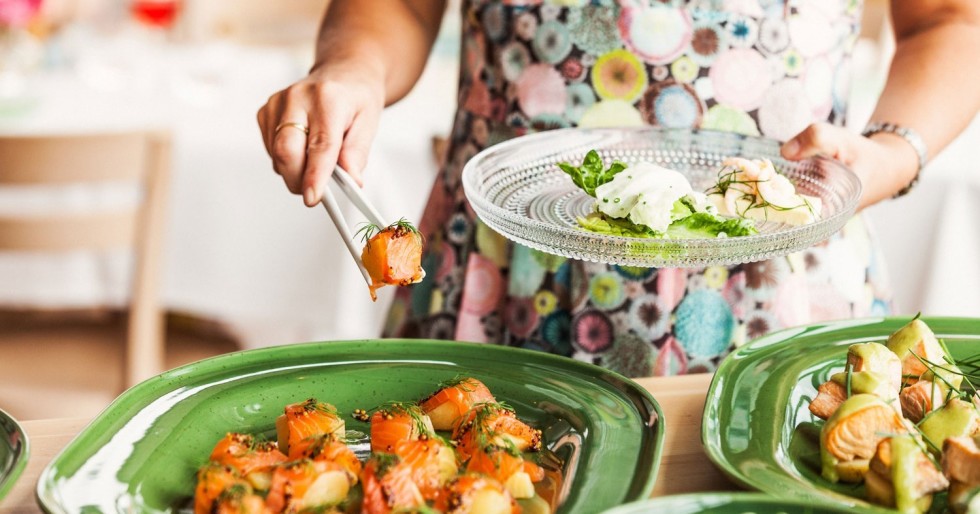 Moderna Museet offers delicious food and drink with Stockholm's best view! Whether you want a sturdy lunch, a refreshing juice or a croissant with your espresso, you will not be disappointed. Welcome!
The Restaurant
Weekdays the Restaurant serve a buffet. Here, you'll find the weekly menu. In the weekend we serve our popular brunch buffet. In the afternoon there is always fresch salads, soup, sandwhiches and delicious homemade cakes. We also have a fine selection of wines and beers.
The Coffee Bar
is located by the main entrance and is the perfect meeting place. Grab a perfectly extracted espresso or a frothy cappuccino, accompanied by a delicious piece of fine Tuscan chocolate or crunchy Italian almond biscotti.
Moderna Bar
is next to the Restaurant and shares the same spectacular view of Djurgården and has direct access to the terrace. On Fridays in connection with our open previews and other exciting events, Moderna Bar is open from 17 to 23. After 20 enter through the doors facing the water.
Cafe Blom
is next to ArkDes and the Picasso Garden, and serves light lunches, great coffee and craft beverages from local breweries.
Lunch menu Café Blom
Party

at ours
We offer unique potential for corporate events at a beautiful venue. The premises are suitable for anything from a small lunch meeting to full-day conferences followed by dinner or a party for up to 300 people. The generous panorama windows of the Restaurant offer a splendid view of the water, Djurgården and Strandvägen.
More information about renting the Restaurant here.
Published 22 May 2015 · Updated 2 January 2018