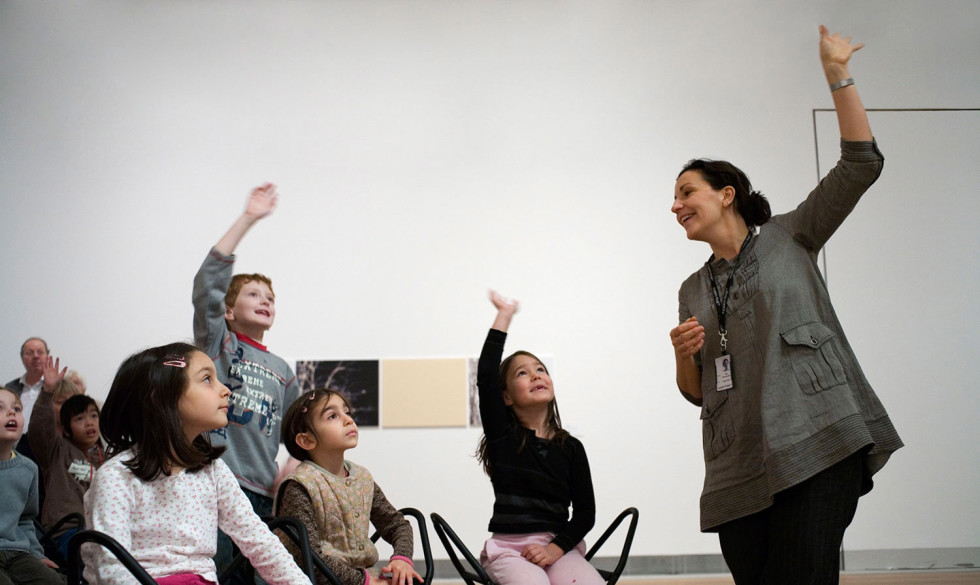 It will still be a while still before we can welcome schools back to Moderna Museet. We are currently not taking bookings for groups or groups that want to visit us on their own. Meanwhile, before schools can visit the Museum on Skeppsholmen again, here are some tips on how to find art on our digital channels. Browse our teacher's guides, our "Create Like an artist" films and online tours, and let yourself be inspired!
News! Digital school tours in Swedish
For year 7–9 and upper secondary school
Book a digital tour for your school, on the theme of Modernism and Modernity! We look at early 20th century art and talk about modern society and the evolution of modernism. The tour is suitable for years 7–9 in secondary school and upper secondary students and is shown on a screen in the classroom or on individual screens.
A digital tour means that you get a Zoom link for a meeting with one of Moderna Museet's art educators, who will give you an introduction to the Museum before showing a few short videos where the educator talks about selected works in the Moderna Museet collection. These can include Salvador Dalí's "The Enigma of William Tell", Meret Oppenheim's "Ma Gouvernante", and Robert Rauschenberg's "Monogram". Between each video, students have time to ask questions and discuss their thoughts with the art educator.
You can either watch on one screen together in the classroom, or individually (if you are in different places). In the latter case, the teacher shares the link with all the students. If the class is watching together, questions are passed on to the art educator by the teacher. If students are watching on their own, they can ask questions themselves.
Duration: one hour
Participants: a maximum of 30
Price: SEK 1,000
Language: Swedish
Technical equipment: computer, mobiles or tablets with an internet connection
Book your digital tour for schools
E-mail or phone the booking office, stating the day and time you wish to book, along with your invoicing address and contact details.
+46 (0)8 5202 3501 (Tuesday–Friday, 10 am – 12 noon)
bokavisning@modernamuseet.se
Create like an artist
In the museum's YouTube series "Create like an artist" you will receive tips on how you can create your own artworks inspired by artists in Moderna Museet's collection. We will create artworks from things we might already have. There is no right or wrong, ugly or beautiful when you are creating. But there is one rule – there are no rules.
Teachers' guides
We offer free teachers' guides in Swedish for selected exhibitions: Lärarhandledningar

Moderna Museet on YouTube
Watch videos on art, artists and everything to do with the Museum on our YouTube channel. Go behind the scenes at the Museum, listen to interviews with artists, watch performances and artist talks, and lots more.
Educational resources
Our current exhibitions and learning activities are presented once every term at our popular teachers' evenings. We also offer half-day or full-day Further education for teachers, customised to your special requirements.
Published 22 May 2015 · Updated 14 April 2021