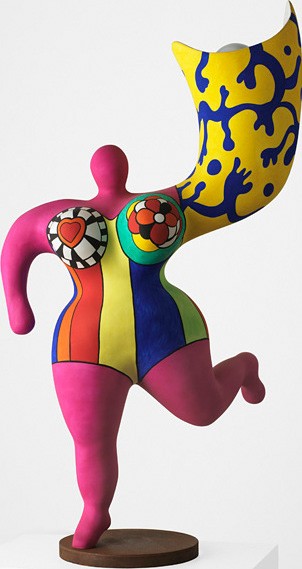 Niki de Saint Phalle (1930–2002) was born in Neuilly, France, and grew up in New York. Her first exhibition took place in 1956 at Galerie Restaurant Gotthard in St. Gallen, Switzerland.
In connection to Moderna Museet's exhibition Movement in Art she made an early shooting painting, Tableau tir (1961). The Dwan Gallery in Los Angeles supported the production of King Kong in 1963. SHE – a Cathedral was created at Moderna Museet in 1966, and six years later the sixteen sculptures in the group Paradise (with Jean Tinguely) were placed at Skeppsholmen. She formed her own education in the arts, influenced by Hieronymus Bosch, Francisco Goya, Jackson Pollock, Willem de Kooning, Jean Dubuffet and others. Antoni Gaudí was an important source of inspiration for the project of her life, the Tarot garden in Tuscany.
De Saint Phalle was recently shown in WACK! Art and the Feminist Revolution, Museum of Contemporary Art, Los Angeles/P.S. 1, New York, 2007; Niki de Saint Phalle, Tate Liverpool, 2008; and in A Bigger Splash: Painting After Performance, Tate Modern, 2013.
The Moderna Museet collection of de Saint Phalle is extensive. She is also represented at the Metropolitan Museum of Art, New York; MAMAC, Nice; Musée d'Art Moderne de la Ville de Paris, Paris; Musée d'Art Contemporain, Marseille; Museum Ludwig, Köln; Sprengel Museum, Hannover; Stedelijk Museum, Amsterdam; Tate Gallery, London and many other institutions. The girl, the monster and the goddess was shown at Moderna Museet Malmö in the summer of 2012.