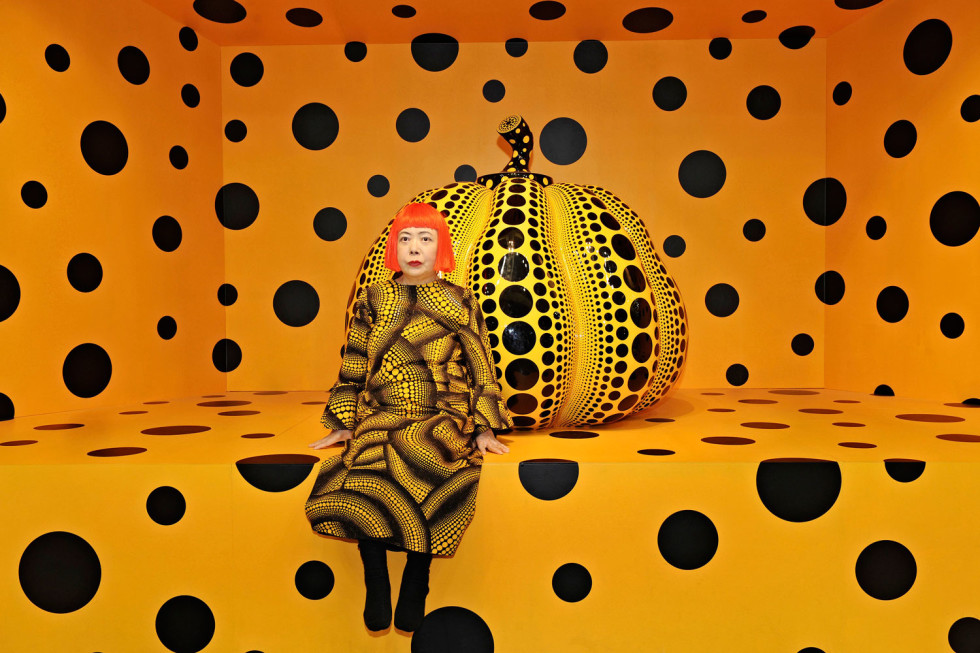 1929–1944
Yayoi Kusama is born, the youngest of four children, in the small provincial city of Matsumoto about 200 km west of Tokyo. Her upbringing is marked by conservative values and the cold relationship between her parents. Kusama starts painting and drawing at an early age.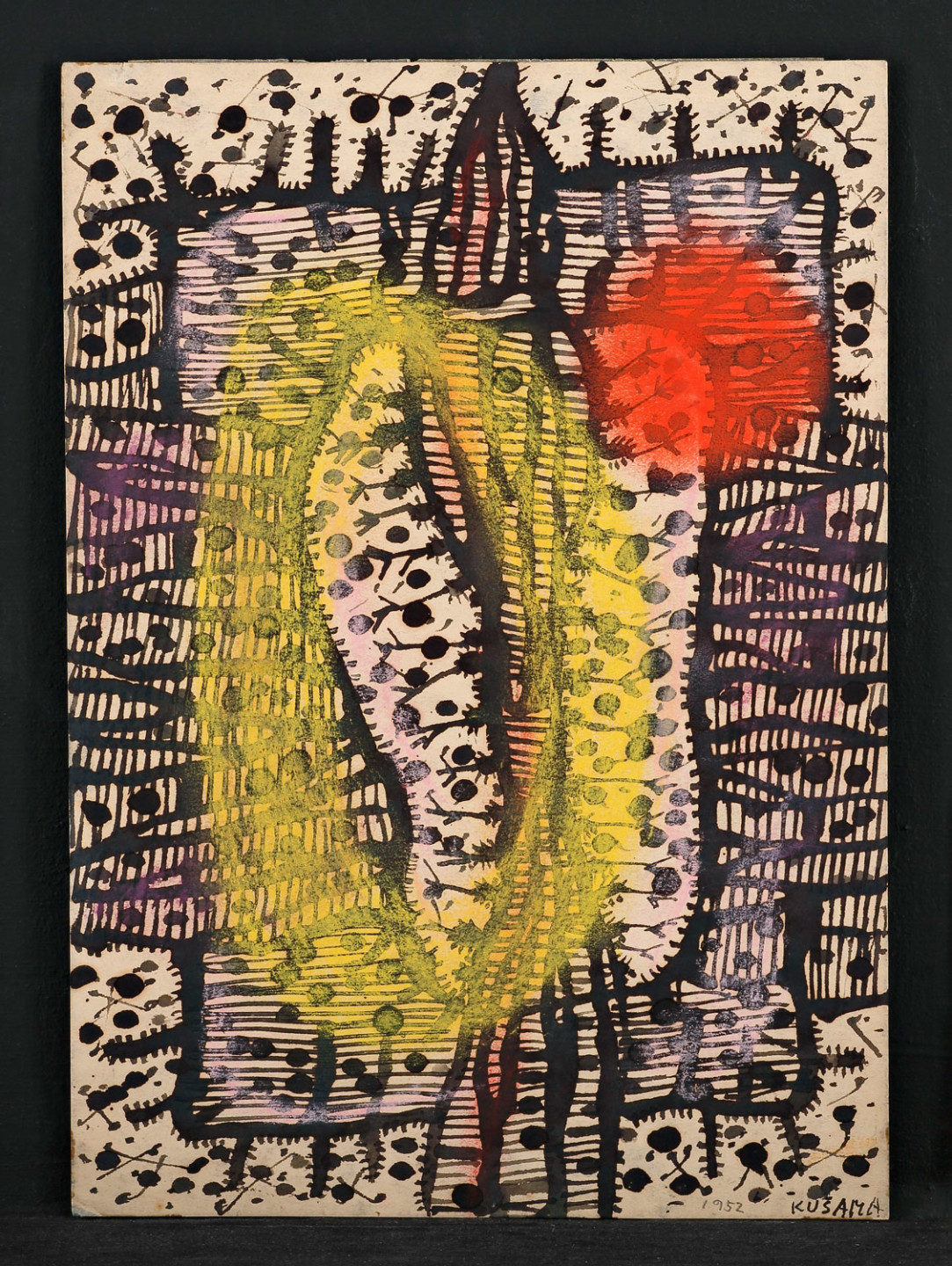 1948–1952
Despite her parents' resistance, Kusama begins to study art in Kyoto, where she learns nihonga painting. She participates in more and more traveling exhibitions, both in her local area as well as in cities like Tokyo, Osaka and Kyoto. In 1952, Kusama's first solo exhibition is shown in Matsumoto.
1953
With the help of two psychiatrists who have treated her for her mental disorders, Kusama is admitted to the Académie de la Grande Chaumière in Paris. Though it is her great desire to go to Paris, Kusama declines the offer when she gets the chance to have a solo exhibition in Tokyo.
1955
Participates in The International Watercolor Exhibition: 18th Biennial at the Brooklyn Museum in New York. She writes a letter to the artist Georgia O'Keeffe, asking for advice about starting a career in the US. O'Keeffe writes back and their correspondence continues for several years.
1957–1958
Kusama emigrates to the US. Arriving in Seattle, she has her first American solo exhibition at the Zoe Dusanne Gallery. One year later, she arrives in New York.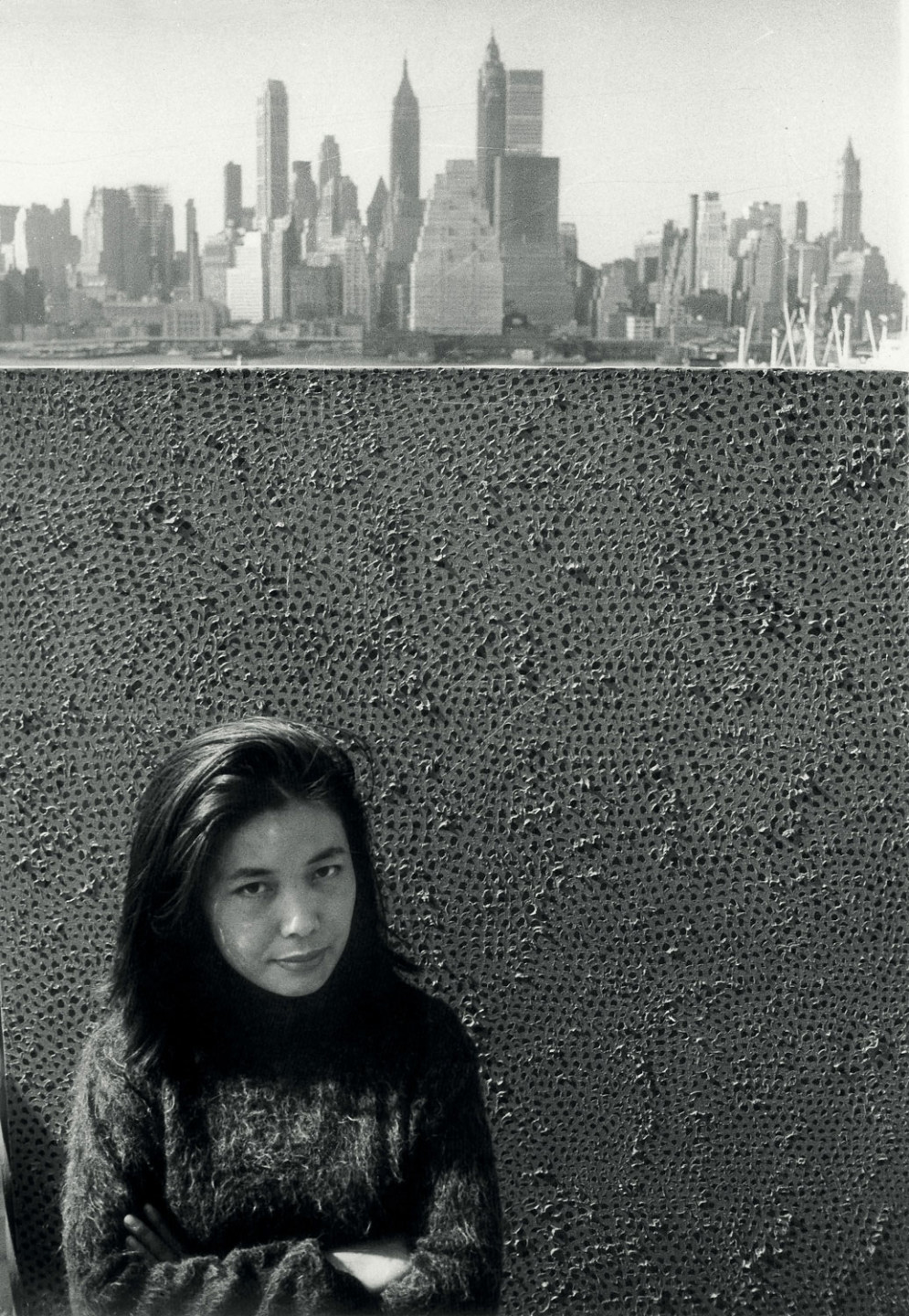 1959
Kusama has her first solo show in New York, at the Brata Gallery, where she shows Infinity Nets. The exhibition receives good reviews, also by Donald Judd, who works as a critic before becoming an artist. He becomes a close friend and supporter for many years.
1960
First European exhibition, Monochrome Malerei, at the Städtisches Museum, Leverkusen. The exhibition also features Lucio Fontana, Yves Klein, Piero Manzoni and Mark Rothko.
1961–1962
She gets a studio in the same building as Donald Judd and Eva Hesse. Kusama is struggling to make ends meet and works hard, leading to exhaustion and hallucinations.
Two Accumulation Sculptures are shown at the Green Gallery in New York. Claes Oldenburg and Andy Warhol also have works in the show, which is later designated as one of the first exhibitions of Pop Art. Kusama also shows Infinity Nets in the exhibition Nul at the Stedelijk Museum Amsterdam.
1963
Kusama exhibits Aggregation: One Thousand Boats Show at the Gertrude Stein Gallery in New York. Kusama's first installation.
1964
Kusama's Driving Image Show at the Richard Castellane Gallery in New York features macaroni-covered objects and Accumulation Sculptures installed in a room with a macaroni-covered floor.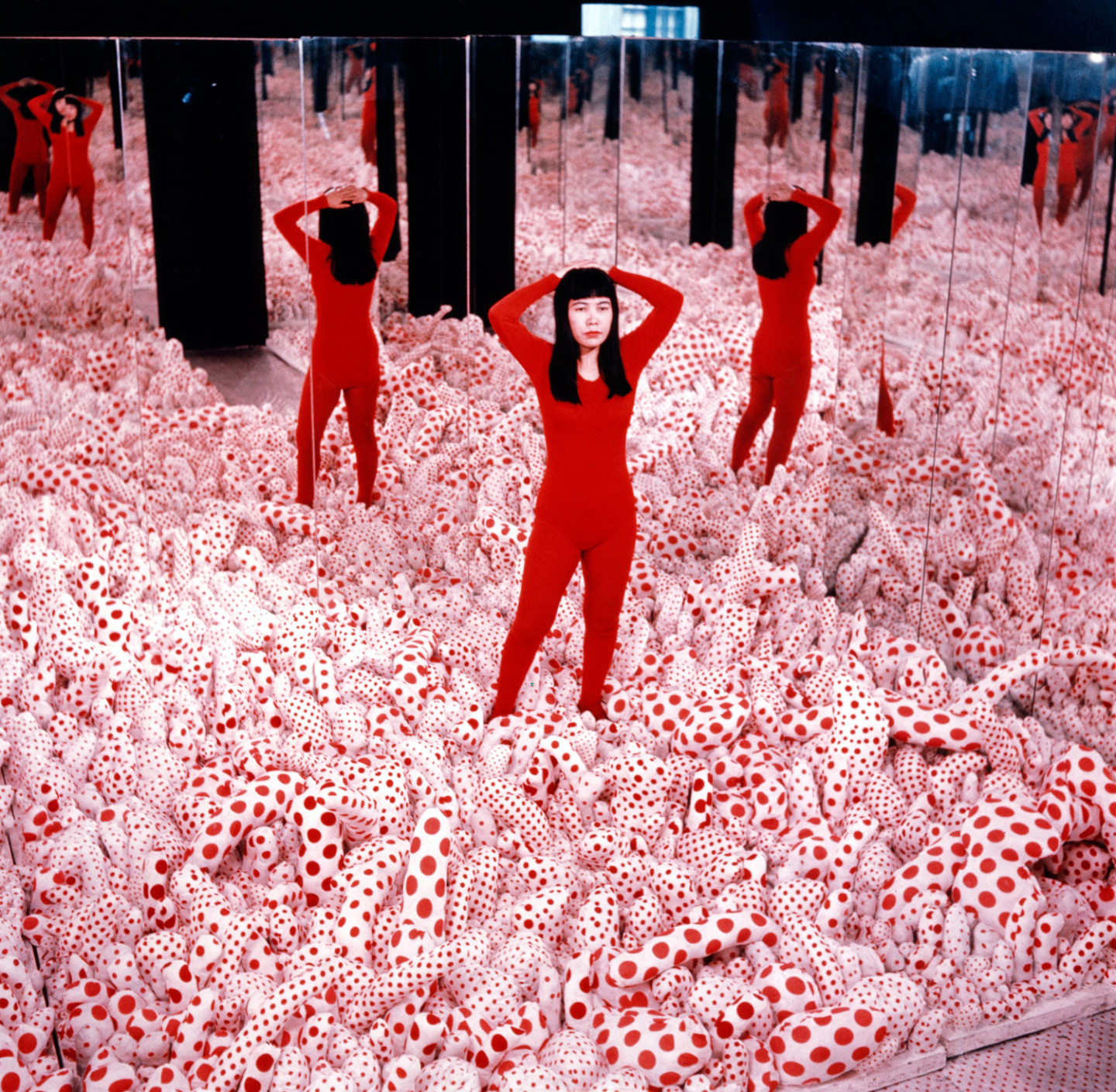 1965
Kusama's first mirror installation, Infinity Mirror Room – Phalli's Field is shown at the Richard Castellane Gallery. Kusama moves into a new studio, which she initially shares with the Japanese artist On Kawara. She has her first European solo show and is also shown in the exhibition The Inner and Outer Space at Moderna Museet in Stockholm.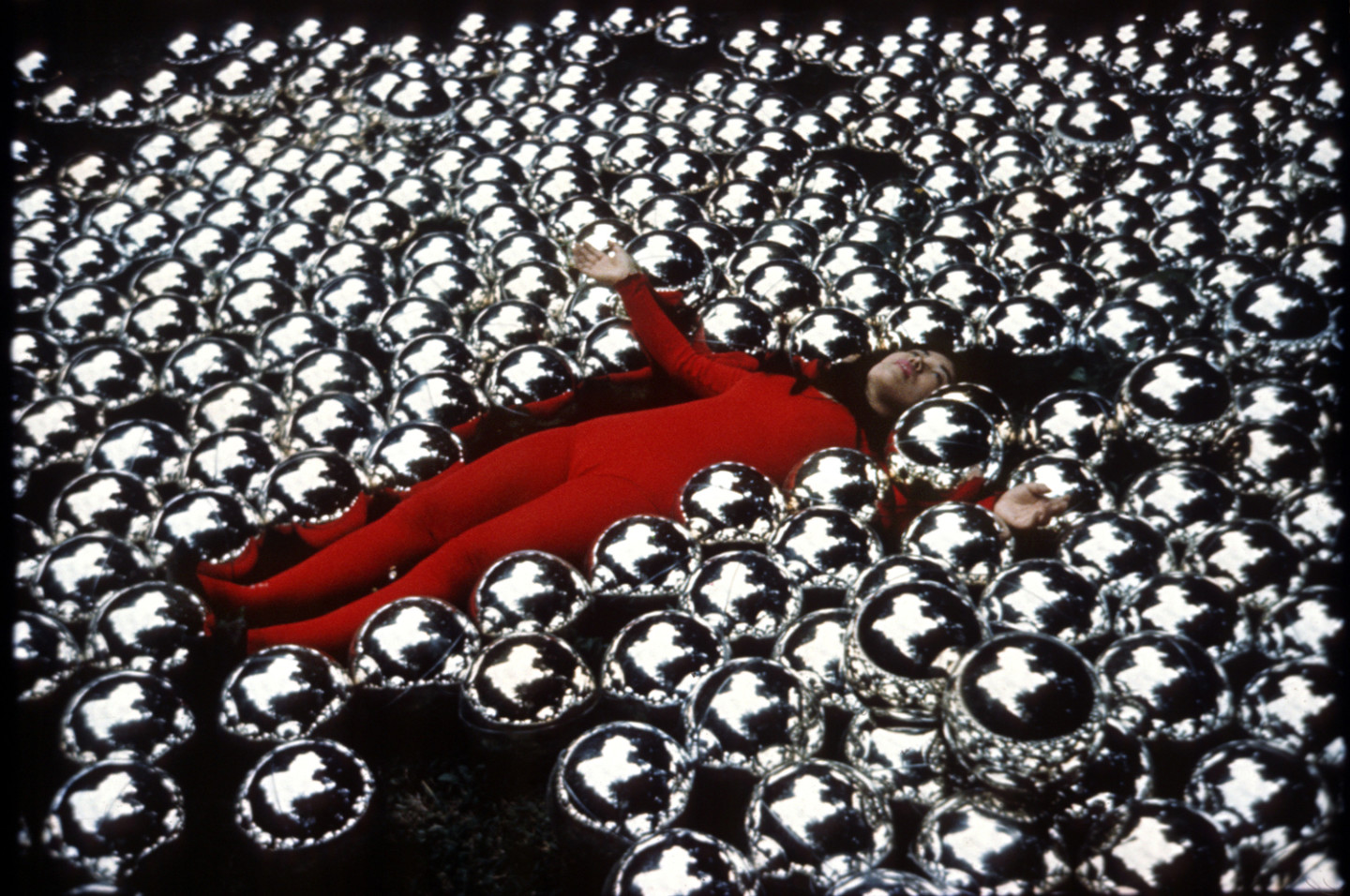 1966
She makes her first appearance at the Venice Biennale, with her installation Narcissus Garden.
1967–1968
The hippie and protest movements find a place in Kusama's performances. Kusama starts organizing public happenings, Body Paint Festivals and Anatomic Explosions in New York. Kusama produces the film Kusama's Self-Obliteration, which the following year wins awards at several festivals of experimental film the following year. By now, she has gradually moved away from the gallery scene.
1970
Kusama is arrested for obscenity when she organizes a nude happening in Tokyo. She returns to New York after three months in her home country.
1973
Kusama moves back to Japan in 1973. She works in ceramics, watercolours and collage, and writes poetry.
1977–1978
Having been hospitalized several times for recurring panic attacks and hallucinations, Kusama decides to move permanently into the psychiatric hospital that is still her home today. The following year she publishes her first novel, Manhattan Suicide Addict. Up until 999, she publishes 3 short stories and novels as well as a book of poems.
1982
The Fuji Television Gallery in Tokyo exhibits Kusama's new large paintings and sculptures. A solo show at the Naviglio Gallery in Milan also marks Kusama's return to the European gallery scene.
1989
The first American retrospective, at the Center for International Contemporary Arts in New York, sparks new interest in her work internationally.
1993
Kusama represents Japan at the Venice Biennale with works spanning her entire career, including a large installation, Mirror Room (Pumpkin).
1995–1998
Kusama has numerous international shows, both of new works and retrospectives. The large exhibition Love Forever; Yayoi Kusama 1958–1968 is shown in Los Angeles, New York, Minneapolis and Tokyo.
2001–2002
A retrospective exhibition of nearly 300 works is shown in Kusama's hometown of Matsumoto. Kusama collaborates with the Osaka-based creative cooperative graf on a line of furniture and fabric. Kusama's autobiography, Infinity Net, is published in Japanese.
2004
An extensive exhibition, KUSAMATRIX, opens at the Mori Art Museum in Tokyo. Here, among others, the large room installation Dots Obsession is shown.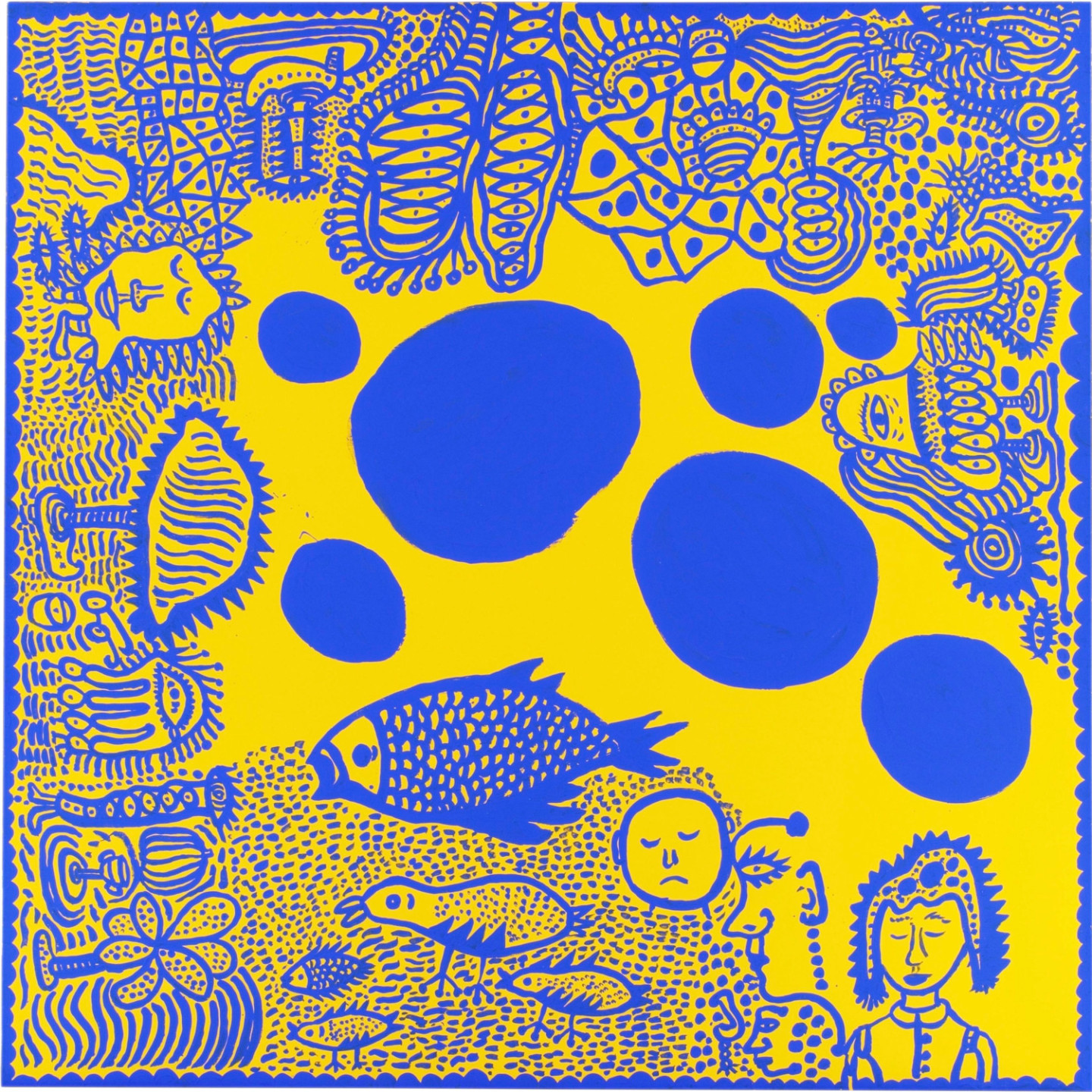 2009
Starts working on a new series of large canvases in bright colours, My Eternal Soul, deciding to make 100.
2011
A large retrospective exhibition is shown at the Museo Reina Sofia in Madrid and the Centre Pompidou in Paris, travelling to the Tate Modern the following year and ending at the Whitney Museum of American Art, New York.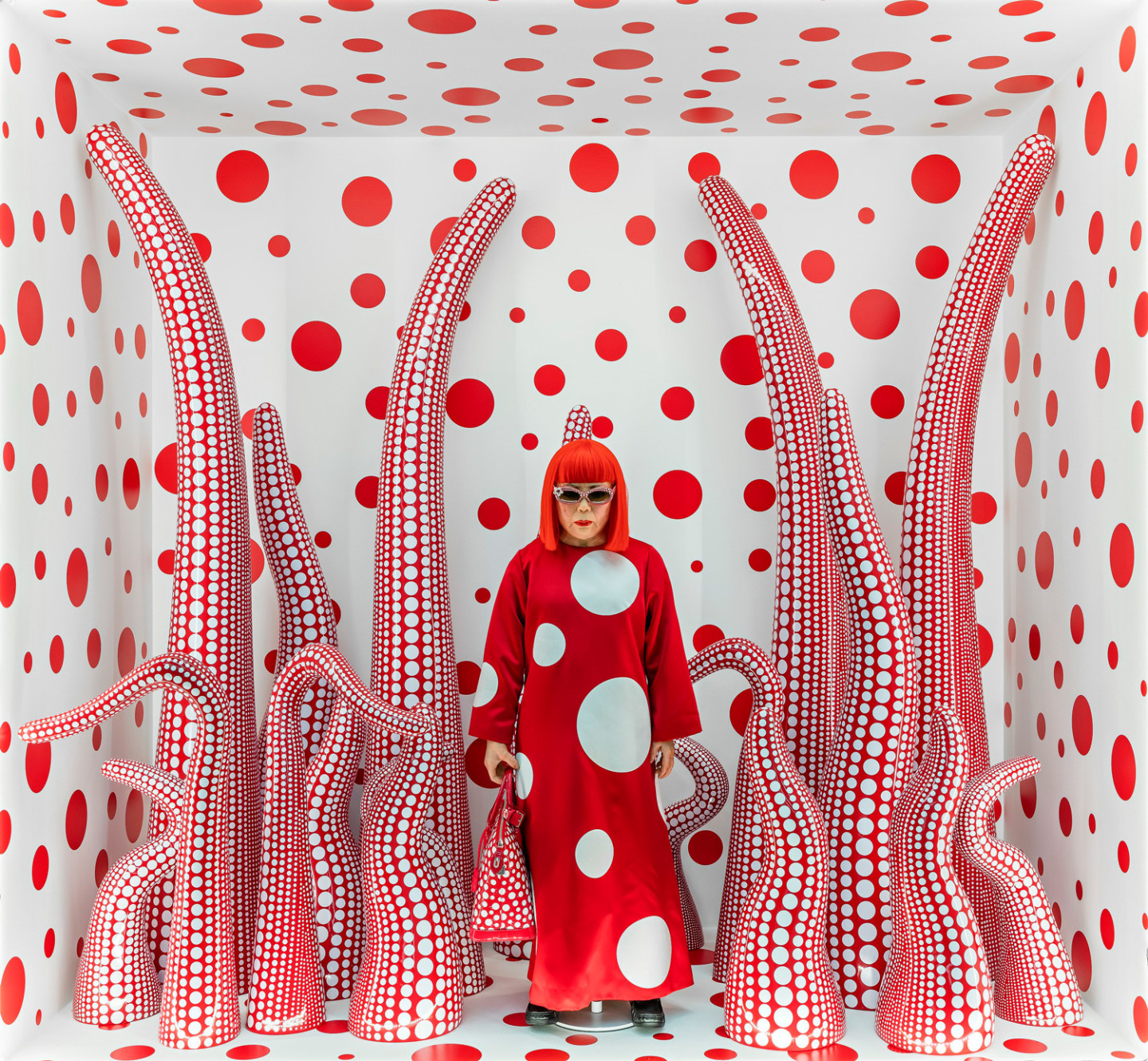 2012
A collaboration with Louis Vuitton, Kusama designs a line of clothing, bags, shoes and accessories.
2013–2016
Kusama is still working on the My Eternal Soul series. Having long since reached her initial goal of 100 paintings: "I want to paint 1000 or 2000 paintings. I want to keep painting even after I die.".