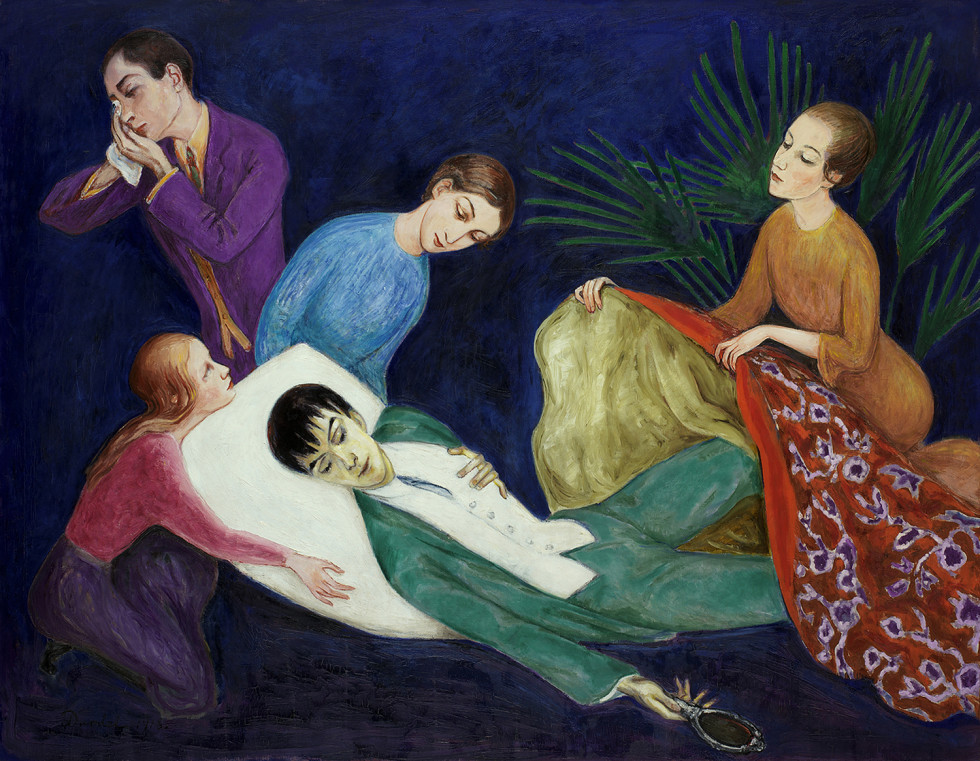 Change of Scenes
works from the Moderna Museet Collection by Dardel, Matisse, Abdul-Hâdi, Hjertén, Léger among others
15.10 2011 – 5.2 2012
Malmö
This autumn, more than one hundred works from the period 1900-1950 from the Moderna Museet collection will be shown. This is the most comprehensive presentation of the collection at Moderna Museet Malmö to date, filling both the Turbine Hall and the Upper Gallery. Two obvious highlights are Apollo by Henri Matisse and The Dying Dandy by Nils Dardel. The presentation features many fabulous works by seminal artists, including Constantin Brancusi, Alexander Calder, Siri Derkert, Isaac Grünewald, Sigrid Hjertén, Paul Klee, Henri Matisse and Pablo Picasso.
The presentation has evolved around two main themes that are interconnected in several ways – the allure of non-European cultures in the early 1900s, and the phenomenon of fertile collaborations between visual artists and artists in dance and performance. A prominent figure was the theatre director and founder of the Ballets Suèdois, Rolf de Maré, who donated several key works to the Moderna Museet collection. Rolf de Maré worked with cultural celebrities such as Fernand Léger, Josephine Baker, Jean Börlin, Jean Cocteau, Pablo Picasso, Francis Picabia, Erik Satie and many others.
This selection from the Moderna Museet collection will emphasise and discuss the quest for inspiration and alternative "spaces" – artistic, transnational and gender-bending – that took European artists to North Africa and Asia in the early decades of the 20th century. Several film clips will be shown together with paintings, sculptures, photographs and objects, to demonstrate the links between art forms, but also to show how the fascination for the "Other", for the Orient and the exotic, was expressed in visual art, dance and performance.
Change of Scenes marks the start of a new series of exhibitions at Moderna Museet Malmö, which will offer a major presentation of works from Moderna Museet's fantastic collection of painting, sculpture, photography and film each year. With the Turbine Hall as its centre, the exhibition spreads throughout the museum. In 2012, the theme will be surrealism, and in 2013 we will proceed to Russian constructivism.
Programme
4 December, 2 pm
Lecture: The Dying Dandy

Karin Grundberg Wolodarski who recently published a book about Fredrik Roos will give a lecture about the art collector and founder of Rooseum. 
4 December, 3 pm
Guided tour in Persian
Minoo Raghibi, art educator at Moderna Museet, will give a guided tour of the exhibition in Persian. The tour is included in the entrance fee, tickets can not be booked in advance.
Curator: Cecilia Widenheim
Moderna Museet Malmö would like to thank Dansmuseet, Konstbiblioteket, Konstnärsarkivet at Nationalmuseum, Association Frères Lumière in Paris, the Martha Graham Center of Contemporary Dance in New York, Mats Rehnström and Anders Wahlgren, who generously made a number of films and documents available for our use.
The Moderna Museet Collection is supported by


Images