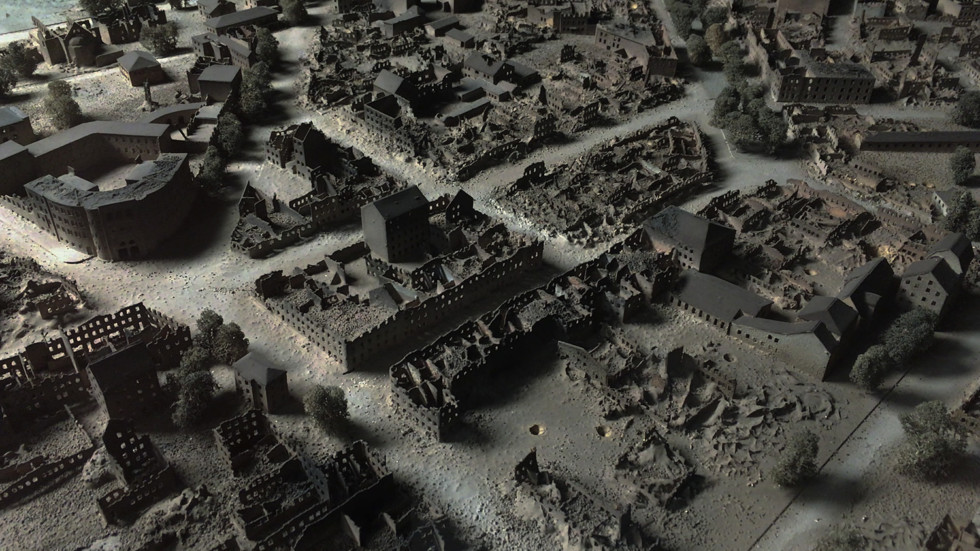 The Film Club: Hiwa K
Film screening and conversation
11.9 2021
Stockholm
Watch a selection of Iraqi-Kurdish artist Hiwa K's video works, including "View From Above" (2017) and "This Lemon Tastes of Apple" (2011). The screening is followed by a conversation between Hiwa K and Lena Essling, Curator, Moderna Museet.
The internationally acclaimed Iraqi-Kurdish artist Hiwa K's work mines political events, chance encounters, oral histories, and his own experiences. His performances, video, sculpture and installations speak to themes of political memory and belonging, as well as what the artist refers to as "placelessness" and "zones of possibility." Hiwa K approaches his subjects with curiosity and pragmatism, in collaborative and including processes. In his work he has cast bells of war material, created housing of cement pipes and challenged philosophers in wrestling. Often distancing himself from the expected position of the artist, instead appearing in his works as an interviewer, guide, bandleader, or activist.
The screening is followed by a conversation between Hiwa K and Lena Essling, Curator, Moderna Museet.
Hiwa K
Film screening and conversation
Date: Saturday 11 September 2021
Time: At 15–17
Place: the Auditorium, floor 2
Language: English
Price: Free admission
Booking: Book a ticket. Limited number of seats.
Do you want information about the Film Club and our screenings? Become a member!
About the films
Pre Image (Blind as the Mother Tongue), 2017
17:40 min
As a member of the immigrant generation that illegally journeyed from Iraqi Kurdistan to Europe on foot, Hiwa K simulates an experience of walking through foreign territory by balancing an object on his nose, a staff holding a number of motorcycle rearview mirrors: "To remember, sometimes you need different archeological tools." This "adaptation tool" acts as an extension of body and senses, involving both the artist and viewer in a balancing act. The journey goes across fields, wastelands and urban landscapes, through Turkey and on to Athens and Rome. As the artist adapts his movements to accommodate the balanced object, viewers are made to shift their perception in an attempt to make sense of the disorienting mirror images. In this manner, they catch glimpses of what Hiwa K calls "preimages," or fragments of a puzzled future that compel us to find our way without knowing in which direction we are traveling.
Produced for documenta 14, Athens.
View from Above, 2017
12:27 min
The camera slowly pans the ruins of a war-torn city. The only human presence is the artist's voice-over telling the story of the deserter M, who has fled from a "safe zone". To avoid being deported back, M must convince interrogators of a background in the city of K, where he has never been. A model of the German city Kassel, destroyed in the Second World War, forms the background for a timeless story of rightlessness and identity loss in the wake of conflict.
The script for this piece is written with artist Lawrence Abu Hamdan, whose practice explores the "politics of listening" – the relevance of the individual's testimony and the transaction with the listener. The artists share the experience of exile, Abu Hamdan as a Jordanian living in Lebanon, and Hiwa K with his background in Iraqi Kurdistan, based in Berlin.
The work is part of Moderna Museet's collection, where it is currently on view. Produced for documenta 14, Stadtmuseum Kassel.
This Lemon Tastes of Apple, 2011
6:15 min
"Kurdistan-Northern Iraq was called by Saddam, Allah's paradise on earth. I started to understand the irony after 1988 when I was told by some of our relatives who survived the chemical attack in Halabja, that the chemicals smelled of apple." Hiwa K
Twenty-three years later, during the Arab uprising in the same region, civilian protest was bloodily repressed. The unrest saw the large-scale use of teargas. The protestors used lemons to counter its effects, another fruit smell which linked the citizens' political memories. The video documents an intervention undertaken by the Hiwa K on April 17th 2011 in Sulaymaniyah, during one of the last days of the civil protest. The artist plays the theme music from the film Once upon a Time in the West (1968) on a harmonica, Ennio Morricone's simple melody taking on the power of a protest song. The work has intentionally not been translated into English. The words of protest remain in their own language and are not adapted to the rhetorical frames of protest elsewhere.
About Hiwa K
Hiwa K (born 1975, Kurdistan-Northern Iraq) studied informally and independently in his hometown Sulaymaniyah, focusing on European literature and philosophy from books that were available as Arabic translations. After relocating to Europe in 2002, he studied music as a pupil of the Flamenco master Paco Peña in Rotterdam, and settled in Berlin. He graduated from the Akademie der Bildende Kunst in Mainz, Germany and was a guest student at Städelschule Frankfurt.
In his work Hiwa K continuously critiques the art education system and the professionalization of art practise, as well as the myth of the individual artist.
Hiwa K participated in various group shows such as Manifesta 7, Trento (2008), La Triennale, Intense Proximity, Paris (2012), the "Edgware Road Project" at the Serpentine Gallery, London (2012), the Venice Biennale (2015) and documenta14, Kassel/Athens (2017). A selection of solo shows includes KW, Berlin (2017), New Museum, NYC (2018), S.M.A.K., Ghent (2018) and Kunstverein Hannover (2018), Zacheta National Gallery of Art in Warsaw (2019) the Van Every/Smith Galleries in North Carolina, USA (2019).
In 2016 Hiwa K received the Arnold Bode Prize and the Schering Stiftung Art Award, and he was awarded the 2019 Hector Art Price at Kunsthalle Mannheim. Recently, he has opened solo exhibitions "Do you remember what you are burning?" in 2020 at Jameel Arts Center, Dubai, and "All Cities Have Destruction in Common", in 2021 at Museum Abteiberg, Mönchengladbach, Germany.
In Sweden Hiwa K has exhibited at Konsthall C, The Swedish History Museum, Luleå Biennial and Skövde Art Museum.
Become a member!
Do you want information about the Film Club and our screenings? Become a member! Membership is free. Become a member by sending your name and email address to filmklubben@modernamuseet.se (membership communication is in Swedish).
Processing of personal data
To become a member in the Film Club, we need to store your personal data (name and e-mail address). We process your personal data in accordance with the General Data Protection Regulation (GDPR). Read more about how we process personal data here: Moderna Museet's integrity policy