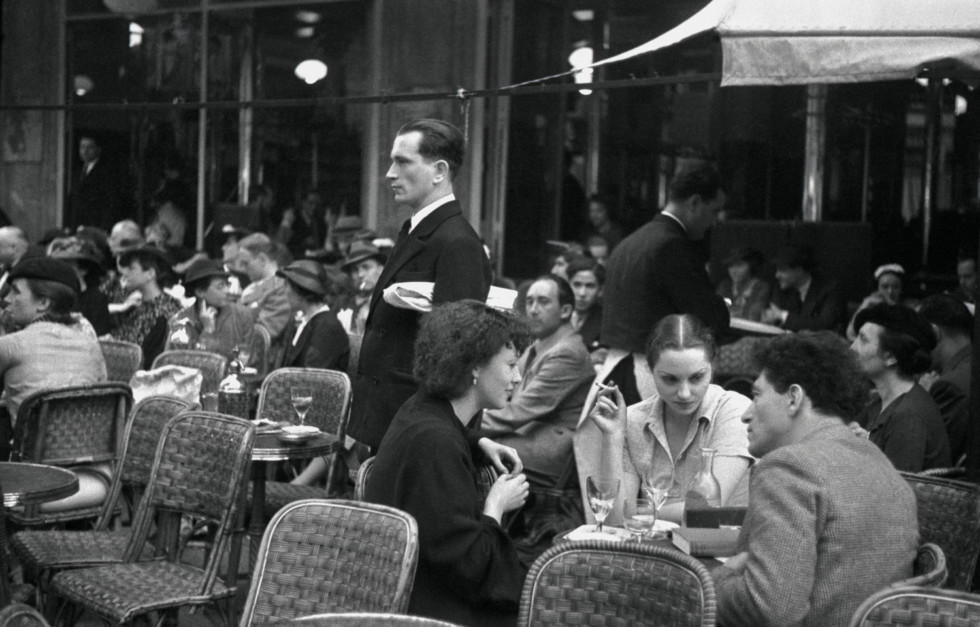 Global Paris
Two mini-seminars in connection with Giacometti – Face to Face
23.10 2020 – 30.10 2020
Stockholm
For two Fridays you will have the chance to immerse yourself in the Paris that Alberto Giacometti was a part of. Listen to short presentations by and conversations between Cecilia Sjöholm, Michael Barret, and Rado Istok, and Karl Dunér, Samuel Girma, and Kristoffer Noheden.
Paris' central role in the art of the 20th century is undisputed. Conversations on art and life were constantly being held in the city's cafés, theories were developed which sometimes materialised into artistic interpretations and Surrealism was all the rage. The "Global Paris" seminars will touch upon Paris as an important place for a number of intersections: between colonialism and anticolonialism, art and politics, Africa and Europe, as well as how early Surrealism can still seem so momentous to us today and the significance of exile to authors such as Samuel Beckett and James Baldwin.
Global Paris
Two mini-seminars in connection with Giacometti – Face to Face
Date:
Friday 23 October, 2020
Friday 30 October, 2020 Cancelled
Time: at 17.00–18.30
Place: the Auditorium, floor 2
Language: Swedish and English (Rado Istok's presentation)
Price: 30 SEK
Registration information: limited number of seats. Advance purchase only.
October 23: Global Paris – The pre-war period
The Paris that Alberto Giacometti became a part of when he settled there in 1922 was a cultural and experimental breeding ground. It was a place where new theories were formed and new connections that generated ideas were made. These ideas also materialised into artistic interpretations.
Surrealism was all the rage and Giacometti was, for a time, part of the movement. The artist's connection with the journal "Documents" (1929–30) became important, it gathered a loose grouping of intellectuals with Georges Bataille as editor-in-chief. "Documents" presented articles and photojournalist features on archeology, art, anthropology, and popular culture, side by side, without hierarchical divisions. Another focal point was boundary-crossing. Giacometti, who in his playful sculptures explored the relationship between eroticism, the violent and the sensual, was a good match.
Cecilia Sjöholm, Professor of Aesthetics at Södertörn University, will use the journal "Documents" and Georges Bataille as a point of departure and will touch upon thoughts on desire, violence, and the transgender, but also the mythical that was expressed in literature and art. Further, she will reflect on why early Surrealism, through Bataille, seems so momentous to us today.
Michael Barrett, researcher, and curator at the Museum of Ethnography will talk about Paris as perhaps the most important place of the time for a number of intersections: between colonialism and anti-colonialism, art and politics, Africa and Europe. Barett highlights the great interest in and access to non-western art as a product of Paris' key position. During this time, both private and public collections of classic African art also came to Sweden via Paris.
Rado Istok, researcher and curator will focus on the artist Marie Čermínová, who later took the gender-neutral name "Toyen" which refers to the french citoyen (citizen). Born in 1902 in Prague, she spent time in Paris during the 1920s and explored the artistic and intellectual stimulus, as well as the sexual freedom that the city offered.
Moderator: Kristoffer Noheden, researcher at the Department for Media Studies, Stockholm University.
October 30: Global Paris – Postwar-period
When Giacometti, after staying away from the occupied Paris, returned to the city in 1945 he reconnected with friends. Cafés like La Cupole and Les Deux Magots in Montparnasse and Saint Germain became meeting places for philosophers, poets, playwrights, artists, and authors. This is where they would establish new contacts, discuss and work in an environment far from the cold hovels they often lived in. The experience of a devastating war led to the search for new ways of expressing human conditions. A new individualism and existentialism were in the air, formulated by, among others, Jean-Paul Sartre and Simone de Beauvoir. Giacometti is among the artists that critics and writers early on connected with the challenges of existentialism. Sartre, who wrote about the artist at the end of the 1940s, emphasised the body as what anchors us humans in the world. There seems to be a feeling of wanting to start over, to return to the naked and stripped-down, and reject inherited aesthetic conventions.
Karl Dunér, director and artist, who is behind several productions of Samuel Becketts plays will speak about Beckett using the author and playwright's part in the diaspora in Paris as a point of departure. After the Second World War, Beckett, an Irishman, transitioned to writing in French. Dunér ponders the cause of this change of language, environment, and self-elected exile could all have meant.
Samuel Girma, curator, researcher, and activist, reflects on the American writer, playwright, and activist James Baldwin (1924–1987). Baldwin came to Paris at 24 to escape the racist USA. From his position in Paris, he could fight the inequalities in the US. In his talk, Girma searches for Baldwin's queerness, which he believes often has been toned down.
Kristoffer Noheden, researcher at the Department for Media Studies, Stockholm University, will talk about Giacometti's participation in the Surrealist exhibition EROS in Paris 1959–1960, and the expanded view on sexuality that it presented. The lavish exhibition design was created by Marcel Duchamp and the catalogue included an erotic lexicon. Noheden follows Surrealism well into the post-war era and gives a more queer picture of French Surrealism.
Moderator: Maria Mårsell, Södertörns högskola.