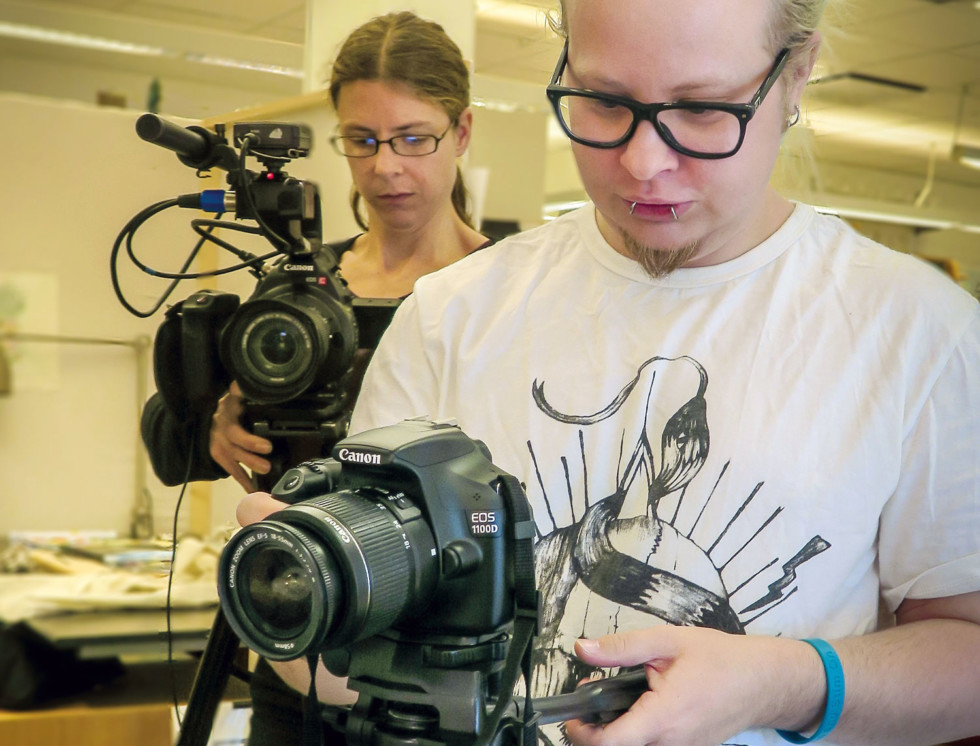 Out by art
Film screening and conversation
20.4 2018
Stockholm
See new art films and a documentary that explores what it can be like to be an artist outside the norm, tracing the paths of five artists who are active at various Nordic studios for disabled people in their work with art film. The art films and the documentary will be screened during the evening, along with a talk with the participating artists. Moderator:  Minna Haveri.
Out by Art – a video experiment within Nordic outsider art
Premiere screening and a conversation moderated by Minna Haveri (Finland)
Date: Friday 20 April 2018
Time:  at 17.00–20.00
Place: the Cinema, floor 2
Language: English
Price: free admission
Booking: fully booked, but it is possible to follow the program on a screen outside the Cinema. Please RSVP to c.lundqvist@modernamuseet.se.
The Moderna Bar will be open after the film show.
Conversation, documentary and art film
See the premiere of new art films by Aleksi Pietikäinen, Birkir Sigurðsson, David Viborg Jensen, Hugo Karlsson and Niko Liikanen and a documentary by Marianne Schmidt. The film makers from four Nordic countries are active at various studios for people with disabilities. The screenings are followed by a conversation on what it can entail to be an artist who does not fit the norm.
Without previous experience of filmmaking, they have used the camera as a tool for new ways of seeing and communicating. Artistic and personal processes are brought together in the films, which open up for discussions on issues of exclusion and inclusion, outsider art and artistic practices.
"We're not always like everybody else, but we are all individuals, with our strengths and weaknesses, similarities and differences. Just like everybody else." Hugo Karlsson and Marianne Schmidt
Participating artists
Aleksi Pietikäinen, Kaarisilta (Finland)
Birkir Sigurðsson, List án landamæra (Iceland)
David Viborg Jensen, GAIA (Denmark)
Hugo Karlsson, Inuti (Sweden)
Marianne Schmidt, dokumentärfilmare, Inuti (Sweden)
Niko Liikanen, Kettuki (Finland)
Moderator: Minna Haveri
Minna Haveri is researcher and art educator.  She completed her doctorate at Aalto University School of Arts, Design and Architecture in 2010. Her dissertation "Nykykansantaide" on contemporary folk art investigated the various phenomena in Finnish visual folk art (a.k.a. ITE art) and the meanings attached to them. She is the vice president of Kettuki, the Finnish association and national network supporting art made by people with disabilities. She is widely interested in the margins of art and social justice in visual art education.
Seminar on Friday 9 March at Bio Rio preceded the screenings
The film screenings at Moderna Museet will be preceded by a seminar at the Tempo Documentary Festival at Bio Rio in Stockholm on 9 March, 2018, at 14.00–15.00. Participants: Hugo Karlsson and Marianne Schmidt, artists, Sven Blume and Lotte Nilsson-Välimaa, project managers, and Catrin Lundqvist, curator at Moderna Museet.
More information via Tempo: Out by Art, Friday 9 March at Bio Rio
Out by Art
Out by Art is a project launched in September 2017 and ending in April 2018. All the artists are working in studios affiliated to the Nordic Outsider Art (NOA) network. NOA started in 2015 and now has five member organisations in four countries. The purpose of the NOA platform is to strengthen the links between various participants in the field of outsider art in the Nordic region. By exploring new approaches, NOA wants to help make a difference both for individual artistic development and for the development of Nordic outsider art.
Project manager: Sven Blume
Project coordinator: Lotte Nilsson-Välimaa
Project collaborator: Marianne Schmidt
Contact: Catrin Lundqvist, Curator Learning
In cooperation with Tempo Dokumentärfestival. With support from Kulturbryggan.