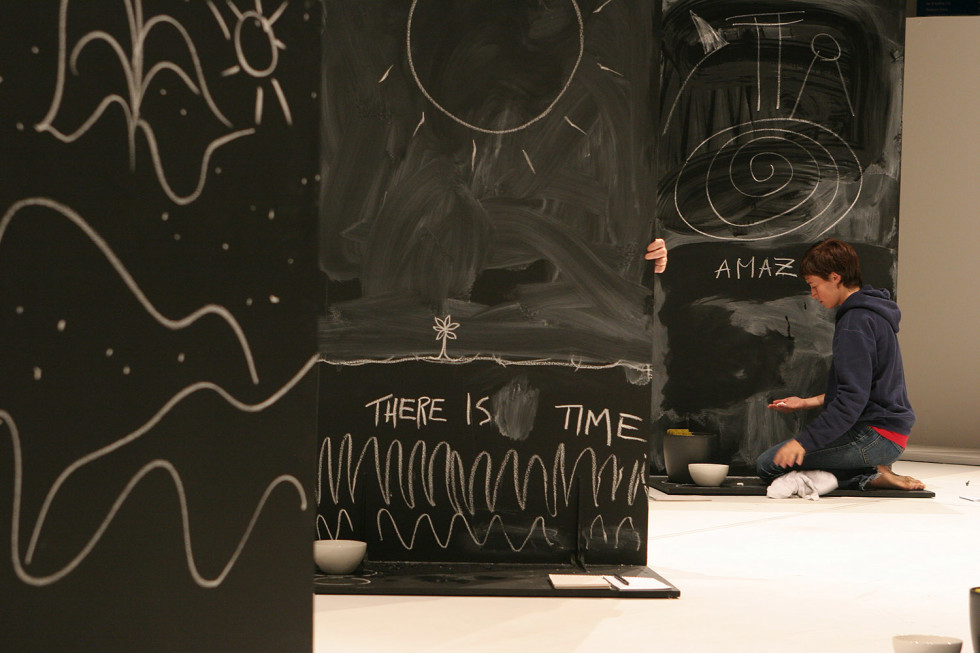 Translate, intertwine, transgress!
11.6 2015 – 13.6 2015
Stockholm
Welcome to an interdisciplinary symposium on choreography, philosophy, art and poetry, featuring talks, performances and parties, at Moderna Museet and MDT.
Date: 11–13 June 2015
Place: At Moderna Museet and MDT
Language: English
The choreographer Björn Säfsten and the philosopher Per Nilsson, both from Umeå, have engaged over the past three years in a multidisciplinary research project involving choreography and philosophy, at the Umeå Academy of Fine Arts. In association with Moderna Museet and MDT, lectures, performances, workshops, discussions and parties will take place on Skeppsholmen for three days, to summarise and celebrate the conclusions of this project.
After Babel is a major group exhibition at Moderna Museet about the many languages in contemporary art. The invited artists build bridges between languages and continents. The exhibition opens in conjunction with the symposium, thus providing a meeting place and venue for events.
In lectures and choreographic works, researchers and artists will comment on and discuss the relationship between choreography, art and philosophy. Different theoretical and artistic fields are brought together to explore how they may influence our critical thinking. Could these disciplines change performatively and discursively by being intertwined?  Could they transgress each other's disciplinary boundaries? And how could such intertwinings and transgressions be interpreted, thought, discussed, read or danced?
The symposium will feature works and lectures by Cristina Caprioli, Bojana Cvejić, Mette Edvardsen, Abraham Hurtado, Michael Kliën, Jennifer Lacey, Per Nilsson & Gerd Aurell, Peggy Phelan, Richard Shusterman, Alma Söderberg & Hendrik Willekens, Sarah Vanhee and Haegue Yang. Some of the symposium's performances will be held in the exhibition. In the middle of the exhibition is a tower made by Simon Denny together with Alessandro Bava, incorporating ideas from the legendary exhibition Poesin måste göras av alla! Förändra världen! (Poetry must be made by all! Change the World!), which took place at Moderna Museet in 1969. It also includes the viral project 89+, which individuals or groups born after 1989 could join via an Open Call organised by curators Simon Castets and Hans Ulrich Obrist.
Around the tower are works by George Adéagbo, Etel Adnan, Kader Attia, Yael Bartana, Paul Chan, Rivane Neuenschwander, Michelangelo Pistoletto and Haegue Yang.
After Babel is the hub and meeting place for linguistic and cultural translations, intertwinings of art forms, where artists can create new meaning through their transgressions. Curators: Daniel Birnbaum and Ann-Sofi Noring.
Translate, Intertwine, Transgress
Curator team: Björn Säfsten; Per Nilsson; Catrin Lundqvist, Moderna Museet and Danjel Andersson, MDT
Coordinators: Säfsten Produktion and Nordberg Movement and Stina Dahlström, MDT
Project manager: Magnus Nordberg
Supported by Umeå Academy of Fine Arts, The Swedish Research Council, The Swedish Arts Council, The City of Stockholm, The Stockholm County Council and the Swedish Arts Grants Committee.
The interdisciplinary lab for artists within visual art and choreography taking place in conjunction with "Translate, Intertwine, Transgress" is presented in collaboration with Konstnärsnämnden/Swedish Arts Grants Committee (Iaspis International Programme for Visual Artists and International Dance Programme) and Dansalliansen.
Programme
Thursday 11 June
11.00–17.00 METTE EDVARDSEN Time has fallen asleep in the afternoon sunshine
Location: Moderna Museet. Meeting point: The entrance of After Babel
18.00–19.00 JENNIFER LACEY Bad reader
Location: MDT
19.00–22.00 Opening After Babel, Moderna Museet.
For Translate, Intertwine, Transgress pass holders and by invitation
Friday 12 June
10.30–11.30 PEGGY PHELAN Andy Warhol: Performing Philosophy
Location: Moderna Museet, Auditorium
11.00–17.00 METTE EDVARDSEN Time has fallen asleep in the afternoon sunshine
Location: Moderna Museet. Meeting point: The entrance of After Babel
12.00–13.00 CRISTINA CAPRIOLI Notes on a tumble
Location: Moderna Museet, Auditorium
14.30–15.30 PER NILSSON & GERD AURELL Non Serviam: Introduction
A performance lecture in-between art and philosophy
Location: MDT
16.00–17.00 HAEGUE YANG Movement Studies
Location: Moderna Museet, Auditorium
17.15–18.45 ABRAHAM HURTADO Between The Two
Location: In the exhibition After Babel, Moderna Museet
Translate, Intertwine, Transgress pass required.
17.30–19.00 MICHAEL KLIËN WITH STEVE VALK Choreography for blackboards
Location: Moderna Museet, Auditorium, entrance by the side door.
21.00–22.00 JENNIFER LACEY Bad reader
Location: MDT
Saturday 13 June
10.30–11.30 RICHARD SHUSTERMAN Philosophy as an Art of Living –On Camera
Location: Moderna Museet, Auditorium
11.00–17.00 METTE EDVARDSEN Time has fallen asleep in the afternoon sunshine
Location: Moderna Museet, Meeting point: The entrance of After Babel
11.15–12.45 ABRAHAM HURTADO Between The Two
Location: Moderna Museet
For Translate, Intertwine, Transgress pass holders or with ticket to the museum.
12.00–13.30 MICHAEL KLIËN WITH STEVE VALK Choreography for blackboards
Location: Moderna Museet, Auditorium, entrance by the side door.
15.00–16.00 BOJANA CVEJIC Six Notes on a Society of Performance
Location: Moderna Museet, Auditorium
16.30–17.30 ALMA SÖDERBERG & HENDRIK WILLEKENS Idioter
Location: Moderna Museet, After Babel
Translate, Intertwine, Transgress pass or ticket to the museum
20.00–21.00 SARAH VANHEE Lecture For Every One
Location. MDT