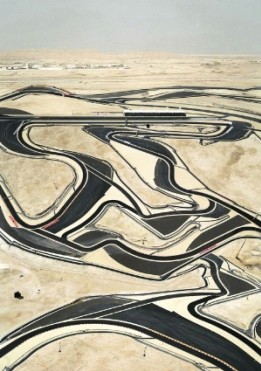 Andreas Gursky, born in Leipzig in 1955 and now living in Düsseldorf, has for many years been regarded as one of the leading international photographers. Works 80-08 is his largest exhibition to date, and the first to span his entire oeuvre.
Gursky has selected more than 150 works, starting from his student days at Folkwang Hochschule in Essen, through his years at the academy of art in Düsseldorf where he studied under Bernd and Hilla Becher. These photos, many of which have never before been published, lead up to his latest works, produced especially for this exhibition.
Even in his earliest works, Andreas Gursky demonstrates his keen observation of people's approach to life and the world, and their longing to get away from tedium and work. He had already developed an impressive ability to charge different settings with personal inner moods and his gaze is aimed beyond the details and the individual, to the totality. Although these initial pictures mainly portray his closest surroundings, we can follow how he gradually moves in wider circles, until they encompass the whole world. Also, by visiting places and events several times over a longer period of time, the artist not only throws light on different social contexts – such as capitalist or communist mass meetings – but also portrays structures in transition. His photographs of large corporations and stock exchanges in the 1980s and onwards are examples of this.
Andreas Gursky's self-professed interest in an abstract imagery led him at an early stage in his career to create pictures of abundance and emptiness. Since 1992, he has made use of digital technology for these subjects – initially in the form of digital retouching, but eventually more explicitly. In this way, he achieves complex constructions of reality, but consistently with the purpose of portraying social truths. Abstract and figurative are combined on a metaphorical level, and whether he is exploring work or recreation, large-scale livestock farming or spectacular events, hypermarket commodities or mountains of garbage, each photograph contributes a vital piece towards achieving Andreas Gursky's goal: an "Encyclopaedia of Life".
This exhibition of more than 150 works would have been impossible if the artist had not decided to make new copies of his entire output – with the exception of his very latest works – in a smaller format. This was a radical step, in view of the fact that Gursky has long been associated with large-format photography. On the other hand, this procedure enables us to show his full oeuvre and to accommodate its encyclopaedic nature. The result is an exhibition that rests on two fundaments: firstly, the new works in large format – Andreas Gursky here and now – and secondly, the entire catalogue of works that allows us to study his oeuvre chronologically, to study his assertions about photography, to wonder at the strong similarities with painting, and to discover the relationships that arise between the pictures.
Andreas Gursky exhibited for the first time in Sweden in 1995, at Rooseum in Malmö. Since then, his pictures have only been shown a few times here. It is therefore a great pleasure for us to introduce his work to the broader public in this way, and to enable those who have already discovered him to dive deep into Gursky's rich oeuvre.
Curator Fredrik Liew