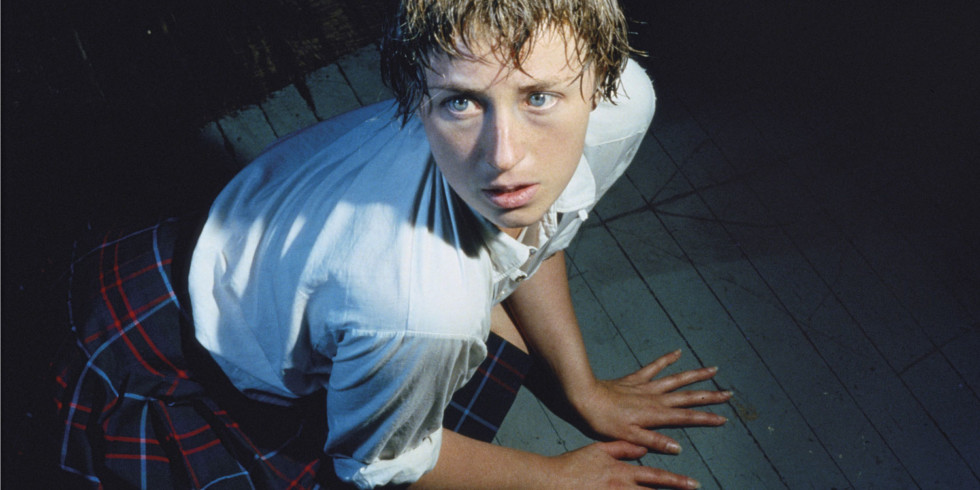 Cindy Sherman (b. 1954) grew up in quiet, suburban Huntington, Long Island, New York. She has described the childhood and youth as sheltered and lonely, merged in films, TV serials and advertising, which had a strong influence on her.
Sherman started art school in Buffalo in 1974, since her parents would not let her move to Manhattan. Here, Cindy Sherman was one of the founders of Hallwalls, an artist-run space that became renowned and a springboard into the art world in New York. The dynamic city of New York had a deep impact on Sherman's artistic career, and she still lives there today.
At this time, in the late 1970s, photography was not yet incontrovertibly respected as art. The exceedingly male art scene was dominated by painting, in the wake of abstract expressionism and pop art. However, great changes were in the air, both for the role of the artist and the role of women. Artists with a leaning towards conceptual and idea-based art, such as Sherrie Levine (b. 1947) and Barbara Kruger (b. 1945), chose approaches that had no preconceived form: photography, film, actions, text. They often worked serially and with references to mass-culture and consumerism. Influenced by a previous generation of performance artists, Sherman developed a fascination for disguise – a fascination that had been with her since childhood, now in encounter with her own camera.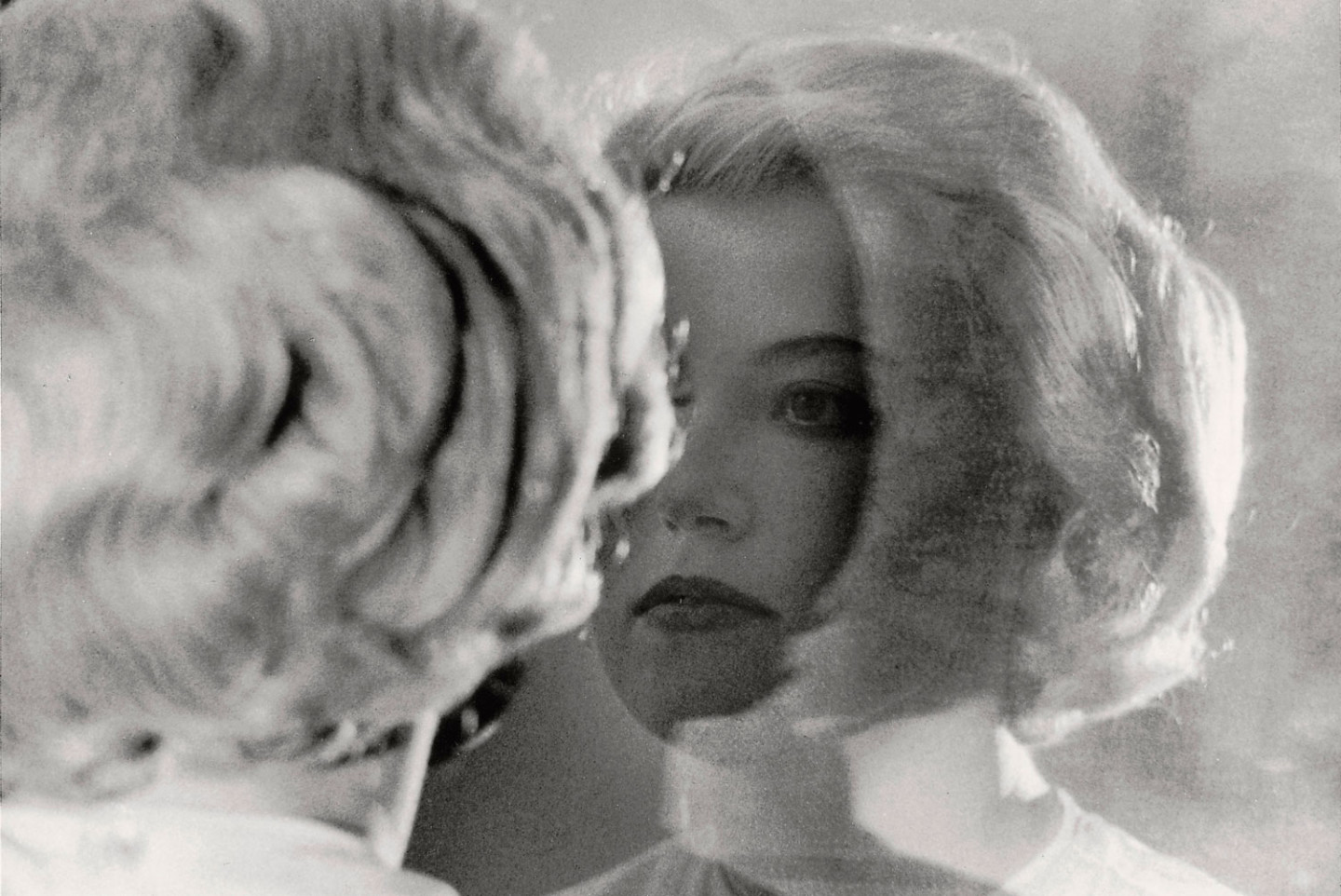 UNTITLED FILM STILLS
In her final years at art school, Cindy Sherman was working on a series of photos emulating film stills. She was examining how a story could be conveyed by a single image, where viewers fill in the blanks with their own references. The photos were taken by herself and others, in her apartment, around town and while travelling. The imagery captures the ambiance of film directors such as Michelangelo Antonioni (1912–2007) and Alfred Hitchcock (1899– 1980). But none of the meticulously composed scenes are from actual movies, even though both the plot and the character are familiar.
Untitled Film Stills, shown at legendary performance and video space The Kitchen in New York in 1980, was Sherman's breakthrough. In these photos, the artist alternates between different stereotypical female roles: the professional, the femme fatale, the fallen woman. A transformation that reveals identity as role-play, where femininity appears as something that is shaped by male expectations. The pictures were profoundly intriguing to intellectuals of the time. Cindy Sherman is counted among the artists known as the Pictures Generation. They elaborated on pre-existing images, observing how mass media photographs and fictions generated new realities as tangible as the "genuine" ones.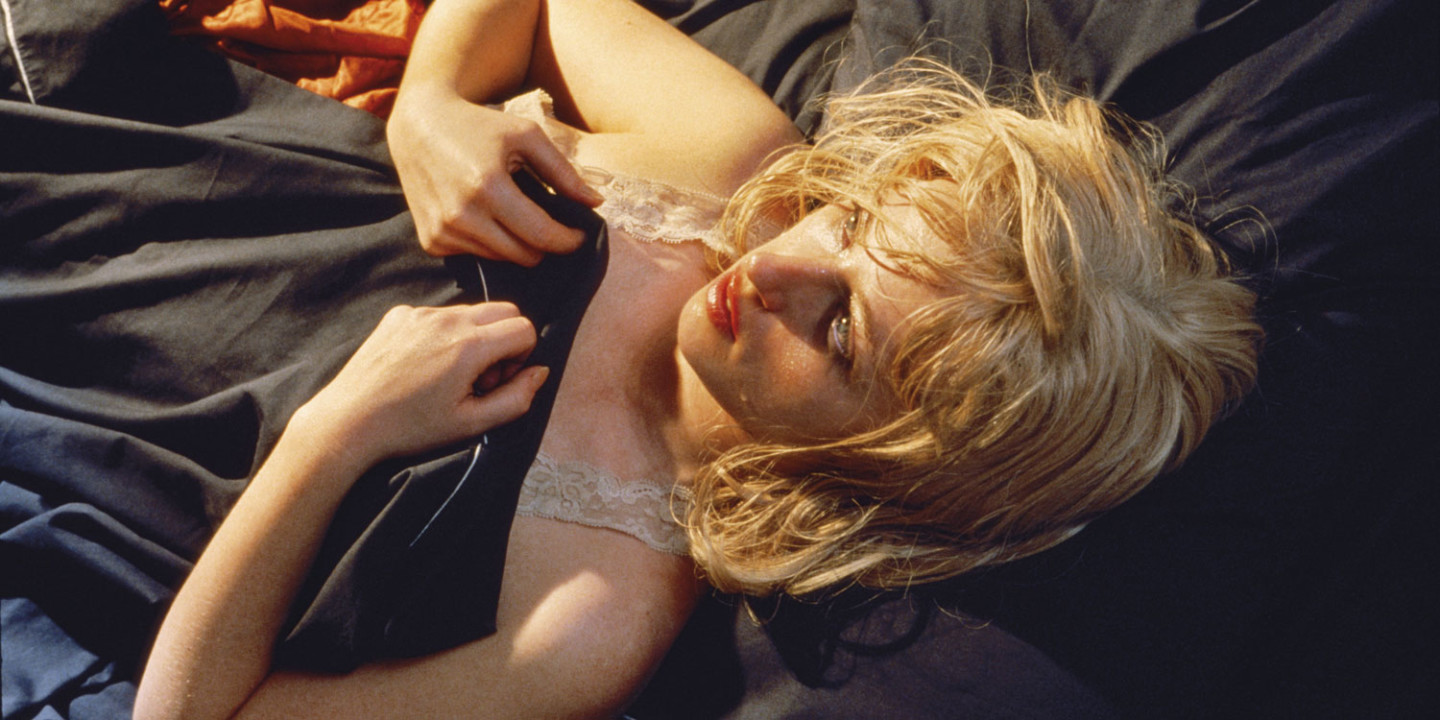 CENTERFOLDS
In 1980, Cindy Sherman began working with colour photography and larger formats. When invited by Artforum in 1981 to do a magazine spread, Sherman created a series emulating the centerfold in men's magazines. In these close-ups the characters are ruthlessly exposed. But the female figures are neither enticing nor nude; on the contrary, they are withdrawn or dishevelled. The background is subdued, and the focus is on emotional expression, where light and colour enhance the atmosphere.
The photos were considered provoking to the degree that the editors refused to publish them, for fear of adding to the image of women as helpless objects and victims. The disturbing atmosphere is further heightened by the knowledge that the pictures were taken by a woman. Was Cindy Sherman even a feminist? The artist herself commented that the photos capture a private moment of contemplation and melancholy, causing the exploitative male gaze to backfire. The debate raged, and the works were a success at Metro Pictures in New York. But the event had repercussions and Sherman chose to stop discussing her works publicly.
FASHION AND HISTORY
Fashion is a recurring theme in Cindy Sherman's art. Many of the images commissioned by avant-garde fashion designers and magazines from the mid-1980s are a delighted massacre of both the garments and ideals of beauty. Burning issues of gender, power, AIDS and growing class divides became art subjects at around this time. Angry contenders like The Guerrilla Girls and Gran Fury turned their attention to media and advertising. Punk and new wave were as characteristic of this era as glamour and financial boom. In Sherman's work the outfits became more and more twisted, her characters more demonic and mutated. The previous safety of the voyeur position was now being threatened, as the images seem to reveal the viewer's own associations and frames of reference. Pictures of a disintegrating fashion scene were followed by a dystopian imagery of decay, leftovers and vomit.
Shortly before the collapse of the American art market in 1990, Sherman made a series of fictional historical portraits, sampling an array of classical painting genres. Here, baroque excess meets stern renaissance and 19th century romanticism in minutely staged portraits that present another angle on surface and physiognomy than in Sherman's fashion pictures. They also visualise the values that prevail in the art world, and the mythology surrounding "Masterpieces".
DISGUST AND TRANSFORMATION
At a distance, a succession of large, bright images from the late-1980s resemble decorative abstract paintings. But at close range, we discover that they depict revolting substances, reminding us of everything that is hidden behind the polished facade: body fluids, vomit, slime and blood. Mould and putrefaction increase our disgust. These stilllifes of decay marked the beginning of a period when the artist absented herself from the image – writing herself out of the narrative.
Where the female stereotypes Sherman presented in earlier pictures were based on laboured ideals, these emissions are all the more intrusive and realistic. They are reminders of the censored and psychologically repressed side of the feminine construct. In psychoanalytical terms, these images show what must be rejected – the abject – in order for the 'self' to come into being. They remind us that identity is created through hidden processes that may seem terrifying, that we become individuals through metamorphosis. The self is a stage. Sherman examines issues relating to this in works inspired by the fairy tale, where human identities are transformed into imaginary figures on their way towards forms of life approaching the inhuman.
SEX AND SURREALISM
In the 1990s, Cindy Sherman presented nightmarish fantasies set somewhere between human and machine. Such eerie borderlands were defined as uncanny – unheimlich by Sigmund Freud (1856–1939), founder of psychoanalyses, in the early 1900s. Meanwhile, the surrealists of his era explored a register of dreams and sexual fantasies. At the end of the century, Sherman was the artist who most effectively utilised this source. Her sex pictures are composed of masks and anatomical models of the body, not unlike the bashed-up dolls by a surrealist pioneer such as Hans Bellmer (1902–1975). These images added to the debate on censorship in USA which cracked down on sexually explicit artists such as Robert Mapplethorpe (1946– 1989) and Andres Serrano (b. 1950). Could institutions and collectors purchase works that were impossible to show publicly? Did they dare not to?
If the human identity is not a stable form, it is perhaps a construct. Using prostheses and artificial limbs, it can be regarded as something frightening and machine-made, an artefact. In today's digital flux of fake personas and online porn, the supernatural and grotesque are beginning to feel unsettlingly commonplace.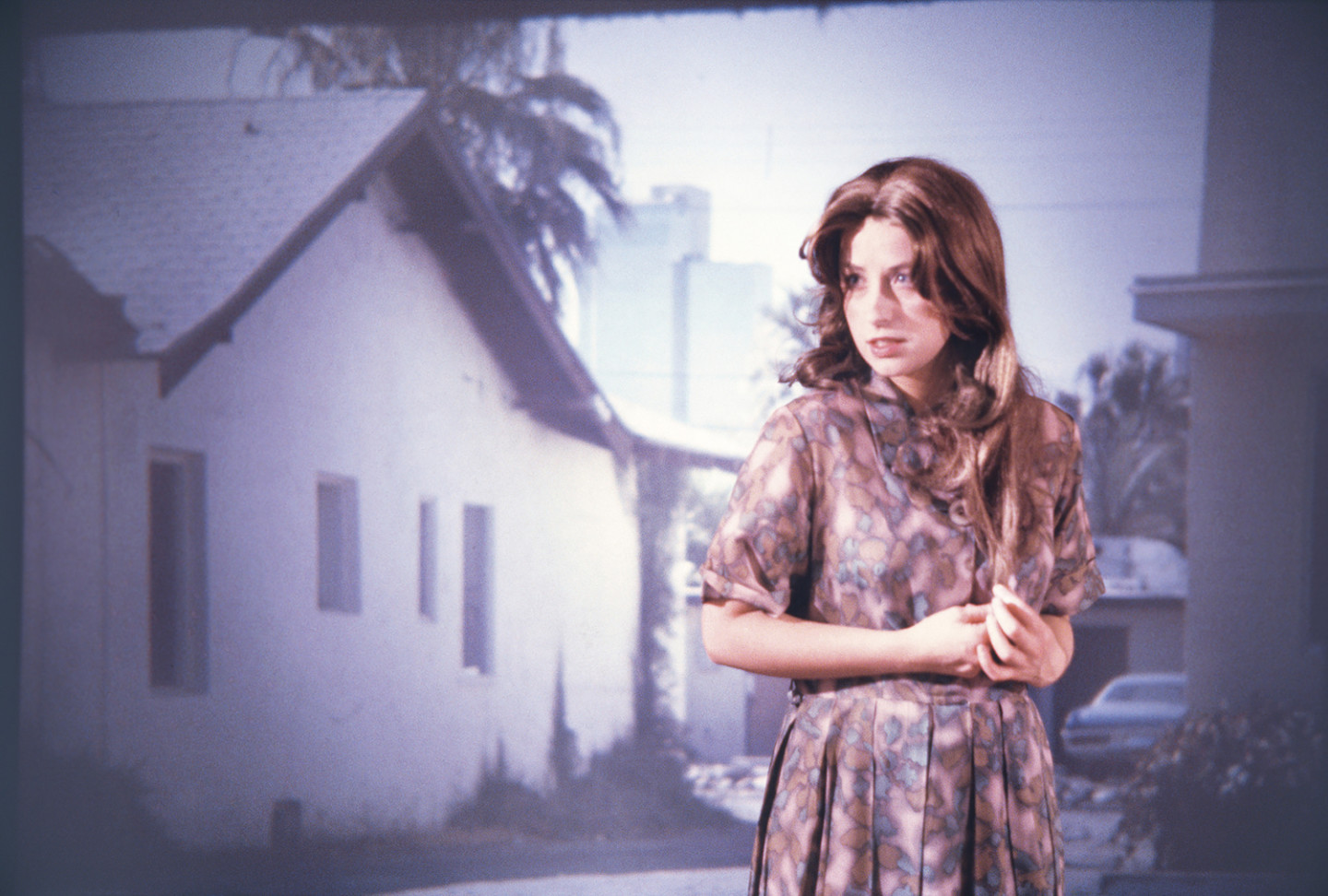 FEMININITY AS MASQUERADE
Cindy Sherman acts out many female roles in her works, while assuming a traditionally male position – behind the camera. She became a key figure at an early stage in the discussion on femininity as a series of poses, a masquerade impossible to distinguish from any actual "original" femininity. In the 1960s and 70s, artists such as Judy Chicago (b. 1939) and Carolee Schneeman (b. 1939) highlighted the gender issue. In the 1980s, the question was pursued by a postmodern generation that gave more leeway to interpretation and ironic distance.
Sherman keeps clear of political labels and never gives titles to her works. She leaves obvious flaws in her enactments; impossible, playful details that spoil the illusion and emphasise the charade. In 2000, when she returned to using herself in her pictures, it was as women of her own generation, from the desperately youthful, to the lady socialites with an air of renaissance sovereigns. Like classical vanitas motifs, they allude to our mortality, but also to the way in which women over a certain age are made invisible. They also raise the question of what roles Sherman plays, and does not play, in her works.
LANDSCAPES AND MURALS
A few of Cindy Sherman's most recent works feature ominous, misty landscapes. These mythical photographs are reminiscent of old European painterly traditions of depicting people in pastoral settings. Artists liked to portray a famous person in the foreground of a landscape, to emphasise a mood or idea. Sherman has adopted a similar approach here. She has photographed herself in her studio and added a background picture of a strange landscape. The eccentric characters, in sumptuous clothes by famous European fashion houses, confront us with a steady gaze.
Cindy Sherman works with spatiality and architectonic volumes in her photographic wallpapers, resembling murals or large billboards. Odd figures in extraordinary creations are placed in backdrop-like parks and landscapes, appearing to have stepped out of the frame and into the room. A few of them resemble the bizarre and clown-like characters Sherman created earlier, while others refer more to her fashion photography – albeit avoiding any known style or genre. The images are awkward, disturbing and perhaps slightly ridiculous. But they also evoke empathy and seem familiar. The women seem ill at ease in their costumes, the clothes sagging and chafing, the make-up – mask – missing.