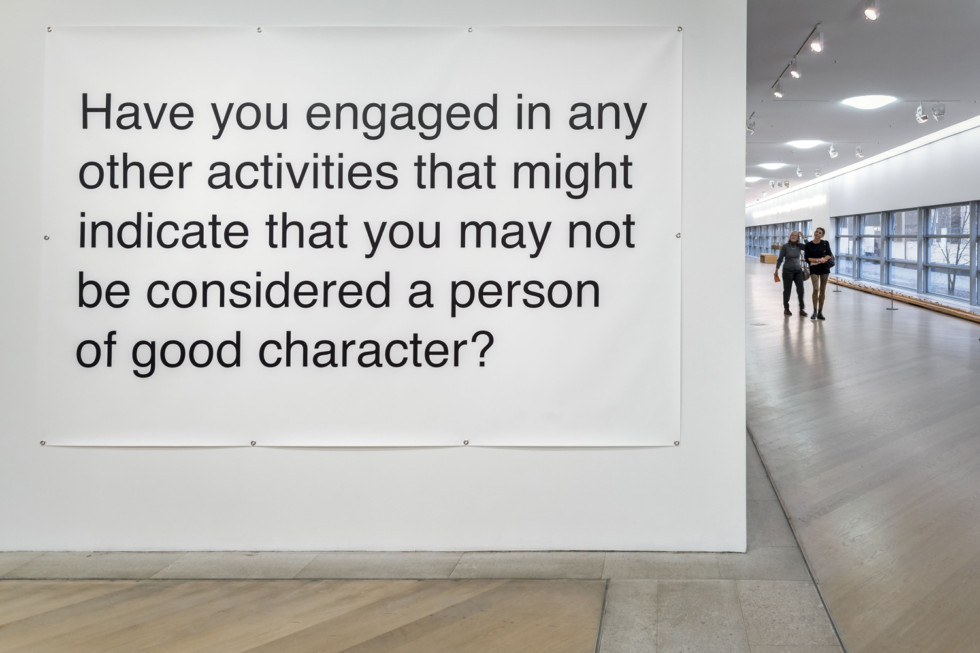 Are you and your partner living in a genuine and stable relationship? Have you engaged in any other activities that might indicate that you may not be considered a person of good character?
These questions can be found in the visa application forms for New Zealand and the UK respectively. At Moderna Museet, they confront visitors in two formats: as billboards excerpted from their original context and placed around the museum premises, and as a hand-bound book, The Concise Book of Visa Application Forms, in which Meriç Algün Ringborg has collected all the visa application forms in the world.
Meriç Algün Ringborg was born and grew up in Turkey, is a Swedish citizen since 2012 and has for many years divided her time between Stockholm and Istanbul. This exhibition presents a group of works, which, based on her experiences, discuss identity in relation to migration over national and cultural, normative, linguistic and bureaucratic boundaries. The works are comprised of existing documents, texts and facts that are combined with consistent simplicity and focus in such a way that the material she uses challenges itself.
The subject of the exhibition is urgent, to say the least. More and more bureaucratic and physical walls are being built in the world, often envisioned as adequate solutions to all kinds of problems. This is emphasised in the latest issue of the magazine Glänta, which is devoted entirely to migration and includes a piece by Algün Ringborg. In the preface, the editors link these protectionist measures with the declining sovereignty of nations: "[I]n some way, they need to justify their existence in terms of control. Controlling people's freedom of movement has come to be the main object. Migration issues have […] become the last bastion of sovereignty."
Within states nationalist tendencies are also on the rise, as the accounts and analyses in the recently published anthology Rasismen i Sverige exemplifies with frightening clarity. Furthermore, at the time of writing, neo-Nazis have just been granted permission to parade in public streets and squares in Sweden, and a nationalist, populist party with roots in white supremacy movements was the third-largest party in the Swedish parliamentary election.
Compared to barbed wire fences, concrete walls and radical right-wing extremism, the exhibited letters in which the recipient's name has been misspelled may seem to be of little importance. Many computers in Swedish companies and government organisations cannot handle the cedilla in Meriç, so the letter is either left out or replaced with, say, % or ç. On closer consideration, however, the work Ç (The Unfortunate Letter) is a striking example of just how structural and institutional the matter of identity and belonging is. The bureaucratic systems do not acknowledge all individuals' identities; they deny them the right to be without adjusting to an ancient construction (the Swedish alphabet). Symptomatically, the letter ç is excluded even in letters from the Migration Board.
The exhibition also presents the works Becoming European and Ö (The Mutual Letter). In the former, the artist has stamped the dates between 2007 and 2012 when she was on EU territory, using different colours to signify her legal status according to the Migration Board. Blue: tourist; red: temporary resident; purple: pending; black: permanent resident; and green: awaiting citizenship. In the latter work, she has collected 1,270 Swedish and Turkish words that are spelled the same and have the same meaning. These have been compiled into a dictionary and an audio work, in which the artist and her Swedish-speaking partner read each word alternately in their own first language. To a native Swedish listener, it sounds as though she is speaking Swedish with a foreign accent, and vice versa for a listener with Turkish as their native language.
Meriç Algün Ringborg's exhibition also consists of her participation in Stockholm Literature at Moderna Museet, where two works focus on her identity as an artist and an author. In 2013/14 Algün Ringborg has created text-based works according to a method that involved adhering to a strict rule by only using exemplifying sentences from the Oxford English Dictionary.
These works deal with issues of freedom of movement from a different vantage point. Rather than uncovering the absurdity of some of the frameworks and contexts that are forced on people, Meriç Algün Ringborg here focuses on creating an active subjective construct within the prevailing circumstances. How do normative systems, conventions and restrictions influence what is possible to say? And how can we find the means or the scope to act within or between these systems? The answers to these questions are also the answer to whether change can be achieved.
Fredrik Liew, curator