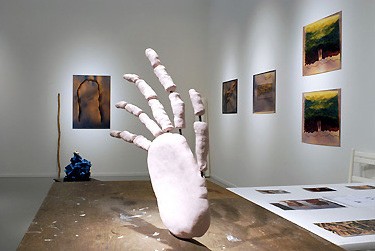 Odd weeks: Beth Laurin
21.4 2003 – 4.5 2003
Stockholm
We are in borderless territory. For the past few years, Beth Laurin has had her studio in her flat, 76 square metres of minutely planned furnishing. From the kitchen window, an open cityscape. Northern light. A place for making sculptures. In the studio she collects sounds and her own photos. Reminders. Found objects that provide impulses and trigger new ideas. Sketches are pinned up on the soft walls. A beautiful, simple order reigns here, despite the plethora of objects. ("Disorder in chaos," as she herself would call it. Symbols of memories, dreams and thoughts are scattered everywhere. This is art and life, inseparably interwoven, in the same room.
Beth Laurin was a late starter, at the age of 39. Sculptures with a surface like skin, either smooth or wrinkled, were soon combined with classical and modernist architecture, with sharp edges, straight lines. Body and construction collided and defined one another. Pushed things to the limit: How to set free? How to limit? .
"The dynamic unity of opposite poles," is her answer. .
She sketches and takes notes, chooses technique according to the idea, not the other way around. The result is charcoal or pencil drawings, photography, sculptures made of clay, iron, cloth, sound or polyester; video, text, objects, painting, installations or performances. In latter years, her dreams have had a strong impact. She would not call it surrealism – rather, sub-realism. An underlying reality that appears at night and is treated in the studio in daylight. Emerges in drawings that are reworked, filtered – copied, sculpted. a constant process. .
Her life force has led to a strong commitment to the fight for equality, for the equal worth of all human beings. But her works do not shout any slogans, they speak of equality experienced from the roots, a vitality that seeks its expression, an open room; a borderless territory.