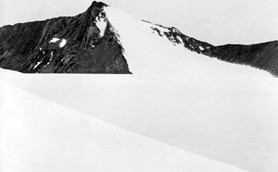 Odd weeks: Gerry Johansson
Antarctica
24.2 2003 – 9.3 2003
Stockholm
Just over two years ago, Gerry Johansson saw an ad in a newspaper, announcing a grant to participate in a research expedition to the Arctic. He sent in his application, and some while after he was contacted by the Polar Research Secretariat, who informed him that he had been chosen for a return trip and a two-month stay in – the Antarctic. Talk about unusual destinations!
In late autumn 2001, he left Cape Town together with a scientific expedition on board a Russian troop carrier aircraft, a Tupolev, taking them due south to a Russian base camp. From there, they travelled by an old, refurbished DC3 to the Nunataken base at Queen Maud Land in the Antarctic. Gerry Johansson was equipped with a large-format camera for 8×10 inch negatives. A camera that could turn out to be a veritable wind-catcher in bad weather.
The Antarctic is as cold as it sounds, the butter stored in containers, which formed part of their diet, had a sell-by date in 1998. And the camera shutter was affected by the cold and got sluggish. Moreover, if you didn't have a cold when you came, you wouldn't get one there, because no infectious germs can exist at those temperatures.
It was a hostile landscape, with long, deep rifts in the ice, around which the expedition had to make long detours on their snow scooters. The glaring light made it hard to gauge distances and heights. What looked like a rock fifty metres off could just as well be a mountaintop rising over the ice plain – many miles away. The sunlight reflected by the white landscape also required special attention to exposure, and it was vital to calculate both shutter times and developing times meticulously.
Gerry Johansson was born in 1945 in Örebro, but grew up in Varberg. Aged 17 he went to live in the USA with relatives in New Jersey. He had already started taking photos by that time and he joined the Village Camera Club in New York. Here he learned the basics of developing photographs on paper. Developing was the interesting issue there: American photographers wanted rich detail, saturated shades and straight-forward colour and grey scales, whereas the European ideal was more graphic, with harsh blackness and plenty of white highlighting.
On his return to Sweden, he worked for a year with the industrial photographer Stig Sjöstedt in Gothenburg, before embarking on a designer course at the HDK School of Design and Crafts in Gothenburg. He graduated in 1969 and became art director of the Swedish edition of American Popular Photography in Helsingborg the year after. When the magazine was sold, he formed a publishing company, Fyra Förläggare, together with Jan Olsheden, Yngve Neglin and Werner Noll, to publish the magazine Aktuell Fotografi (Contemporary Photography), along with highly acclaimed books on photography. He left the company in 1985 and started working as an independent photographer, concentrating mainly on Swedish nature, the Swedish countryside and its urbanisation. Gerry Johansson has worked with cameras with different negative sizes. However, in his quest for shapes and patterns in nature he prefers the challenging large-size camera, for its particular sharpness.
In the early 1990s, he took photographs for EKODOK 90, a project aimed at photographic documentation of the entire Swedish nation. The project spanned two years and resulted in exhibitions and books. Gerry Johansson is not attracted exclusively to the Swedish countryside. He has also travelled widely in the USA, travels that were summarised in exhibitions and a book in 1998. Together with Anders Petersen he has also been invited to Japan to portray one of the forty-seven prefectures.