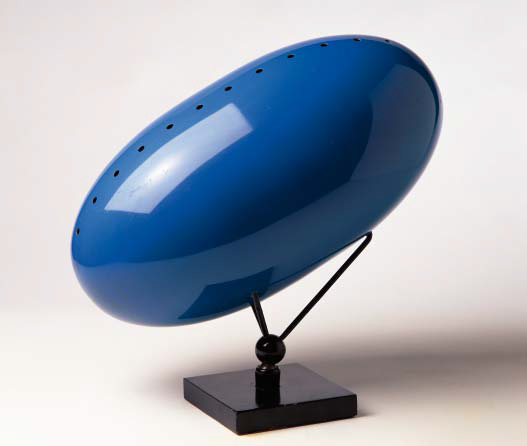 Time & Place: Milano/Torino
1.5 2008 – 7.9 2008
Stockholm
The two north Italian cities of Milan and Turin came to play a vital part in Italian cultural life in the 1950s and 1960s. The years between 1958 and 1968 developed into a highly dynamic period for art, design, architecture and film, in the wake of Italy's economic boom, which was commonly referred to as an economic miracle.
Towards the end of the Second World War, the centre of Milan had been devastated by air raids and a new, modern urban development now emerged, with an emphasis on industry, banking and trade fairs. Meanwhile, the art world spoke of reducing colour and subjective expression and of expanding the boundaries of sculpture and painting.
The exhibition is conceived as a path across a rich decade guided by Lucio Fontana, with his ideas and works on "space", together with Piero Manzoni, emblematic of a new artistic generation addressing the conceptual aspects of the image. A few years into the 1960s, Turin took over the relay baton. The art scene, which had been dominated by informal painting, was now changing with a new generation of artists who focused on processes, ideas and unconventional materials. Centring round a handful of galleries and artist-driven project rooms, a new identity evolved, rooted in the ideas of Manzoni and Fontana.
In the last section the exhibition features seminal works of arte povera. Materials found in nature and in everyday life were used in new ways, and radical interpretations of artistic theory emerged. Mirror paintings that change appearance with every new setting mark the common interest in the context and the role of the viewer. The exhibition ends in 1968 with the wave of demonstrations that shook Italy. The Triennale in Milan was besieged by the artists, and a large number of the exhibitions at the 1968 Venice Biennale were closed in protest.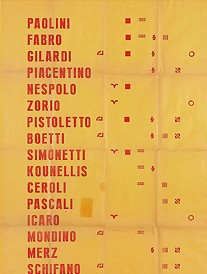 Alighiero Boetti
Manifesto, 1967
© Collezione Alessandro Riscossa, Torino/BUS 2008


Piero Manzoni
Achrome, 1961
© Piero Manzoni/BUS 2008
Courtesy Herning Kunstmuseum
Photo: Thomas Pedersen, Poul Pedersen
This is the second exhibition in the Time & Place series which celebrates Moderna Museet's 50th Anniversary in 2008. The museum was founded and developed its identity in relation to New York and Paris, but this series looks at three less known international hubs at the same period, Rio de Janeiro, Milano/Torino and Los Angeles.
Curator: Luca Massimo Barbero, Associate Curator, the Guggenheim Museum, Venedig
Project Curator: Cecilia Widenheim
Assistant Curators: Fredrik Liew, Francesca Pola
Supported by: