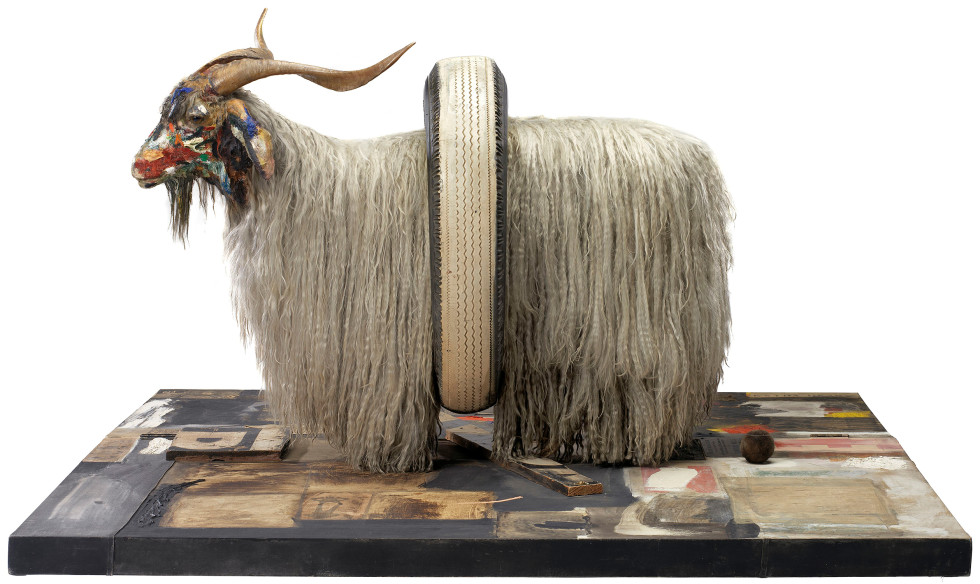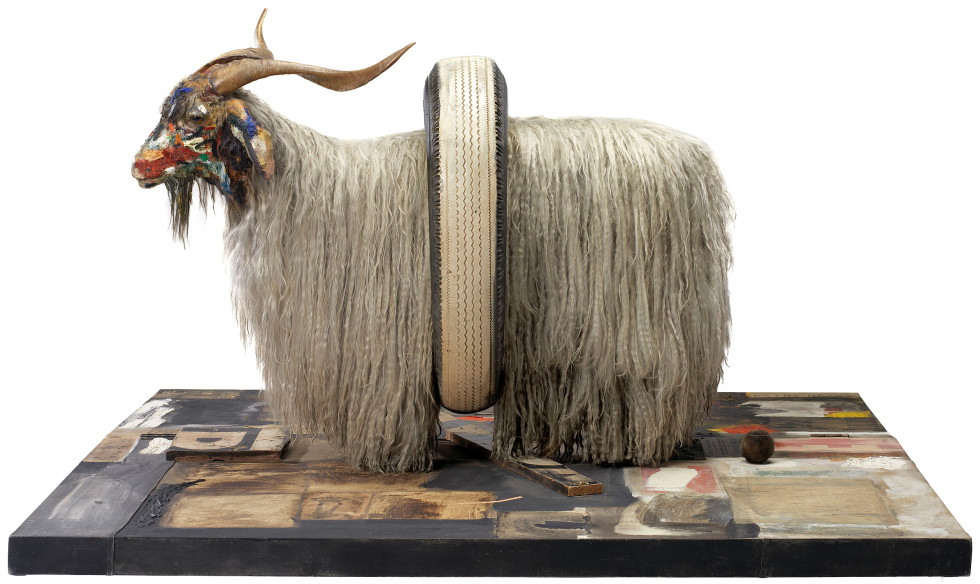 In connection with Moderna Museet's exhibition Robert Rauschenberg: Combines (2007), a research project was initiated on the artist, his works and his long relationship to Moderna Museet.
Robert Rauschenberg has participated in some of the Museum's most noteworthy exhibitions and events, including Movement in Art (1961), 4 Americans (1962), Five New York Evenings (8–14 September, 1964), Inner and Outer Space (1965), and The New York Collection for Stockholm (1973). Rauschenberg's work Monogram (1955-59) is often highlighted as one of the Museum's key works. Since 2004, Moderna Museet has a logo based on Rauschenberg's handwriting. In other words, Rauschenberg has a central position in the Museum's history, and his oeuvre was seminal in redefining and expanding the concept of art in the 1950s and 60s, a period that coincided with the early days of Moderna Museet.
The exhibition was preceded by a series of seminars for some of Moderna Museet's curators and scholars in the field, to discuss Rauschenberg's work from a variety of angles. In connection with the exhibition, an international symposium was held where international scholars and curators were invited to discuss Robert Rauschenberg with Swedish curators and scholars. The symposium and seminar series focused on the relationship between Rauschenberg and the Museum, and thus also dealt with post-war art and the modern art museum. Several of the talks were edited and published in a theme issue of Konsthistorisk tidskrift/Journal of Art History (Häfte 1–2, 2007).
International Symposium: On Robert Rauschenberg
Moderna Museet, Stockholm 31 March 2007
In connection with Moderna Museet's exhibition Robert Rauschenberg, Combines, Moderna Museet organised an international symposium focusing on Rauschenberg's combines, his work in the field of performance and his long-standing friendship with Pontus Hultén, the former director of Moderna Museet. The symposium, and later a double issue of Konsthistorisk tidskrift/Journal of Art History, presented some recent research that has been generated by the Museum's activities relating to Rauschenberg. International and Swedish scholars and curators contributed with their specialist knowledge in the field, and the day concluded with a performance of music by John Cage and Mats Lindström.
Moderator: John Peter Nilsson
Moderna Museet in collaboration with the Department of Art History, Stockholm University and the Department of Art History, Uppsala University, EMS (Institute for Electroacoustic Music in Sweden) and the French Embassy in Stockholm.
Participants:
Jean-Paul Ameline is Chief Curator at the Centre Pompidou in Paris, France, working with the department of Historical Collections, particularly with art from the 50's and 60's. Some of Ameline's most important exhibitions include: Daniel Spoerri, a retrospective (1990); Face à l'Histoire, 1933-1996 (1996); Robert Delaunay: from Impressionism to Abstract Art, 1900-1914 (in collaboration with Pascal Rousseau, 1999); Denise René (2001); Nicolas de Staël, a retrospective (2003); Robert Rauschenberg: Combines (2006) and Paris du Monde Entier (2007).
Jaimey Hamilton is Assistant Professor of Contemporary Art at the University of Hawaii, Manoa. Her research relates to the intersection of subjectivity, commodity culture, mass media, and the visual arts in a global context. She has written and lectured on film, video, installation, and performance art, as well as on the recent historical origins of contemporary multi-media art. Her current book project, Strategies of Excess, examines various uses of commodity excess in the post-war assemblage practices of Alberto Burri, Robert Rauschenberg, and Arman. Hamilton is also working on a project about the recent history of appropriation, as it becomes a widespread strategy for artists concerned with globalization. Jaimey Hamilton holds a Ph.D. in Art History from Boston University.
Branden W. Joseph is Visiting Associate Professor at Columbia University and a founding editor of Grey Room, a quarterly journal of architecture, art, media, and politics. He is the author of Random Order: Robert Rauschenberg and the Neo-Avant-Garde (2003), Anthony McCall: The Solid Light Films and Related Works (2005) and Beyond the Dream Syndicate: Tony Conrad and the Arts after Cage (in press). His writings have also appeared in Artforum, Bookforum, Art Journal, October, Critical Inquiry, Texte zur Kunst, and Les Cahiers du Musée National d'Art Moderne. Branden W. Joseph holds a Ph.D. from Harvard University.
Mats Lindström is the Executive/Artistic Director of EMS (Institute for Electroacoustic Music in Sweden). He has worked with electro-acoustic music and live electronics since the 1980s. Formerly an engineer in the electronics industry, Lindström has designed and constructed a number of unique electronic musical instruments and apparatuses. He has worked with intermedia art and music for theatre and dance as well as improvised music. In 1993 he worked as a producer for David Tudors last concerts in Sweden at the Fylkingen 60-years anniversary festival.
Julie Martin is the Director of E.A.T. (Experiments in Art and Technology), a non-profit organization established to promote collaborations between artists and engineers; she joined E.A.T. in 1968 and worked with Billy Klüver on most of E.A.T.'s major projects. She is executive producer of a series of films of the legendary 1966 artist' performances, initiated in part by Klüver and Rauschenberg, 9 Evenings: Theatre & Engineering. Martin co-edited Pavilion, witch documented E.A.T.'s building of the Pepsi Pavilion at Expo '70 in Osaka, Japan. She has written, among other work, Kiki's Paris, about the art community in Montparnasse between 1880 and 1930. Julie Martin was born in Nashville, Tennessee; she received a B.A. from Radcliffe College and an M.A. from the Russian Institute at Columbia University.
John Peter Nilsson is curator at Moderna Museet.
Kristine Scholz has been active as pianist in several of Merce Cunningham's Dance Company's tours in Europe, such as the Suite for five. Scholz is one of the most experienced interpreters of new music and has an extensive knowledge in record- and radio productions. Throughout her career, as soloist and together with Mats Persson, she devoted herself with great enthusiasm to the interpretations of the New York School Composers that consisted of John Cage, Morton Feldman, Earle Brown and Christian Wolff. Scholz was born in Germany where she studied under Aloys Kontarsky before moving to Sweden in the seventies.
Anna Tellgren is curator at Moderna Museet. She is responsible curator for the edition of Robert Rauschenberg: Combines at Moderna Museet.
Annika Öhrner is an art historian and curator based in Stockholm. She has curated several shows and written extensively, often with a feminist perspective, on modernism and contemporary art. In 2004 she curated the Meret Oppenheim Retrospective at Moderna Museet. Öhrner is completing her Ph.D. in art history at Uppsala University. The working title of her thesis, which will be published as a book, is Barbro Östlihn and the New York Avant Garde.
Additional information about the Concert: Music for piano 4-19, performed by Kristine Scholz, was composed and applied to an entire series of choreographies by Merce Cunningham. In the choreography Suite for five, from 1956, suits made by Robert Rauschenberg were used for the performance.
Mats Lindström: "One (for David Tudor) is not an attempt to achieve a reconstruction of Tudors legendary Fluorescent Sound*. Using my own aesthetic values as a reference, I am merely attempting to accomplish a tribute to the person who is ultimately responsibility for the work I am doing today. One is essentially a summary of some of Tudor's most distinctive features as a composer; the technical level of ambition, the methodology and the aesthetic attitude. The piece is played outside the auditorium; inviting you to create your own choreographies while maintaining a relaxed attitude, enjoying a strengthening light therapy or simply having a drink."
*Fluorescent Sound was David Tudor's debut as a composer and was performed at the Modern Museum in connection with Rauschenberg's performance Elgin Tie, on the 13th of September 1964. The piece was composed while switching on and off the Museum's existing fluorescent light banks. The so created popping and pinging sounds where then amplified with the help of contact microphones.
Seminars on Robert Rauschenberg
In preparation for the exhibition Robert Rauschenberg: Combines, at Moderna Museet on 17 February – 6 May, 2007, a series of seminars was organised. Scholars, curators and others working in the field of art were invited to participate in three minor seminars or workshops on different themes. Based on Rauschenberg's oeuvre, subjects such as the post-war art scene and the interpretations and institutionalisation of modern and contemporary art were discussed.
I Postmodern genealogies:
Changes in the perception of Rauschenberg's works in the late 20th century
27 April 2005
Literature:
Leo Steinberg, "Other Criteria", Artforum, March 1972.
Craig Owens, "The Allegorical Impulse: Toward a Theory of Postmodernism", part 1–2, October 12–13, Spring/Summer 1980.
Branden W. Joseph, Random Order: Robert Rauschenberg and the Neo-Avantgarde, MIT Press, Cambridge Mass. 2003.
II History revisited:
A close look at Rauschenberg's role in late-1950s and early-1960s art
23 November 2005
Literature:
John Cage, "Robert Rauschenberg, Artist, and his Work" (1961), Scilence, Cambrige Mass. 1969, s. 98–107.
Allan Kaprow, "The Legacy of Jackson Pollock", Art News, vol. 57, October 1958: 6, s. 24–26, 55–57.
III Genius loci:
On Rauschenberg's impact on Moderna Museet's identity and the role of modern art museums in the production of meaning in contemporary art
22 March 2006
Literature:
Brandon Joseph, Random Order. Robert Rauschenberg and the Neo-Avant-Garde, MIT Press, Cambridge Mass, 2003.
Douglas Crimp, On the Museums Ruins, MIT Press, Cambridge Mass. 1993, s. 236–325.
This seminar series was organised jointly by Moderna Museet and the art history departments at Uppsala University and Stockholm University. The project concluded with an international symposium on 31 March, 2007, held during the presentation of the exhibition at Moderna Museet.
Published 9 November 2015 · Updated 9 November 2015