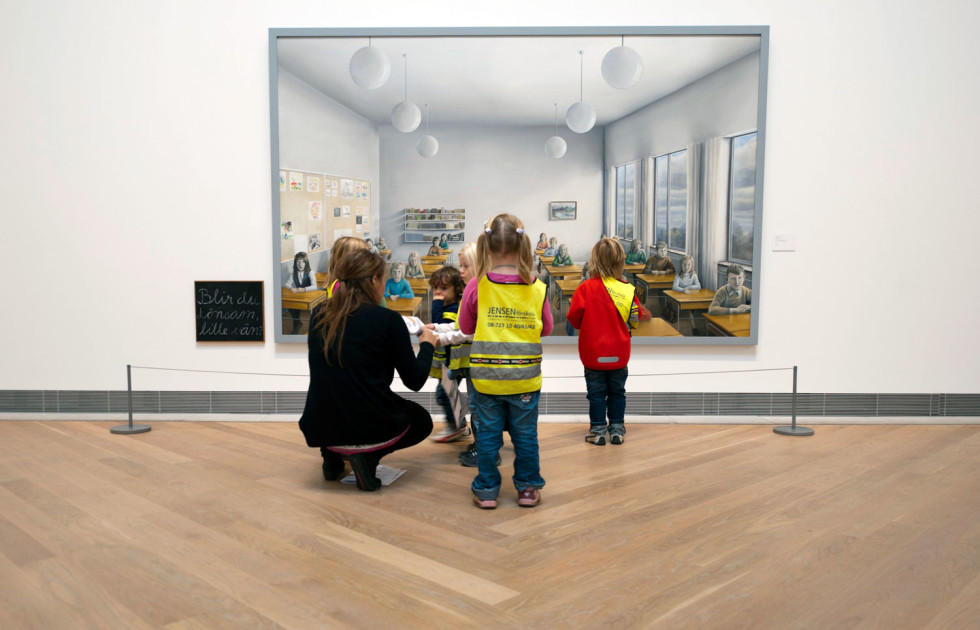 Why aren't we allowed to touch the art?
Visitors are not allowed to touch the works of art. Even the lightest touch causes enormous damage because the salt and grease even on clean hands makes marks on all materials. The purpose of the Museum is to preserve the artworks for future generations of visitors.
Responsibility for groups
Teachers are responsible for their classes while visiting the Museum. We recommend students up to year nine to stay with their teachers.
Lockers
Clothes and bags can be stored in the lockers in the aisle behind the Shop on floor 4 or at the entrance on floor 1.
School resources
Please use Moderna Museet's teachers' resources or ask the museum hosts for information. Writing boards are available on loan. Please do not use walls or plinths as backing when you write, since this can leave marks. Only pencils are allowed in the exhibition spaces, for students who want to draw or write.
Be careful in the exhibitions
To avoid knocking into the works of art, please leave backpacks, large bags, umbrellas, etc in the wardrobe or lockers. To avoid spilling on the art, food or drink is not allowed in the exhibitions or in the corridor adjoining them. No running in the exhibitions. Show consideration for guided tours in progress. Groups led by Moderna Museet staff have precedence in the exhibition spaces. Please use the black folding-stools available in the Museum, but carry them carefully to avoid damaging the art. Remember to put the stools back in their stand.
Where can we eat our packed lunch?
There is an eating area near the entrance facing the water on Floor 1. Please clean up after you. No food or drink allowed in the exhibition.
Cameras
Filming and photographing is permitted (without flash or stand) in the exhibition spaces. Repeated photo flashing is harmful to the preservation of the art and can disturb other visitors. Camera stands are considered a hazard. Selfie sticks are not allowed.
Museum hosts
During your visit to Moderna Museet, you will meet our museum hosts at the information desk or in the exhibitions. They will be pleased to answer any questions about the art, the exhibitions or events, or to hear your ideas or comments.
Published 2 November 2015 · Updated 14 June 2018