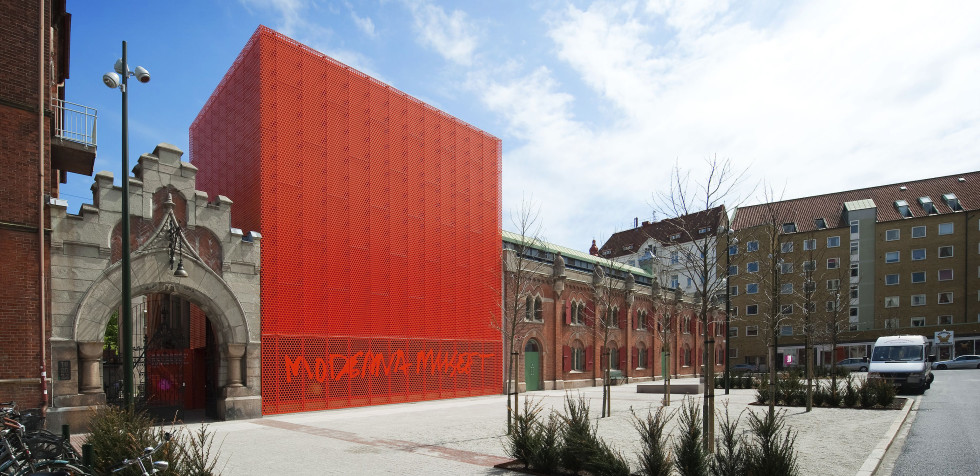 The building unites past and present – the beginning of 1900- and 2000-century. In 1901 architect John Smedberg established a beautiful electricity plant building on Gasverksgatan 22, whose glowing gasholder long insured Malmö residents that electricity was guaranteed. A little over a hundred years later, the building – and neighbourhood – had changed.
Following the closure of successful art museum Rooseum, Moderna Museet was approached as new tenants. In 2008 it became clear that the Moderna Museet Malmö would open as a subsidiary to Stockholm, in one of Sweden's most beautiful exhibition halls. It would be time to re-fill the old electricity plant building with art.
The mission to transform the building into a more appropriate museum went to the award-winning architect firm Tham & Videgård Arkitekter. They chose to establish a new annex – a contemporary addition to the historic building. And give the interior an entirely new spatial order. After an extensive construction process, Moderna Museet Malmö was inaugurated on December 26, 2009.
The new annex is characterised by a perforated orange-red facade, which connects to the brick architecture of the old building. On street level the façade is fully glazed, so that daylight filters through the perforated surfaces. Interiorly two new staircases will allow visitors to move in a loop between the high rooms of the turbine hall and the upper exhibition halls. The turbine hall is separated in three and contains except the exhibition halls a pedagogical workshop. Moderna Museet Malmö meets the highest requirements for climate and security, allowing international borrowing and exhibitions with the foremost modern and contemporary art.
Exhibition space: 809.5 square metres
Pedagogical workshop: 107 square metres
Published 10 November 2015 · Updated 10 November 2015