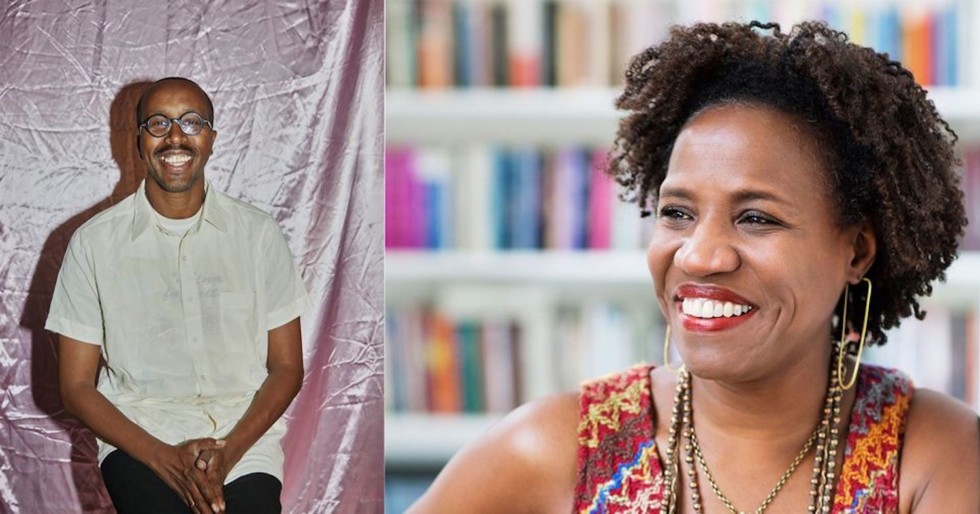 Tina M. Campt in conversation with Salad Hilowle
Art and research meet
29.9 2022
Malmö
Welcome to join when Tina M. Campt, professor of humanities, and Salad Hilowle, artist, meet in a talk about blackness and contemporary art. The conversation is a joint arrangement between Malmö Konst, Malmö konstmuseum, Moderna Museet Malmö, Malmö konsthall and Lund konsthall.
Date: 29 September
Time: at 17.00
Location: PLEASE NOTE! THE TALK TAKES PLACE AT MALMÖ KONSTMUSEUM. Address: Malmöhusvägen 6
Tickets: No pre-registration required. Free admission
Language: English
Being personal and curious – with the present in focus – Campt describes a blackness that is not in relation to whiteness. Campt's image contains a complexity of shades of both joy and sorrow.
In her latest book A Black Gaze, Artists Changing How We See (2021), Tina M. Campt theorizes and discusses blackness through internationally recognized contemporary artists such as Arthur Jafa, Deana Lawson, and Simone Leigh. Campt elevates artists who create images that flow, that revitalize and reevaluate the historical and contemporary archive of black life in radical ways. She is one of the fundamental researchers in Black European Studies and in her previous work has investigated gender, race and diasporic formation in black communities in Europe, focusing on the role that folk photography plays in historical interpretation processes.
In his artistry, Salad Hilowle explores blackness in a Swedish context. In the conversation with Campt, Hilowle seeks answers to questions about blackness that Campt, among other things, describes in the book A Black Gaze. Do Campt's formulations about blackness only apply to the African-American diaspora? Or can the wording be transferred to similar conversations in Sweden and Europe? The questions and exploration become the framework for the conversation.
About Tina M. Campt
Tina M. Campt (b. 1964) is a black feminist theorist in visual culture and contemporary art. She is a professor of humanities and contemporary culture and media at Brown University. In addition to the book A Black Gaze, Artists Changing How We See, she is also the author of Other Germans: Black Germans and the Politics of Race, Gender and Memory in the Third Reich (2004), Image Matters: Archive, Photography, and The African Diaspora in Europe, (2012) and Listening to Image (2017).
About Salad Hilowle
Salad Hilowle (b. 1986) is an artist and filmmaker. His practice often revolves around issues of blackness, archives, images, place and alternative historiography. Hilowle is current in a group exhibition at Malmö konsthall and with the solo exhibition Homecoming at Gävle art center.
Hilowle was a 2020 Bernadotte Scholar and his filmography includes Sylwan (2022), Boll (2021), Vanus Labor (2021), Passion of Remembrance (2020), Dumar (2020), Waryaa (2018) and Letter to Sweden (2017). His solo exhibitions include Publikt at Kulturhuset in Stockholm, Vanus Labor in Stockholm and Home is where the heart is: part II at the Österängen Art Gallery. Salad Hilowle lives and works in Stockholm.