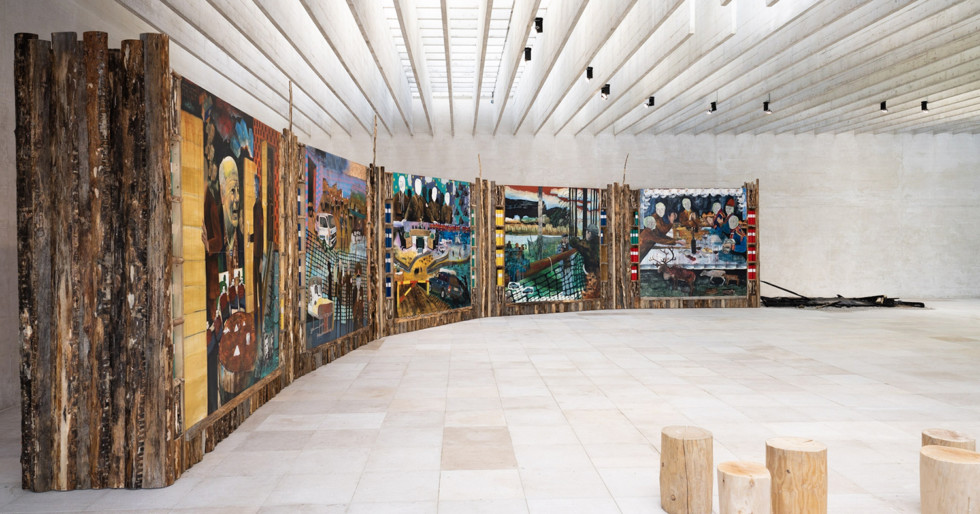 Anders Sunna – Illegal Spirits of Sápmi
28.10 2023 – 14.1 2024
For the first time since its acclaimed premier showing at the 2022 Venice Biennale, "Illegal Spirits of Sápmi" will now be on view at Moderna Museet Malmö. In this monumental work of art, artist Anders Sunna captures his family's fifty-year conflict with the Swedish state.
The piece measures approximately twenty meters in length, and the narrative is chronicled in five chapters that span from the 1970s to the present, with one large painting per decade. The paintings are inserted into a wooden construction (built by the artist's brothers) that also holds an archive of the many lawsuits the family has been involved in. Visitors are invited to browse among the binders, which include thousands of documents.
Sami life and Sami culture have been struck hard by colonization and racist abuse. The spreading of racial biological theories in the first decades of the 20th century not only spurred the oppression of Sami culture but also helped to legitimize the appropriation of land and natural resources. In Sunna's art, this chapter in Swedish history forms the background of more recent conflicts, with roots in the 1971 Reindeer Husbandry Act and how it came to be interpreted – conflicts conflicts that have brutally marked the artist's entire childhood.
In short, the Sunna family considered it unreasonable that they were forced to care for landowners' reindeer without commensurate compensation, in exchange only for the right to graze the landowner's property. So they protested loudly. After many protracted conflicts, Sami villages came to be pitted against one another, herding rights were revoked, the family experienced severe harassment, and their reindeer were forcibly relocated.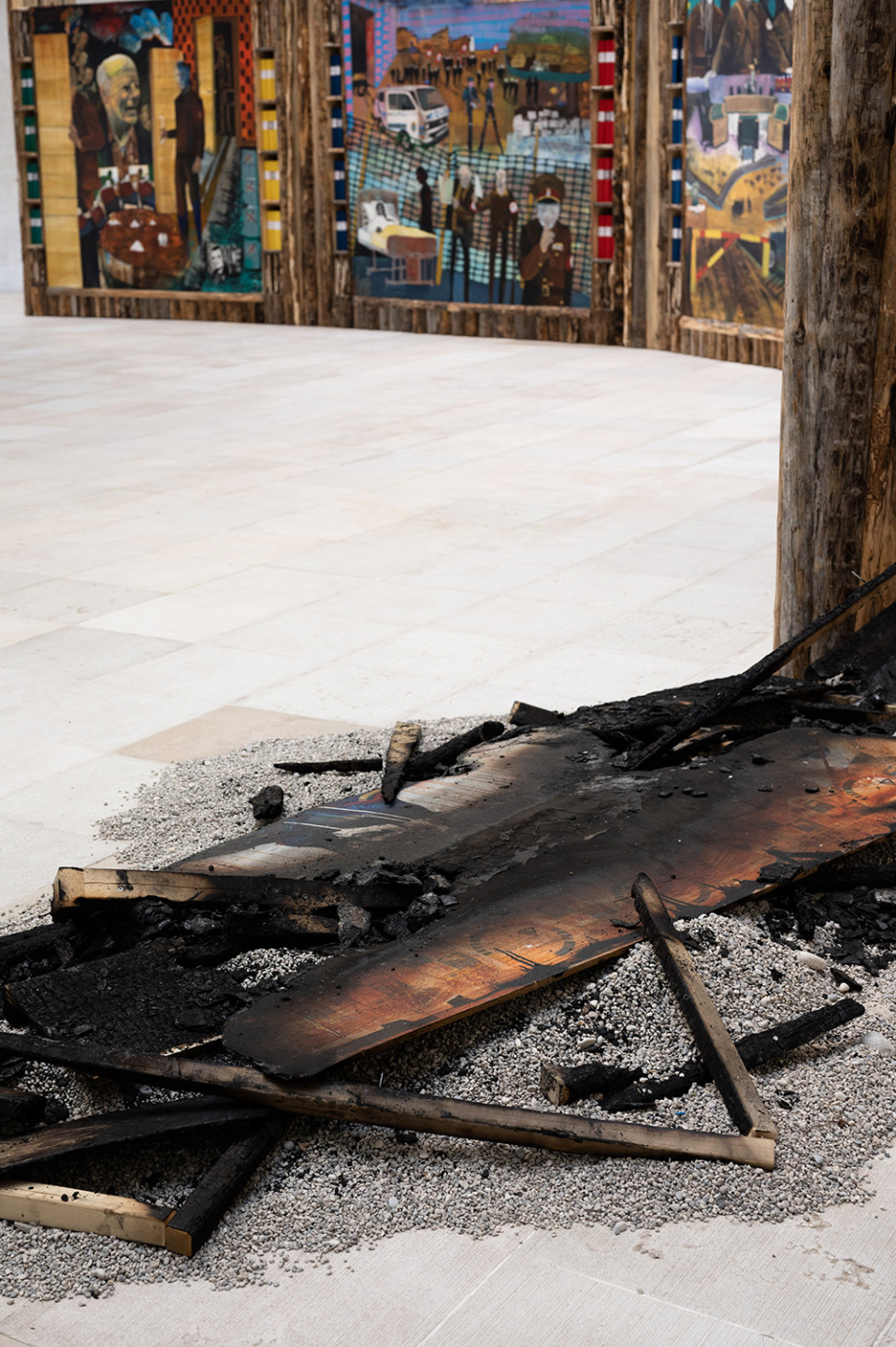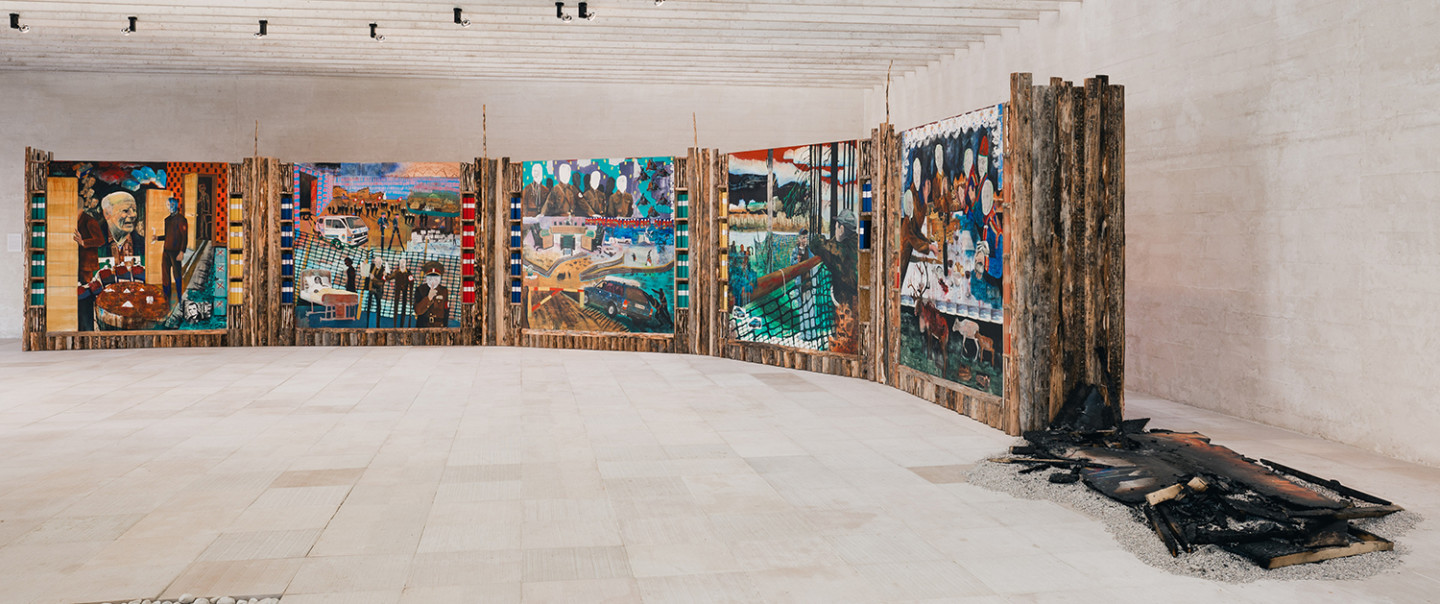 I remember how worried my mom was when my dad and his brothers were in the reindeer forest. She went around the house getting increasingly stressed the more time passed and they still hadn't come home, worrying whether they would come home at all or be found shot. During the worst period, it was really that bad. (From the artist's remarks on the painting Area Infected)
"Illegal Spirits of Sápmi" was exhibited for the first time during the Venice Biennale of 2022. The Nordic Pavilion had then been transformed into the Sami Pavilion, with Pauliina Feodoroff, Máret Ánne Sara, and Anders Sunna as participating artists. The project, which was undertaken at the behest of the Office for Contemporary Art Norway, highlighted in an innovative and powerful way the indigenous Sami culture and the land area of Sápmi, which spans across parts of the Nordic nation-states of Norway, Sweden, and Finland, as well as a fraction of Russia.
In 2022, "Illegal Spirits of Sápmi" was acquired for Moderna Museet's permanent collection. In conjunction with the exhibition at Moderna Museet Malmö, there will be a program of lectures and conversations with invited guests.
Curator: Joa Ljungberg