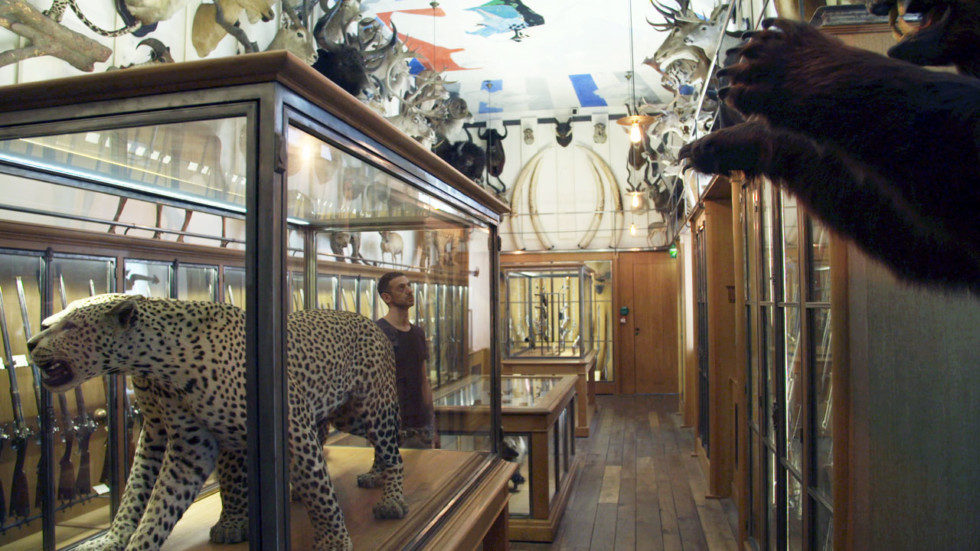 Ali Cherri
The Film Club
13.5 2022
Stockholm
Welcome to a presentation of the practice of video and visual artist Ali Cherri. Cherri's latest video installation is currently being presented at the 59th Venice Biennale and was recently awarded a Silver Lion for "Young Promising Artist". We see his films "Somniculus" (2017) and "Petrified" (2016), the lecture-performance "Water Blues" (2018), followed by a conversation with the artist about his current and ongoing projects. The conversation is led by Rado Ištok, curator.
Ali Cherri has long explored the relationship between civilisation and landscape, and the role of archaeology in constructing foundation myths.
The light sleep of "Somniculus" and the muddy swamps of "Water Blues" in different ways embody the state of in-betweenness, opacity and enigma. Encyclopaedic institutions are revisited as sites of foundation myths, and archaeology and museology as disciplines of selective ignorance and blindness rather than knowledge and seeing.
The event is part of "Constellation no.1: Optical Alignment" curated by Ulrika Flink and Rado Ištok in collaboration with MDT.
Ali Cherri
Film screening and lecture-performance followed by an artist talk
Date
Friday 13 May, 2022
Time
At 18–19.30
Place
The Auditorium, floor 2
Språk
English
Price
80 SEK, 60 SEK for members in the Film Club
Films
Somniculus, 2017, 14 minutes
In "Somniculus" (the Latin word for "light sleep"), we are confronted with the gaze of artefacts from the various museums of ethnography, archaeology and natural history in Paris. In the dreamscape of the empty museum galleries, the usual objects of display are transformed into haunting agents with knowing and questioning eyes, subverting the usual relationship between object and viewer. The eyes are both instruments of a violent gaze and of blinding, a motif from Greek tragedies to surrealism, representing a metaphorical blindness to the truth. The seemingly inanimate objects thus seem to wake up to participate in conversations around their often unlawful and doubtful provenance.
Petrified, 2016, 13 minutes
Filmed in a wildlife park in the United Arab Emirates desert, "Petrified" takes us on a journey tracing the life of 'dead' archaeological objects and their inscription into the discourse of value and provenance. The current prevalence of looting and trafficking of artefacts, especially in the conflict zones in the Middle East, as well as the recent museum boom in other parts of the region, open a timely debate on the reconstruction and restoration of demolished heritage. How does this alter our notion of authenticity? What heritage and historical traces are deemed valuable and why? The film questions the fetishisation of historical artefacts by looking at the value we place on authenticity.
Lecture-performance
Water Blues, 30 minutes
Building on Ali Cherri's long-time exploration of the relationship between civilisation and landscape, and the role of archaeology in constructing foundation myths, "Water Blues" takes mud as the starting point for a journey into different stories around swamps, drowning but also resurrecting. Very few spaces translate the periphery of human existence as poignantly as swamps, where mud occurs. Muddy swamps have long been seen as dreaded and ghostly areas that cause sickness and death. The fantasies around mud embody an in-between state; a ground favourable not only for the extrusion of natural resources, but also for the imagination, and, ever since the myth of Adam, for the creation.
About the participants
Ali Cherri is a video and visual artist based in Beirut and Paris. His recent work looks at the role of historical objects and collections in the construction of national narratives, following the artefact from the moment it is dug up until it arrives on the art market or in a museum display.
Not only does Cherri reveal what these objects say about us by tracing their historical, societal and natural aspects, but he also reveals the magic by which they are transfigured into fetishes, idols or commodities. His recent exhibitions include "Manifesta 13" (2020) in Marseille, "Phantom Limb" (2019–2020) at Jameel Arts Centre Dubai, and "Immortality" (2019) at the 5th Ural Industrial Biennial of Contemporary Art.
Ulrika Flink is a curator based in Stockholm, Sweden. She is currently the artistic director of Konsthall C in Stockholm, and  the curator at SETTINGS and Konstfrämjandet Stockholm. Together with Amanprit Sandhu, she curated the Borås biennale 2021. She completed the MA programme Curating Contemporary Art (CCA) at the Royal College of Art in London, UK, and has also held roles as curator of Momentum 9 – Nordic Biennial of Contemporary Art: Alienation (2017) in Moss, Norway, and producer at Tensta Konsthall, Stockholm. She is co-founder of the curatorial collective Parallelogram.
Rado Ištok is a curator, writer and editor based in Stockholm. He is the curator of the European Cooperation Project "4Cs: From Conflict to Conviviality through Creativity and Culture" at Nida Art Colony, for which he curated the exhibition The Spectral Forest (2020) and the workshop "Dwelling on the Threshold" (2019), accompanied by an eponymous e-publication (2020).
Together with Marie-Louise Richards and Natália Rebelo, he runs the research platform "Spaces of Care, Disobedience and Desire" (2018-2020), supported by artistic research funding from the Royal Institute of Art in Stockholm. Together with Jacqueline Hoàng Nguyễn he is the co-editor of "Crating the World" (2019).
Constellation no.1: Optical Alignment
The event is a part of "Constellation no.1: Optical Alignment", an inaugural event in the "Constellation" series curated by Ulrika Flink and Rado Ištok. The series aims to bring together visual and performing artists to address issues of visibility and agency in an intersectional way. "Optical Alignment" is a constellation of two performances, a screening with a performative lecture, and artist conversations unfolding over three evenings. The programme with Ali Cherri at Moderna Museet will be followed by a performance by Paul Maheke, Nkisi (Melika Ngombe Kolongo) and Ariel Efraim Ashbel and a performance by Natália Rebelo at MDT on 19 and 20 May 2022.
The programme takes place in collaboration with MDT, Moderna Museet, and "Spaces of Care, Disobedience and Desire. Tactics of Minority Space-Making", a research project supported by the artistic research and development funding of the Royal Institute of Art in Stockholm.
With support from the City of Stockholm, the French Institute, and the Goethe Institute.
BECOME A MEMBER!
Do you want information about the Film Club and our screenings? Become a member! Membership is free. Become a member by sending your name and email address to filmklubben@modernamuseet.se (membership communication is in Swedish).
Processing of personal data
To become a member in the Film Club, we need to store your personal data (name and e-mail address). We process your personal data in accordance with the General Data Protection Regulation (GDPR). Read more about how we process personal data here: Moderna Museet's integrity policy
The Film Club editorial team
Lena Essling, curator, Catrin Lundqvist, curator.
Contact