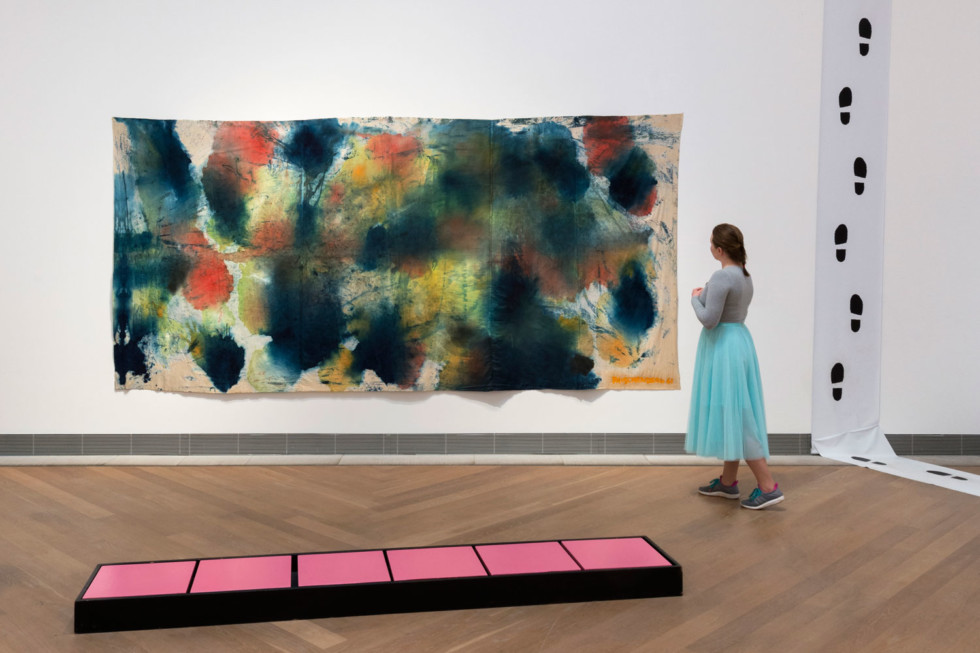 Choirs in the collection
Guided tours with choral singing
24.9 2017 – 8.10 2017
Stockholm
Tour the art to the dulcet tones of singing! Three choirs will accompany our guided tours of the modern and contemporary art collection.
Choirs in the collection
Date: Sundays 24 September, 1 October, 8 October 2017
Time: at 13.00
Place: Moderna Museet Collection, floor 4
Language: Swedish
Price: admission free
Tickets: Ticket to the guided tour is avaliable in the information desk the same day. Limited availability. No advance booking.
Art educator Ulrika Wedin will talk about the works, and the respective choirs will sing on three different dates. The guided tours are modified to harmonise with the repertoire of the choirs.
Dörrens Qöhr conducted by Cecilia Öhrwall, 24 September
Dörrens Qöhr sings all kinds of music, but mostly pop, gospel and folk songs arranged by Cecilia Q Öhrwall, their choirmaster. Aged between 15 and 25, this youth choir performs at various events, including Kulturnatten Night of Culture, church concerts and private parties.
Rösten Från Det Blå conducted by Sara Brannäs, 1 October
Rösten Från Det Blå sings everything from classical pieces like Dona nobis pacem to Lady Gaga's Born This Way and African folk music. The choir was formed five years ago and focuses on expression, a wide musical range and constantly expanding their boundaries, both personally and technically. Rösten Från Det Blå is based in Solna and is part of the art and music project Stora Blå Kultur.
Stockholms Amnestykör, 8 October
Stockholms Amnestykör is a group of people who are committed to changing the world with music. They sing all kinds of genres with meaningful lyrics: folk music from different countries, pop and rock arrangements, spirituals, gospel and "traditional choir music for four parts. All linked to the fight for more justice in a world where everyone can live in freedom. The choir represents Amnesty International by singing, and has performed in streets and public places, at events, hostels and asylum accommodation since the start. Some of their songs often end with a sing-along!
Choirs in the collection is a sequel to the collaboration with choirs in the project The Cleaner by Marina Abramović, which took place in the Eric Ericsonhallen (27 Feb–5 March, 2017) when some 40 Stockholm choirs participated.